The Pulse of Entertainment: After 7 is Back with a Chart Topping Album 'Timeless'; EURweb's Publisher Lee Bailey Honored by Black Business Association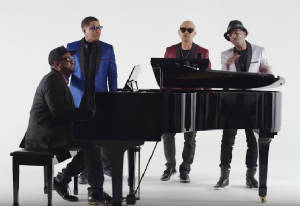 "It's hard to know God's mind, but we give him the glory," said Kevon Edmonds about the newest album "Timeless" (eOne Music) of his group After 7. Kevon is one of four members of the R&B group that consist of Kevon's brother Melvin, Melvin's son Jason and childhood friend Keith Mitchell. "We stay faithful and do the work, what happens in the end - happens"
What happened was the Edmond brothers founded a group, After 7, in 1987 years after their brother Kenneth "BabyFace" Edmonds' career was blossoming as a musician (guitar, keyboards), songwriter (with LA Reid) and vocalist in the late 70s - early 80s. The After 7 group reached platinum status carving their own niche in the music industry. The new project is the first since 1995. The latest single of the album, "Runnin' Out" peaked at #3 on Billboard's Adult R&B Songs Chart - next to Bruno Mars who was #2. Kevon launched a solo career in 1999 with an album "24/7" that reached #10 on Billboard's Hot 100 Chart. His second album "Who Knew" was released in 2009.
"We started with a song and ended with an album," Keith laughed. "We just wanted to put our toe in the water to see where we were...today we have am album."
"We didn't try to find new producers," Kevon added to stress that they wanted to keep their signature sound.
The platinum selling group After 7 is currently on a promotional tour performing their hits and songs from the new project. They recently performed in Los Angeles July 16, 2017. The Indianapolis natives are now working their way across the country.
"We are extremely proud of that achievement," Keith said about completing the "Timeless" album when they were just going to record a single. "Both songs (first two singles) paved the way for 'Runnin' Out.' It has the signature sound for After 7."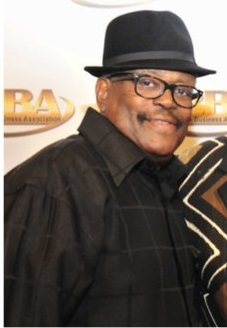 Radio pioneer and publisher of www.EURweb.com Lee Bailey was recently honored for his achievements, along with the Godfather of Black Music Clarence Avant, by the Black Business Association (BBA) at their annual "Salute to Black Music Awards Gala." BBA was founded in 1970 by Earl "Skip" Cooper, a 501 (c) 3 organization head quartered in Los Angeles which champions for over 100,000 African-American, women and minority owned businesses with strategic alliances with W/MBE Trade Associations nationwide.
"I was talking to Skip about something," Lee Bailey said about the honor bestowed on him by BBA. "I've known Skip for 30-40 years. I was talking to him about doing the narrative for Clarence Avant's video and out of no where he said I need to give you an award."
I agree, he so deserves to be honored. I admired Lee Bailey from afar for over 20 years just from the professionalism and popularity of his website www.EURweb.com, which it seemed everyone in the entertainment industry knew about and made it a point to visit at lease once a day. But that is not the beginning of Lee's career in the entertainment business. The Air Force Veteran started out as a radio personality while serving in the military and in civilian life. Back then they were called radio Jocks. He went on through his company RadioScope to be the first Black radio personality to go syndicated. The news content on his shows was picked up by so many mediums and businesses, such as the Motor Vehicle Administration where he had a segment on the vehicles equipped with television monitors, cell phone apps and so many more places. Every high profile person I have interviewed for this column when they learned it was also published on his website became so excited when I mentioned his name. They all had stories to tell me of how his radio show or website gave them exposure which contributed to their success. I can claim the same when it comes to the success of my column, which now has an estimated syndicated readership of ¼ million per week.
"Big ups to my boss of 30 years Lee Bailey," said LaRita Shelby, a high level executive in his company. "I was honored to follow him from RadioScope to EURweb.com and many, many ventures. So God bless you."
"It took me a while to appreciate (the popularity)," Bailey admitted. "I am not comfortable with people making a big deal. I am low key. I do the work and keep it moving. I think it's my calling."
As someone who was also employed by Lee as his Gospel Content Editor I know that his nick name is "The Voice" because of his unique baritone accent. His company Rabercom was a client of my Public Relations Consulting Company Freelance Associates, which produced for him an award show. The red carpeted "EURweb Awards" Show honored outstanding media companies and personalities and was held at the Los Angeles Convention Center. Tons of celebrities came out to support him with performances by Shanice and many more who credited Lee for helping to launch their careers. So I know first hand that he is right. Lee is a very humble and low key man who has high standards, which has made him a media living legend.
SYNDICATED COLUMN: Eunice Moseley, has an estimated weekly readership of over ¼ million with The Pulse of Entertainment. She is also a Public Relations Strategist and Business Management Consultant at Freelance Associates, and is Promotions Director (at-large) for The Baltimore Times. www.ThePulseofEntertainment.com. EVENT: 18th annual "Uplifting Minds II" Free Entertainment Conference (Baltimore and Los Angeles in October, 2017). Entertainment Business panel and national talent showcase competition (vocal, songwriting and dance) with over $13,000 in prizes. www.UpliftingMinds2.com.