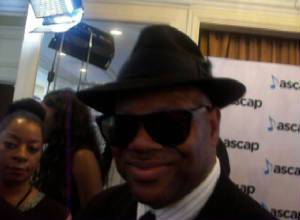 "Songs I always go back to are songs we've already created like 'Open My Heart' by Yolanda Adams and "Optimistic" by Sounds of Blackness'," said five-time Grammy winning songwriter Jimmy Jam during the red carpet arrivals of the 2017 ASCAP Rhythm & Soul Awards about music he created that heals. Jimmy Jam was presented, along with writing partner Terry Lewis, with a special ASCAP "Voice of Music Award." "I think music heals no matter what it is. I think everybody is different and music affects everybody differently."

When I asked him what he would say at the podium after receiving the special honor from ASCAP Jimmy Jam said, "I never know until the moment happens. I let the feelings move me in a certain way."

What Jimmy Jam said when the moment came to accept his "Voice of Music Award" (their ninth ASCAP honor) was that he was asked what he would say on the red carpet and he wanted to take the time to inspire writers to keep writing. The songwriting duo is legendary for writing hits that last forever. Clients include Michael Jackson, Usher, Boyz II Men, Mary J Blige, New Edition, Prince, Eric Benet and many more. The Minneapolis natives started out as members of Prince's band and are noted for creating the "Minneapolis Sound." After the duo departed from Prince's band they opened a recording studio called Flyte Time, which is infamous for being the recording home for Janet Jackson's break-out album, which help solidify them as hit-makers.

That night another special honor was given to Notorious B.I.G. AKA Christopher "Biggy Smalls" Wallace - the "Founders Award." Sean "Puff Daddy/Diddy" Combs, president of B.I.G's label Bad Boy Records, sent a video tapped message honoring his artist for contributing to the labels success and his influence on the Hip-Hop culture. His label mate and wife, the first lady of Bad Boy Records Faith Evans was on hand with their son CJ Wallace to receive the honor - along with Combs two sons.

The award show offered performances by Jeremih ("OUI"), Tasha Combs and Kyle ("iSpy") and lots of excitement as a long list of our favorite songwriters and producers were honors keep everyone on their feet. ASCAP attendees included Remy Ma ("All The Way Up"), 2 Chainz ("No Problem"), Mike-Will-Made-It ("Formation"), DJ Drama, James Fauntleroy, and French Montana ("All The Way Up").

"I've been putting it out there on Youtube. I had zero idea when it (success as an artist) was going to happen, but you know when you are a little kid your expectations are really high. I was like in the 5th grade and I was saying if I don't pop off by 6th grade I'm done," laughed rapper Kyle ("iSpy"), who performed his hit single. "So I thought about it like that. I never knew when it was going to happen, its all about endurance. You have to work as hard as you possibly can for as long as you possibly can."

I asked the writing team Fred "Traxx" Saunders and Lucius Hoskins (Zacardi Cortez/"YDIA") about what they considered healing music and Lucius said," Real music." Traxx added that their music heals because, "We just spread the Gospel of the Lord."

That is what ASCAP's Rhythm and Soul awards did that night they honored real music and all the awardees inspired others to keep creating real music. Awards were presented by Sevyn Streeter, Jonathan McReynolds, Rotimi and Yazz. ASCAP executives on hand included Paul Williams (President and Chair), Beth Matthews (CEO), John Titta (Vice President) and Nicole George-Middleton (SVP).