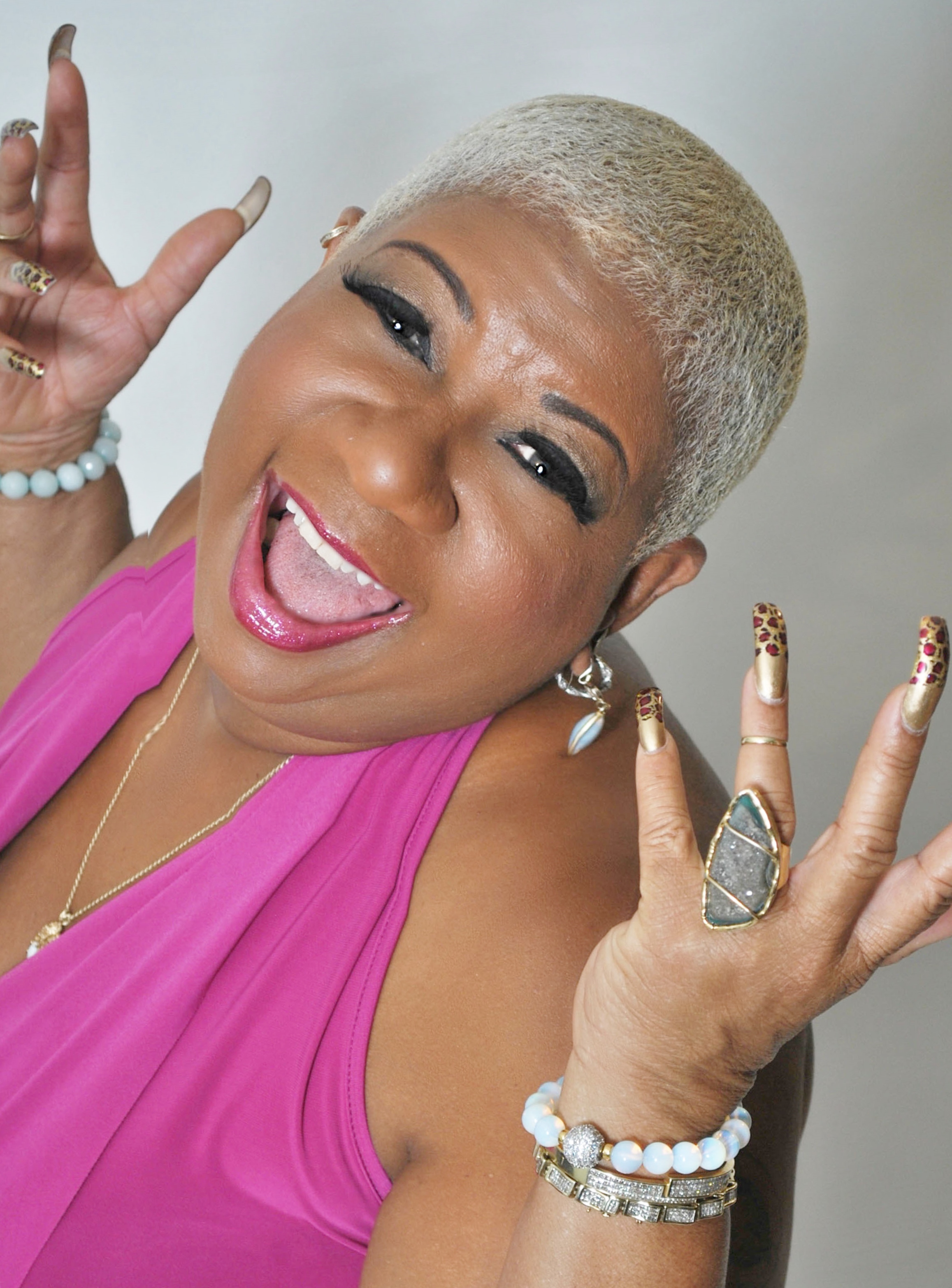 "Her style is not similar to mine but her struggles are similar. I watched Moms (Mabley) when I was young. She was the only female women of color that did stand-up," said iconic comedian/actress Luenell about the woman whose name adorns the honor she will be given on August 24, 2017 at the LOL Comedy Honors in New York - the "Moms Mabley Legacy Honor."
Luenell, as a comedian, is known for her unfiltered comedy, distinctive voice and short blond hair, reminiscent of SisQo. Luenell passion was always acting, that passion motivated her to love to Los Angeles from her hometown of Tollette, Arkansas. Through a series of events while living in Long Beach she ended up doing stand-up as a dare. She was so good she garnered opening act gigs with D. L. Hughley and Robin Harris. After making a name on the stand-up comedy circuit she went back to her acting passion landing a role in The Rock starring Sean Connery in 1996 and Borat starring Sacha Barton Cohen in 2008, which propelled her to icon status. Of course because she is not only black but a female she is still waiting for the iconic worldwide recognition (and may be money) that should accompany the title.

"I can image what she (Moms Mabley) went through about her money. She was a pioneer. I am honored that anybody is thinking of me. We (women) are often an after thought...'oh yea Wanda, oh yea Monique'. So I am just proud," Luenell said sincerely.

Luenell's management services only her and her steady progress shows that this is the case. Luenell also gives credit to her iconic achievements to her first publicist, a dear friend of mine, Eugenia Wright. Eugenia was able to get Luenell (and clients I consult in entertainment business/PR) on red carpets in front of media from all over the world and in major award show gifting events so that she could mingle with the Hollywood elite.
"Her (Eugenia) birthday and my daughter's birthday are on the same day," she added.

Luenell made history recently when she had a photo spread in Penthouse Magazine. She wanted to show full size women that they are still sexy too.
"I'm excited about the Penthouse spread. I am the first black woman of my age and my size (to have a spread in Penthouse)...history making," Luenell said. "It didn't rock the world like I imagined....I hope it makes women like me realize that (because you are plus size) it doesn't mean you don't have swag or is less sexy... I showed my daughter first...I would never to anything to embarrass her."

Upcoming projects for the living legend include a recurring role on TV Land's "Lopez" show, a role in the films All Star Weekend starring Jamie Foxx and A Star is Born starring and directed by Bradley Cooper. Her credits also include roles in such films as That's My Boy starring Adam Sandler (2012); Think Like a Man/Too starring Kevin Hart (2012/2014); Hotel Transylvania/Too starring Adam Sandler (2012/2015), and Taken 2 starring Liam Neeson (2012). She conquered television as well appearing on Starz "Head Case;" "Chocolate News with David Alan Grier;" "Californication," "The Boondocks," "The Middle," "Raising Whitley," "The Tony Rock Project" and "The Rickey Smiley Show." As a stand-up comedian she has left her mark on BET's "ComicView;" Snoop Dogg's "Bad Girls of Comedy" on Showtime; Jamie Foxx's "Laffapalooza;" "Martin Lawrence's 1st Amendment Stand Up," and the "Arsenio Hall Show." As a comedian she has toured with Katt Williams and appears in his "Katt Williams American Hustle" DVD.

"I quite enjoy television. It has always been my friend," Luenell said when I asked what makes her laugh. "I get joy from that. My daughter (Da'Nelle) is 21 and she is hilarious to me. My Ex, who I am dating again, is hilarious."

I asked about her stand up show whether it is a routine or made up when she hits the stage, she said, "Any professional has a routine when on tour. You don't do new material every night. We segue to transition. We have a beginning, middle, an end and a theme. I don't just goof off. My themes are women empowerment, sexual liberation...though I am quick with it."
Luenell said the routine she chooses depends on the venue and audience. She recently did a comedy show in my hometown of Baltimore at the Comedy Factory. Seeing Luenell do her stand up show is certainly on my bucket list of things I want to see. You can log onto
www.HeyLuenell.com
to see what is next for this iconic comedian/actress and follow her on Twitter @Luenell.