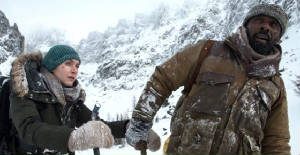 The novel by Charles Martin, The Mountain Between Us, published in 2011, comes to life with the 20th Century Fox presentation of the same name starring Primetime Emmy nominated Idris Elba (Thor) and Academy Award winner Kate Winslet (Steve Jobs). The Mountain Between Us is Rated PG-13 and arrives in theatres October 6, 2017. IMDb reports its 143 minutes long, the number for "I Love You," an indication of what's in store between two strangers stranded on top of a mountain that is in a desolated and very cold region.
Idris Elba (Mandela: Long Walk Home) is Brain Surgeon Ben Bess from Baltimore looking to get back to save a young boys life and Kate Winslet (Titanic) is Alex Martin a photo-journalist on her way to score another big assignment. Their individual flights have been cancelled and Alex talks Ben into sharing a private plane driven by old man Walter, played by Emmy winning Beau Bridges (Jerry Maguire) - until he has a stroke.
Surviving the plane crash was a miracle. Their struggle to survive the wilderness will have you so engrossed in the film you may miss the drama becoming an adventure and the adventure becoming - something else. The Mountain Between Us is directed Academy Award nominated by Hany Abu-Assad (Paradise Now) and producers include Peter Chemin, Dylan Clark, David Ready and Jenno Topping. The Fox 2000 Pictures/Chermin Entertainment production also stars Dermot Mulroney (Gracie).