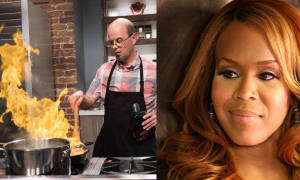 "God gave me a song," said Grammy winner Tina Campbell (Mary Mary) about her new solo album "It's Still Personal" released October 18, 2017 along with a tour of the same name. Her WEtv reality show premiered September 29th for the last of six seasons. "I put it out there and sold 40,000 - 50,000. God gave me these songs. My husband said, 'Put them out there. If God gave them to you to save your life God wants you to share them to save others.'"

That's what Tina did, she just put them out there to share and I guess a lot of people wanted to be "saved" or can relate to being saved. On October 18th Tina Campbell took her new album on tour. It will only last for 30 days so go check out those songs that saved her.

"I decided to do a few new songs and flip some old songs," Tina said about the rest of the material in the "It's Still Personal" album.

"God gave me music to carry me through my marriage (issues), my dad's death and I was pregnant...all at the same time," she said. "God gave me the music to carry me through. If the music brought me through a journey it can bring others. It's not about the money, fame and charts. I got hope and now I have a vision."

Catch Tina Campbell on tour or on her reality show "Mary Mary" on Thursdays at 9 p.m. ET. The "Its Still Personal" Tour is hosted by sister/stylist Thomasina "Goo Goo" Atkins and features performances by her sister Erica, Grammy nominated The Walls, Grammy nominated JekaAn Carr, Resound, Jermaine Dolly, dancer Jor'Dan Armstrong, and poets Ezekiel Azonwu, David Bowder and Matthews Strange. You can also log onto www.IAmTinaCampbell.com or www.TeddyandTina.com for more on her projects.

The Food Network's cooking competitions are so successful they recently launched another, "The Best Baker in America," airing on Wednesdays at 10 p.m. ET/PT. Judges on the show include the "Food Network Star" competition winner Jason Smith and Food Network's Marcela Valladolid, who is host of "The Kitchen."

"I'm looking for who has the skills for taking a basic receipt and put their own spin on it," said Jason when asked how he will be judging. "Do it all well but know how to give me something I haven't taste before. I like hunting for different dishes just to see how people are growing their recipes. I go to different cities. I'm on the road a lot."

Eight people will be competing for $25,000 in Food Network's "The Best Baker in America." In each episode each person competes in two rounds - Skills (of technique) and Mastery (of flavors and ingredients). The judges vote in each round moving the bakers closer and closer to the $25,000.

"I remember growing up...I was cooking and tasting the whole time," said Jason Smith about where his cooking skills came from. Jason is a cafeteria manager and has a catering business. When I asked if he eats what he cooks he said, "You have to taste it while you are cooking it. (And what he doesn't like?) Honey it goes out to the chickens. I'm a perfectionist."

Well the eight competitors may have a hard judge to please of the two on the show. The bakers consist of Brittani Brooker from Charlotte, NC (an executive pastry chef); Andy Chiebana of Plainfield, Ill (a pastry chef and culinary professor); Dwayne Ingraham from Oxford, Miss. (a professional chef); Margarita Kallas-Lee from Los Angeles (a pastry chef); Adalberto Diaz Labrada from Salt Lake City, Utah (an executive pastry chef); Susan Mijeres from San Antonio, Texas (a pastry chef); Thiago Silva from Boston, Mass (a culinary director); Cheryl Storms from San Diego, CA (a pastry chef consultant). Judge Marcela has her own Food Network cooking show, "Mexican Made Easy."

"It's a natural ability to cooking and baking," Jason concluded. "You can be taught but you have to have instinct. I taught several people who couldn't boil water...some couldn't read the receipt."

You can log onto www.FoodNetwork.com to learn more about "The Best Baker in America" competition, judges Jason Smith and Marcela Valladoid or host Adam Rapoport (editor of "Bon Appetit").