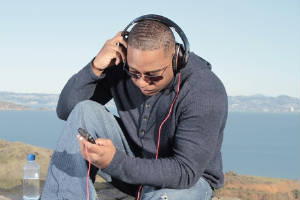 "People don't know my face," said Producer DJ Daryl (Daryl L. Anderson) whose clients include Snoop Dogg, Mystikal and Master P. "They know my sound. They say too me, 'I got these beats dude,' and their mine. It's funny for a long time I didn't realize my sound influenced a new generation."

DJ Daryl's sound is known as "bay area mob music." The era that help create the legacies of Long Beach's Snoop Dogg, New Orleans' Mystikal and Master P, and of course New York's Tupac - a then young aspiring rapper.

"Tupac had heard some of our music. We didn't know who he was. We were working with a friend and he asked to be on the album," said Daryl about meeting the rap legend.

"Keep Ya Head Up" was released in 1993 and it has recently been certified as Diamond in sales by RIAA - that's over 10 million (10 times platinum for one song). The hit single was re-released in 1998 in a "Tupac's Greatest Hits" album, in 2007 for the "10th Anniversary and Best of Tupac" project and in 2008 it was re-released as a single.

"Our group 415 was recording with Digital Underground. In our city we were well known. Tupac was there carrying equipment...we didn't know he was a rapper. We wore bandanas and people thought we were Crips." DJ Daryl laughed when talking about the early days with Tupac.

The group 415 included friends rappers Richie Rich and D-Loc, and producers J.E.D. and DJ Daryl. They independently released "41Fivin" in 1990. In 1991 DJ Daryl co-produced group member Richie Rich's solo album "Don't Do It" with 415 member J.E.D. They signed a deal with Priority Records and released "Nu Niggaz on Tha Blokk," which turned out to be their last project together.

"He (Tupac) got a deal...he asked me to produce his album," DJ Daryl said about how he became producer of Tupac's "Strictly 4My N.I.G.G.A." debut project. "For 'Keep Ya Head Up' he didn't want to rush that song. We were in Studio A and B...we are in B and YoYo and DJ Pool was in A. We found out later they were using the same beat - same sample. When they realized it, it was a competition. He called a friend to sing the hook - Dave Hollister. They called him Black angel. He did something in that studio I never seen before...straight rap no adlibs."

DJ Daryl said he is working on a documentary and movie script for the last two years about his time with Tupac. He also produced Tupac's "Troublesome 21" before his death, which 9 of the 14 songs were released by Interscope Records. Log onto www.A1YoLA.com for more information about the producer who is also a legend and worthy of diamond RIAA status.