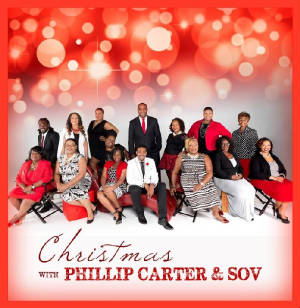 "Our ministry has been around for many years," said Stellar Award winning Phillip Carter about his Sounds of Victory (SOV) choir, which just released "Christmas with Phillip Carter & SOV." "We always sung Christmas songs. I decided to make it a project to release."

Phillip Carter credits as choir director include serving as assistant director for Howard University's Gospel Choir, director of Georgetown University's choir, and director of Bowie State University's Gospel choir. The Sounds of Victory ministry is 20 years old. A native of White Plains, Maryland Phillip started playing the piano at 18 months old - a prodigy. By the age of nine he was directing choirs.

"My style?...I made a point to cater around songs that choirs can sing and directors can teach," Carter answered.
He admitted when asked about the music ministry's affect that he noticed SOV's music has affected the hearts of women, "Joy in the midst of pain," he said. "In my personal ministry I see that happen but not as often as I hope. I remember deciding to follow Jesus and no body else. I have never been off the music ministry path."

"Christmas with Phillip Carter & SOV" will also be a 30 minute special on the WORD Network. You can log onto for more information about the "Christmas with Phillip Carter & SOV" project and holiday special.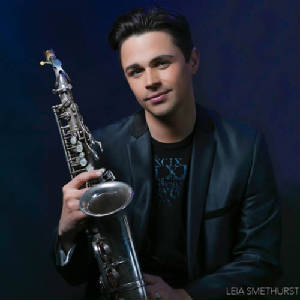 Jazz saxophonist Justin Young recently released his fourth album titled "Blue Soul" featuring Jackiem Joyner (sax) and Matt Godina (keyboard). "Blue Soul" has already released its first single "Always There" co-written by Joyner, followed by "Jazz Along The 101" co-written by Noel Hall (Kirk Franklin) and "High Definition" - the latest single - a Pop/R&B selection.

"I'm from Detroit, so I grew up listening to Motown... artists like the Gap Band, Cool and the Gang, Cameo, Rick James and Michael Jackson," Justin explained about where his sound came from. "Those were the songs my dad's band played."
Justin also liked Dr. Dre and between his fathers Motown influence and his own you get something fresh.

"I was 3 or 4 years old practicing (drums) in my room," Young explained when I asked how he went from playing the drums to the sax. "As a kid I wanted to be a drummer. My grand parents are ministers, so I started playing in church. Four years later my dad said, 'how open are you to playing the sax?'"

Justin's father explained to him that all boys want to be drummers, but few wanted to play sax. So he encouraged his son to switch instruments so he can get more jobs as a musician. Young said his father was right, after learning the sax he was always with a job and playing the sax also paid for his college degree from Michigan State University. Later on Justin Young secured a year long residency at Spaghettini's Jazz Club in Southern California, where he relocated.

"That groove thing," he said. "Like Blues Brothers - the tambourine part, that is music."

Justin Young said he took this album "back to the basics to capture that" sound. So far the album is getting great reviews. My favorites songs on the "Blue Soul" album include #1 "Always There" because of his sweet Smooth Jazz horn playing that had a Pop feel to it; #5 "Paradise Found" because his horn playing took me straight to paradise - visually; #6 "New Life" was simply beautiful and the organ support takes you straight to church; #7 the title track "Blue Soul" because he got funky with his sax, I like that, and I loved the piano support; #8 "Sorrento" is a funky Jazz/Soul selection that has a futurist flavor; #10 "India" because it is pure Jazz at its finest; #11 "Song for a Better Tomorrow" has a fairytale feel that gave me feelings of hopefulness, and #12 "High Definition" featuring Jackiem Joyner, because Justin delivers a Pop sound on his sax that's so fresh.

"I think that the song has to tell a story," Justin concluded about his style of songwriting.
Also featured on the "Blue Soul" album release are Alex Al (bass), Hussain Liffry (bass), Ricky Lawson (drummer) and Sheldon Reynolds (guitarist). The album is released on Young's own label JustinTime Records. Learn more about the "Blue Soul" release by logging onto
www.JustinYoungSax.com.