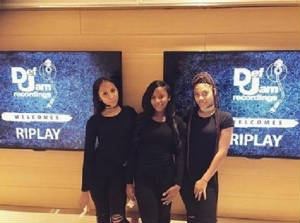 "Me and my sister Lay was in class...we said there's no girl groups out," said Rapper Shaye about how her group Riplay was formed.
The three member group from Baltimore recently signed a distribution deal with Def Jam Recordings making media folks like myself take notice. Riplay consist of sisters Mayshaye Hebron (aka Shaye) and her younger sister A'laiza Hebron (aka Lay), and friend Kiya Hawthorne (aka Ki).

"My dad did music. We were trying to get his attention...so we kept practicing," Shaye continued.

Lay cut in saying, "So me and my friend was going to do rap and when my sister Shaye came in and had a nice rap voice... so we sing now." I asked them when did their dad finally noticed Lay said, "My dad noticed when we started writing songs. We showed him a song and he said, 'I have to hear this.'"

Shaye pointed out, "My dad knew some body on another label, they have a partnership with Def Jam."

What an historic moment and opportunity. I told the girls, they have just been given. Def Jam Recordings was founded in 1983 by Rick Rubin while in college at New York University. He released a Punk-Rock single for his group Hose. He met Russell Simmons shortly after, who had been working with Hip-Hop artists since 1977, and they decided to partner in the Def Jam Recordings venture releasing their first single together "Its You" by DJ Jazzy Jay. It was their next two singles by LL Cool J ("I Need a Beat") and Beastie Boys ("Hard Rock") that resulted in a distribution deal or Def Jam with CBS Records/Columbia Records.

Up until Rick sold his share in Def Jam for $120 million to Universal Music Group their artists included EPMD, Warren G and Public Enemy. Under Universal Music Group's partnership Def Jam Recordings released projects for Foxy Brown ("Ill NaNa") and LL Cool J ("Mr. Smith"). In 1999 Baltimore executive Kevin Liles was appointed president of Def Jam and he immediately created an R&B aspect of the Rock and Hip-Hop label signing Dru Hill, the Isley Brothers, Kelly Price, 112, Case, Montel Jordan, Patti LaBelle and Christina Millian. So to be a Def Jam Recordings artist is a monumental event.

"We would not be here if it wasn't for God," the girls said in unison. "We pray every morning. We really want people to look up to us. Our message is very positive. Kids are being bullied. Kids think they have to bully to be cool to fit in. Our message is to be yourself. Don't let negativity get to you. We've experience things like that before."

What Riplay feels about bullying they are putting in songs. Their debut single "Status" is out now. Riplay also has a video out for the single "Strange" starring Lil' Key ("The Rap Game"). The Phantom Boyz Music Group is taking lead on the groups' music. They are a well established international production company (Jim Jones, Christina Aguilera, B5). The three girls offer three genres of music - Hip-Hop, R&B and Soul so they are surely going to make more people take notice.