The Pulse of Entertainment: Syndicated Columnist Eunice Moseley Gives the Highlights in 2017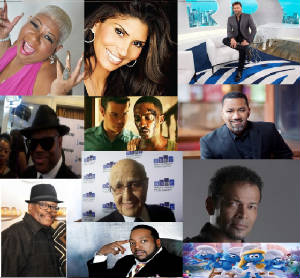 There were so many interviews for me in 2017 but the ones with 'friends' Jazz pianist Marcus Johnson, legendary radio personality Lee Bailey, Ellia English about her return to stage and comedian Luenell were my highlights. If 2018 is as exciting as the year 2017 I will certainly spend the year with a smile permanently positioned on my face.

The year 2017 started off with an interview with Jazz pianist Marcus Johnson about his performance at Rams Head on Stage in Maryland. Later that year Marcus did me the pleasure of serving on the panel of my community event "Uplifting Minds II" in Baltimore. That was followed by an interview with Will Downing, I guest you could say he is a friend too, we talked about his performance at Rams Head as well and later in the year in October we talked about his album release "Soul Survivor."

That interview was followed by movie and event reviews for the SAG Awards, the NAACP Imagine Awards Nominees Luncheon, the NHMC Latino Honors where I interviewed the legendary television producer Norman Lear and I went to a special presentation of the 2017-2018 Sony Picture Animation releases that included screening of Smurf 3, Emoji, The Star and Spiderman the animation. Industry executive interviews followed with fellow journalist Tanya Hart about being the first black female Chair of The Caucus, publicist Arian Simone about her "Fearless" pod-cast launch and Phil Thornton about his new role as Senior Vice President and General Manager at RCA Inspiration and the release of the "WOW Gospel 2017" album.

More movie reviews followed that included the Warner Bros' presentation of Kong is King, Fast and the Furious, Searchlights' Gifted and King Arthur: Legends of the Sword. An interview with three-time Grammy winning Jazz singer Harry Connick, Jr. followed about the new season of his talk show "Harry" on Fox and Jazz singer Phil Perry was interviewed about his album release "Breathless." American Idol winner Ruben Studdard was interviewed in 2017 about his single "Change is Gonna Come" and JJ Hairston about his album release "You Deserve It."

Its only May and the year continues with coverage of the ASCAP "I Create Music" Expo and "The Celestial Awards of Excellence." I had the pleasure of interviewing my own grandson, award winning actor/filmmaker Anthony Michael Hobbs (Emmy nominated "The Abolitionist") and his mom/manager Dr. Kerri Moseley-Hobbs, about the launch of his own international film festival in Baltimore, the Imagination Lunchbox International Children's Film Festival. Interviews with Contemporary Gospel artist Travis Greene followed about the release of his new album "You Waited." Gospel artist/Pastor Marvin Sapp was interviewed twice in 2017 for his TV One "Unsung" episode and his album release "Close." Lee Bailey (EURweb.com publisher) interview followed, it was about him being honor at the Black Business Association Awards and the group After 7 talked about their album release "Timeless."

More movie reviews followed for Disney's Pirates of the Caribbean 5, the MGM presentation of Detroit, the Lionsgate film Wonder and the 20th Century Fox presentation of Mountain Between Us. Jagged Edge was interviewed about their TV One "Unsung" episode and Dorien Wilson talked bout starring in the Bounce TV series "In The Cut." The Jonathan Butler interview was about the released of his new album "Show Me The Way" and I talked to comedian/actress Luenell about being honored at the LOL Comedy Honors and the two projects she has - "Lopez" and A Star us Born" with Jamie Foxx.

More event coverage followed with the ASCAP R&S Awards, which honored Jimmy Jam & Terry Lewis - I interviewed Jimmy Jam while there. Interviews with Soul singer Calvin Richardson followed, we talked about his album release "All or Nothing." That interview was followed by a talk with Tina Campbell (Mary Mary) about her solo release "It's Still Personal" and Mario Van Peeples talked about his SyFy series "Superstition." I was so hyped to interview producer DJ Daryl about going Diamond with the Tupac hit "Keep Ya Head Up." The year ended with interviews from Grammy winning Gospel artist Deleon Richards-Sheffield about her new reality show "Sheffield Real Estate" and Baltimoreans Riplay a three member R&B/Hip-Hop girl group talked about receiving a record distribution deal from Def Jam Recordings.

There were many other interviews, reviews and event coverage opportunities, but as you can see 2017 was outstanding as always for The Pulse of Entertainment. Visit its website at www.ThePulseofEntertainment.com for more entertainment news and for the video tapped interviews/coverage check out the website or visit www.Youtube.com/ThePulseofEntertainment. Thanks to all who contacted me for placement in my syndicated column The Pulse of Entertainment, which has an estimated readership of ¼ million each week and its website receives over 80,000 hits a week!
SYNDICATED COLUMN: Eunice Moseley, has an estimated weekly readership of over ¼ million with The Pulse of Entertainment. She is also a Public Relations Strategist and Business Management Consultant at Freelance Associates, and is Promotions Director (at-large) for The Baltimore Times. www.ThePulseofEntertainment.com. EVENT: 19th annual "Uplifting Minds II" Free Entertainment Conference (Baltimore and Los Angeles). Entertainment Business panel and national talent showcase competition (vocal, songwriting and dance) with over $13,000 in prizes. www.UpliftingMinds2.com.