The Pulse of Entertainment: In Warner Bros' Paddington 2 Home is Where the Love Is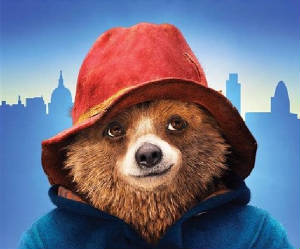 Warner Bros' presents the second installment of the Paddington Bear saga with Paddington 2 starring Ben Wishaw as the voice of Paddington Brown. The live-action comedy is based on the best-selling book by Michael Bond first published in 1958 with illustrations by Peggy Fortnum. The bear will become a live again in Paddington 2 arriving in theatres January 12, 2018. The British resident continues his adventures in London with the Brown family in tow.
He decides it is his goal in life to get his Aunt Lucy a special present from London for her 100th birthday - a place she was on her way to visit before she ran into the orphaned Paddington and decided it was her duty to raise him. He finds the perfect present, an antique book that has pop-up pages of historical landmarks in London. Paddington tries to work for the money to buy the book but not before a self-centered local celebrity steals the book because he believes it is a treasure map. Paddington is a witness to the crime and is in hot pursuit. It seems Paddington is discovered by the police running from the crime scene so now they believe its Paddington who's the theft. This is where the new adventures of Paddington begin.
Emmy winner Imelda Staunton (That Girl) is the voice of bear Aunt Lucy and the Brown family consists of Emmy winner Hugh Bonneville ("Downtown Abby") as father Henry Brown, Oscar nominated Sally Hawkins (Paddington) as mother Mary Brown, Madeleine Harris (Paddington) as sister Judy Brown and Samuel Joslin as brother Jonathan Brown. The Brown family adores Paddington as well as everyone else in the London neighborhood. In Paddington 2 the happy go-lucky bear discovers that home is where the love is, even behind bars. Three-time Golden Globe winner Brendan Gleeson (Into the Storm) is Nuckles McGinty the very mean prison cook, who along with other criminals melts at the innocent love that Paddington offers everyone he meets.
Paddington 2 is directed by Paul King and produced by David Heyman. The Warner Bros', Heyday Films, StudioCanal production also stars Julie Walters (Harry Potter) as family friend Mrs. Bird; Oscar winner Jim Broadbent (Harry Potter) as antique shop owner Samuel Gruber who was selling the book; Oscar winning Peter Capaldi (Paddington), Golden Globe winner Hugh Grant (Legends of the Lost Tribe) as local celebrity actor Phoenix Buchanan who believes there is a treasure map in the pop-up book and steals it before Paddington can buy it; Michael Gambon (Harry Potter) as bear Uncle Pastuzo; Ben Miller (The Prince & Me), Jessica Hynes (Harry Potter), Noah Taylor (Game of Thrones), Tom Conti (The Dark Knight Rises) as Judge Gerald Biggleswade, and Sanjeev Bhaskar ("Unforgotton") as Dr. Jafri.
Paddington 2 is Rated PG and arrives in theatres January 12th.
SYNDICATED COLUMN: Eunice Moseley, has an estimated weekly readership of over ¼ million with The Pulse of Entertainment. She is also a Public Relations Strategist and Business Management Consultant at Freelance Associates, and is Promotions Director (at-large) for The Baltimore Times. www.ThePulseofEntertainment.com. EVENT: 19th annual "Uplifting Minds II" Free Entertainment Conference (Baltimore Sat, April 21, 2018 at Security Square Mall and Los Angeles in October). Entertainment Business panel and national talent showcase competition (vocal, songwriting and dance) with over $13,000 in prizes. www.UpliftingMinds2.com.