The Pulse of Entertainment: The Caucus Honors Those That Make Television and Film Happen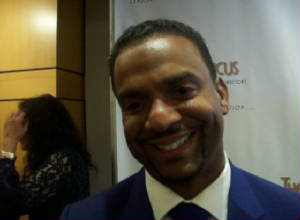 "The Caucus was founded on the premise of celebrating those folks who make television and film happen," said actor James Pickens, Jr. ("Greys Anatomy") about The Caucus for Producers, Writers and Director's 35th annual "Caucus Awards Dinner" he was co-hosting with actress Aimee Garcia ("Dexter") recently at the Skirball Cultural Center in Los Angeles. "To recognize and celebrate those folks that make the industry happen behind the camera. Some say they want to be a producer but what does that really mean. I'm still trying to find out myself."
For 35 years the Caucus has been celebrating and honoring film and television producers, writers and directors. At this event there were many honored such as actor Alfonso Ribeiro ("The Fresh Prince of Bel-Air") with the "Entertainer of the Year" award for hosting "America's Funniest Home Videos;" producer and writer James G. Hirsch ("The Incredible Hulk") received the "Lifetime Achievement Award," and producer Michele Nasraway ("Dancing with the Stars") received the "Distinguished Service Award" for being executive producer of the highly successful "America's Funniest Home Videos."
"There are many different types of producers. There are creative producers, there are the money producer, there are the studio producers," said honoree Alfonso Ribeiro ("Dance 360"), made infamous by his acting as Carlton in the successful sitcom "The Fresh Prince of Bel-Air." "I think what the creative producers do is allowing you to put in a position to, at the end of the day, do your best...I think that's the separator between the people we know and the people that call themselves producer. A lot of it is being able to be put in a position to achieve your highest goals and the right producer to put you in the circumstance that allows you to achieve it. Those are the projects you should want to be on and people you want to be involved with. Those projects say and blow up to become great pieces of art and it starts with a producer knowing how to pit the right pieces together."
The Caucus is 42 years old providing its members opportunities and through its non-profit foundation which provides grants for emerging media projects. Members include Academy Award winning Tom Hanks (Forrest Gump), Emmy winning JJ Abrams (Alias), Suzanne de Passe (The Jackson Five) and Lee Miller ("Cher," "Bloopers").
"I'm one of the executive producers...So I see to the daily operations...making sure the show gets to the network and on aired on time," said honoree Michele Nasraway (Vin Di Bona Productions ) about her job as executive producer of 'America's Funniest Home Videos.' Producers really have to have their hands in everything. They are responsible for the finished product, the staff, making sure that the staff's happy, to make sure - in our case - the people that send in their submissions are happy and make sure every thing goes smooth."
Others honored that day included Dan Cohen, President of Paramount Pictures Corporation, with the "Executive of the Year" award; Stephanie Austin, producer at Beachwood Productions, with the "Chairs Award," and James G. Hirsch, President of Papazian-Hirsch Entertainment, with the "Lifetime Achievement Award."
SYNDICATED COLUMN: Eunice Moseley, has an estimated weekly readership of over ¼ million with The Pulse of Entertainment. She is also a Public Relations Strategist and Business Management Consultant at Freelance Associates, and is Promotions Director (at-large) for The Baltimore Times. www.ThePulseofEntertainment.com. EVENT: 19th annual "Uplifting Minds II" Free Entertainment Conference (Baltimore Sat, April 21, 2018 at Security Square Mall and Los Angeles in October). Entertainment Business panel and national talent showcase competition (vocal, songwriting and dance) with over $13,000 in prizes. www.UpliftingMinds2.com.