The Pulse of Entertainment: Exquisite 'Velvet Groove' Project by Drummer Eric Valentine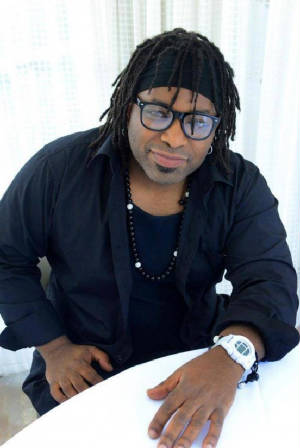 "I've worked with them," said drummer Eric Valentine about the guests on his new solo album "Velvet Groove" (Matcha Enter) due out February 14, 2018 on Valentine's Day. His guests include Kirk Whalum (sax), Wayne Linsey (Piano), Rick Brauns (trumpet), Richard Elliott (sax) and Gerald Albright (sax). "I've been in the business 20 years. I started with Jonathan Butler and worked with Wayman...everybody closely. I think the key with 'Velvet Groove'...is community. It's the first time I have not been hired to play drums, except with Gerald I had him on a piece I produced."
The "Velvet Groove" solo album release is an exquisite project and Valentine's Day is the perfect time to release such a masterpiece.
"I've studied the playing ability and styles (of his featured artists) and got to know their nuisances and what they can deliver...made it easy," Eric said about producing and writing the album with such Jazz industry heavy hitters.
Aside from Jazz living legends Whalum (Mack Ave), Linsey (Headrok Rec), Brauns (Shanachie), Elliott (Concord) and Albright (Bright Music) featured on the "Velvet Groove" album Valentine, who also plays keyboards and bass, also has for support Elan Trotman (sax), Keith McKelley (sax), Brian Simpson (piano), Alex Machacek, Lenny Castro, Munyungo Jackson (percussions), Allyn Johnson (piano), Adam Hawley (lead guitar), Dwayne Smith (bass), Gary Stanionis (percussion), Nathaniel Philips (bass), Darrell Crooks (guitar), Andre' Berry (electric bass), Tim Carmon (organ), Benjamin Shepherd (bass), Nathaniel Kearney (lead bass), Jamal Brown (flute), Kay-ta Matsuno (guitar), Darryl Williams (bass) and Ramon Islas (percussion). The project also includes vocal support from many that include his wife B. Valentine, Greg Manning and Eric himself.
"I was so blessed," Eric said in reminiscing about the "Velvet Groove" project. "I've been doing a lot of background tracks 'Jazz Impression' plus other instrumentals. This is the first album to make my music. I just want to put good music out."
Good music he has. My favorite cuts on the "Velvet Groove" album include track #1 "Back to the Groove" featuring Keith McKelley on sax, Brian Simpson on piano and Adam Hawley on guitar is a classy Jazz number; #2 "E. Love" offers a smooth sailing type of vibe and the keys by Ally Johnson, Anthony Crawford and Eric perfectly dances together; #3 "Velvet Groove" the title track is Jazz masterpiece that features the colors of Richard Elliott on sax, Rick Braun on trumpet and Darrell Crooks on guitar painted with the brush of Eric's drums; #8 "Mi Sol featuring Kay-ta Matsuno on guitar is short and sweet but still offered me visions of an Hispanic Jazz culture; #9 "Tis So Sweet (For Wayman Tisdale)" offers that signature Tisdale sound thanks to Darrell Crooks on guitar with Gerald Albright on sax bringing him home, and I liked #13 "Reflections (Back in the Day Reprise)" featuring Wayman Linsey on piano, Kirk Whalum on sax and Eric Valentine on keys, though short and sweet, makes an exquisite combination you will see yourself playing over and over again.
"I genuinely care about people," Valentine said. "When I say 'how are you doing' I really mean it. There are so many different things to discourage me but I stayed focused. I was honest with myself...I got the vision I had in my heart."
SYNDICATED COLUMN: Eunice Moseley, has an estimated weekly readership of over ¼ million with The Pulse of Entertainment. She is also a Public Relations Strategist and Business Management Consultant at Freelance Associates, and is Promotions Director (at-large) for The Baltimore Times. www.ThePulseofEntertainment.com. EVENT: 19th annual "Uplifting Minds II" Free Entertainment Conference (Baltimore Sat, April 21, 2018 at Security Square Mall and Los Angeles in October). Entertainment Business panel and national talent showcase competition (vocal, songwriting and dance) with over $13,000 in prizes. www.UpliftingMinds2.com.