The Pulse of Entertainment: Baltimore Author Dr. Kerri Hobbs to Speak at Smithfield and Enoch Pratt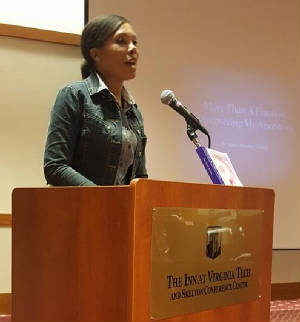 "The purpose was...research for my family. Bullet point facts," said Dr. Kerri Moseley-Hobbs about her creative non-fiction book "More Than a Fraction: Based on a true story." The book, based on her ancestors, was recently published by Imagination Lunchbox, LLC. "My son, Anthony, recommended I write the book how I tell people the story."
If you have every heard Dr. Hobbs tell a story you will be treated to the many different voices and personalities that she provides when quoting what someone has said. An education specialist Dr. Hobbs provides footnotes in the book to let the reader know when details are true. The book is about her ancestors the Fractions, who she found during a heritage search, that were enslaved on the Smithfield plantation in Blacksburg, Virginia - home of the Preston family. The Preston family was one of the richest in the state of Virginia at the time and heavily involved in the Civil War, as was their enslaved - two of which where sons of the Fraction family Thomas and Othello.
The reason for the research, what facts about the enslaved were discovered and how those facts touch on our lives today is presented in Dr. Kerri Moseley-Hobbs' "More Than a Fraction" book tour presentation, which arrives at Historic Smithfield in Virginia and Enoch Pratt Library in Baltimore. The book tour arrives at the Historic Smithfield plantation (now a museum) during a Black History Month event Saturday February 10, 2018 from 11 a.m. to 4 p.m. during their "Exploring the Roots & Culture of the Enslaved at Smithfield" excursion of the estate.
"The book is based on statements found," Dr. Hobbs pointed out. "In Othello's statements he comes off as...silly. In history books the enslaved comes off as hurt...all the time. That is what happens when the story is about the enslavers. When it's about the enslaved you can explore more on what they like to do."
The facts Dr. Hobbs found indicates that Thomas Fraction was a rebellious older brother to Othello, who followed his big brother everywhere - to enlist in the civil war for their freedom, under-threat come back after the war for their loved ones and Salem, Virginia where they brought land (unheard of for former slaves).
"The Historic Smithfield presentation will focus on the first two chapters of the book to set the foundation of where they came from in Africa," Dr. Hobbs said. "It will introduce them and other enslaved at Smithfield...their culture and a series of events to give the enslaved community personalities. Make them people."
The "More Than a Fraction" book tour arrives at the Enoch Pratt Free Library in downtown Baltimore, Maryland Thursday April 26th at 6:30 p.m. This presentation will provide a power-point presentation that shows attendees how the African culture brought to American by her enslaved ancestors is still used by the African-American community today.
"Take the information we know challenges the status quo about the history of people during that period and... I hope they walk away thinking the assumptions they had are wrong...based on movies," she said.
The company that published her creative non-fiction book, "More Than a Fraction," belongs to her son Anthony who is a multi-award winning prodigy actor and filmmaker. At 12 years old he has starred and co-starred in such projects as an Emmy nominated docu-series for PBS called The Abolitionist and in a DreamWorks film (How to Train Your Dragon: Dragons and Dinosaurs), produced three short films and is hosting an annual film festival (Imagination Lunchbox International Children's Film Festival). When I asked if his company, Imagination Lunchbox, was planning on making the "More Than a Fraction" book into a full length feature film Dr. Hobbs said, "Its open, but not a priority right now. We've not searching it (funding). The plan is for my son to do the film."
As far as the "More Than a Fraction" book tour she said, "We will see where the wind takes us. I appreciate all the interest. Every time it (the excitement) fades. I meet someone interested in it."
The "More Than a Fraction" book tour presentation has already stopped by the Red Emma Bookstore in Baltimore and at the Virginia Civil War Research Center sponsored lecture at Virginia Tech University. You can find the book online at Amazon and Barnes & Noble, as well as at the website of www.ImaginationLunchbox.com. For information on other stops 2018 for the book tour email ImaginationLunchbox@gamil.com.
SYNDICATED COLUMN: Eunice Moseley, has an estimated weekly readership of over ¼ million with The Pulse of Entertainment. She is also a Public Relations Strategist and Business Management Consultant at Freelance Associates, and is Promotions Director (at-large) for The Baltimore Times. www.ThePulseofEntertainment.com. EVENT: 19th annual "Uplifting Minds II" Free Entertainment Conference (Baltimore Sat, April 21, 2018 at Security Square Mall and Los Angeles in October). Entertainment Business panel and national talent showcase competition (vocal, songwriting and dance) with over $13,000 in prizes. www.UpliftingMinds2.com.