The Pulse of Entertainment: The Young Karl Marx, How Thoughts Provoke Positive Change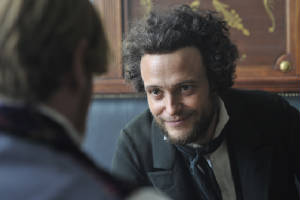 "They can try to gag us, but they can not kill thought" and other philosophical script lines were in The Orchard presentation of The Young Karl Marx starring SAG Award winner August Diehl (Inglourious Basterds) as Karl Marx. The film, releasing exclusively in New York and Los Angeles on February 23, 2018, follows a young writer Karl Marx whose rebellious thoughts on society at the time were published in journals (newspapers) when that was basically the only form of mass communication. Together with researcher Friedrich Engels they published papers that sparked the Industrial Revolution, which drove the Labor Movement forward.
The Young Karl Marx outlined how the Communist League or Party, as it is called today, was totally different in its philosophy from the one we all know today. Directed by Oscar nominated Raoul Peck the film tells of a family man who was exiled from France because of his philosophies and published papers on economic and label issues. Frenchman Friedrich Engels, son to a wealthy factory owner, is played by Stefan Konarske. Engels' research was on the plight of the poor. That research, along with Marx's view on the big divide between the rich and poor, the use of child labor and the politics of ignoring the poor, helped the two establish the Communist League's Doctrine - a paper Marx wanted to give up publishing at one point. Marx's struggles balancing taking care of his wife and kids with the aftermath of his published work for positive change is the climax of the film - how thoughts can provoke positive change.
Produced by Nicolas Blanc, Remi Grellety and Robert Guediguian The Young Karl Marx also stars Oliver Gourmet as Pierre Proudhon a high profile author of the day whose work Marx and Engels analyzed and critiqued to bring attention to their own published papers. Vicky Krieps plays Jenny Marx, head strong wife of Karl Marx and Hannah Steele plays Mary Burns, wife of Friedrich Engels who was a former factory worker.
The Young Karl Marx will be released nationwide through The Orchard sometime in March, but those in New York and Los Angeles can look for it in theatres Feb. 23rd.
SYNDICATED COLUMN: Eunice Moseley, has an estimated weekly readership of over ¼ million with The Pulse of Entertainment. She is also a Public Relations Strategist and Business Management Consultant at Freelance Associates, and is Promotions Director (at-large) for The Baltimore Times. www.ThePulseofEntertainment.com. EVENT: 19th annual "Uplifting Minds II" Free Entertainment Conference (Baltimore Sat, April 21, 2018 at Security Square Mall and Los Angeles in October). Entertainment Business panel and national talent showcase competition (vocal, songwriting and dance) with over $13,000 in prizes. www.UpliftingMinds2.com.