The Pulse of Entertainment: Paramount's Annihilation, an Alien Battle of a Different Kind, starring Natalie Portman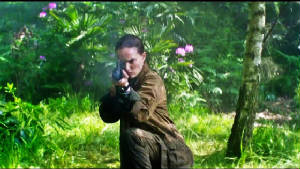 Single handedly former soldier Lena, played by Academy Award winner Natalie Portman (Thor), saves earth from annihilation from an alien of a different kind in the Paramount Pictures' Sci-Fi thriller Annihilation. Directed by Alex Garland, Annihilation arrives in theatres February 23, 2018. It is based on a novel by Jeff Vander Meer of the same name and is Rated-R.
From outer space a substance falls on earth that has a force field that is changing all life form to any thing but human and animal. As time passes the "alien bubble" gets larger and larger. Teams have gone in the infected area to see what's happening, but only one man has returned - Lena's husband Kane played by Golden Globe nominated Oscar Isaac (Star Wars: The Force Awakens). Lena starts to question whether he is her husband because he doesn't remember much.
Stopping the spread of the alien substance had been going on with top secret military expeditions for three years until Lena, who is a Johns Hopkins professor in biology, decides to go with the next team to see what happened to her husband. What happened and how she single-handedly stopped the annihilation of earth is the best part of the film - the alien battle.
Also starring in Annihilation is Academy Award nominated Jennifer Leigh ("Weeds") who plays Dr. Ventress the leader of the expeditions who decides to join the next team sent in to stop the spread; Golden Globe nominated Gina Rodriguez ("The Bold and the Beautiful") plays Anya Thorensen a member of the last expedition team; NAACP Award winner Tessa Thompson ("Westworld") plays Josie Radek another member of Lena's team, and Tuva Novotny is Cass Sheppard another member of the team. Benedict Wong, Sonoya Mizuno and David Gyasi also co-star in the Scott Rudlin, Skydance Media, DNA Films production.
SYNDICATED COLUMN: Eunice Moseley, has an estimated weekly readership of over ¼ million with The Pulse of Entertainment. She is also a Public Relations Strategist and Business Management Consultant at Freelance Associates, and is Promotions Director (at-large) for The Baltimore Times. www.ThePulseofEntertainment.com. EVENT: 19th annual "Uplifting Minds II" Free Entertainment Conference (Baltimore Sat, April 21, 2018 at Security Square Mall and Los Angeles in October). Entertainment Business panel and national talent showcase competition (vocal, songwriting and dance) with over $13,000 in prizes. www.UpliftingMinds2.com.