The Pulse of Entertainment: Arts Sims Enlisted by Black Panther/Koryn Hawthorne's #1 on Billboard

"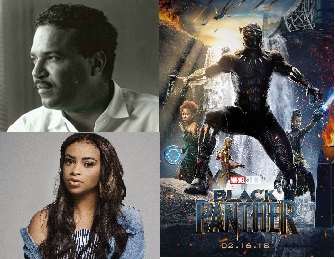 I was hired," said Art Sims, CEO of 11:24 Design Advertising Agency, about how he came to be enlisted to design the poster for the Disney Black Panther film. "I was one of two agencies Marvel selected. We both used the same photos. They hired us to come up with sketches, what it should look like."
Marvel wanted Black Panther to be a character that was large, powerful and a heroic super hero. Art Sims, who has created advertising designs for Spike Lee, George Lucas and Steven Spielberg (The Color Purple), did not have his poster design selected but large, powerful and heroic it surely is.

"I was the only African-American that worked on Black Panther (art-work)," Sims said. "There is not many of us out there. Disney knows me. I've done all of Spike Lee's work - Do The Right Thing, Red Tails...I get clients that more times have come up with expressions, directions and ideas. Clients do tell me what they want. Most times I have the freedom of direction."
Art Sims' vision for the Black Panther poster had the hero masked front and center and larger than life with a waterfall and scenes of civil war as the backdrop making him seem powerful enough to smite his enemies. He is surrounded by his warrior women - the love of his life who is an humanitarian to the right, the leader of his army who is a true soldier watching his back and his sister who is a technology wiz to the left. Marvel selected a poster that has the hero much smaller, masked off and used as the backdrop with more of the films characters included, such as his mother the queen
, his rival for the throne - his abandoned cousin and an ally federal agent - just to name a few.
After reviewing the film I must admit that Art Sims' version better shows the entity of the film - the strength of the heroic Black Panther and the three women that helped him keep his throne. Art Sims' past work is visually just as historic and iconic as the Black Panther character, which is why it appears at the Smithsonian National Museum of African-American Art as art of the Paramount Collection.
"I wanted to be an entrepreneur. I went to Detroit's' top high school. I went to Michigan State U with high honors on a scholarship. I worked part-time at Sony in New York doing album covers. Left there and went back to MSU. I came to Los Angeles to work for Capital Records for two years, CBS TV (as Art Director) for a year. Then I wanted my own agency. I did work for Quincy, Clarence Avant (on The Color Purple). I introduced myself to Spike Lee. I was not happy working with others I wanted freedom. Our goal was not to be a movie poster company, more of an artist studio...artists' reflections of African-American male and female consumers, not the traditional ads...to try from an artistic experience."
Art Sims 11:24 Design did just that. He came up with a poster of an artistic and client driven perspective, where as the other agency's poster seems to be from a investor and cast driven perspective. Sims' 11:24 Design is based in Los Angeles and its recent client includes Ava DuVernay. Past projects include Malcolm X, Jungle Fever, Love & Basketball and Mo Better Blues. Other clients of 11:24 Design include Lionsgate, Starbucks, Warner Bros., Fox and Coca-Cola. Sims also has a non-profit foundation, AIR (Artists in Residence) Foundation to mentor to art designers. You can log onto www.1124Design.com to reach out.
She was a finalist in season 8 of NBC's talent competition, "The Voice." Contemporary Gospel artist Koryn Hawthorne, as a result, is now an artist on RCA Inspiration and released her debut self-titled EP on August 11, 2017. She has received two Stellar Awards nominations for the project and her latest single off the EP, "Won't He Do It," hit #1 on Billboard's "Digital Tracks Chart." The single also reached #4 on Billboard's "Hot Gospel Songs Chart" and #7 on Billboard's "Gospel Airplay Chart."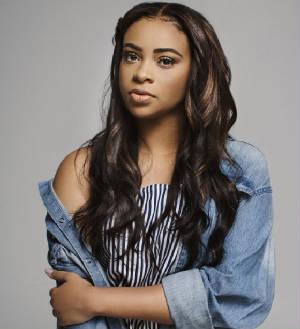 "This is incredible. I'm so thankful," Koryn said about reaching the #1 spot on Billboard. "To go #1 shows people are actually supporting it. I want people's lives to be impacted."
Someone in her life had a positive impact on her from birth because she was only 17 when she became one of four finalists on the nationally televised talent competition. This means she was performing in front of millions of people.
"Every since I was a kid...I wanted to sing," she confessed when I asked. "I was singing at two and performing since seven.'The Voice' was my reassurance. Insuring me I was on the right path."
She is so reminiscent of my own life. My mother said I was singing before I could talk and performing in talent shows in elementary school. However, we had no national platforms as "The Voice". Koryn has the vocal talent, Billboard topping support and a passion for the Gospel so this assures me that she will be a inspirational icon one day.
"I am sure this is what God has for my life. We have free choice - to give back to him," Hawthorne said sincerely.
The Stellar Award nominations are for this year's ceremony but whether she wins or not she has reached Billboard's #1 spot so she is already a winner. Her nominations are for "Best New Artist of the Year" and "Contemporary Female Vocalist of the Year." The "Koryn Hawthorne EP" producers include Grammy winning Warryn Campbell, Grammy winner Aaron Lindsey and Bernie Herms.
When talking about the business of entertainment the 20 years-old Louisiana native said, "I have a strong support system. My mother is everywhere I go and is keeping me grounded. The church and God too...I have good people in my circle that holds me accountable. She (her mom) is incredible."
Learn and listen to how incredible Koryn is by logging onto www.KorynHawthorne.com.
SYNDICATED COLUMN: Eunice Moseley, has an estimated weekly readership of over ¼ million with The Pulse of Entertainment. She is also a Public Relations Strategist and Business Management Consultant at Freelance Associates, and is Promotions Director (at-large) for The Baltimore Times. www.ThePulseofEntertainment.com. EVENT: 19th annual "Uplifting Minds II" Free Entertainment Conference (Baltimore Sat, April 21, 2018 at Security Square Mall and Los Angeles in October). Entertainment Business panel and national talent showcase competition (vocal, songwriting and dance) with over $13,000 in prizes. www.UpliftingMinds2.com.