The Pulse of Entertainment: Television Producer Rushion McDonald Launches His Own Talk Show, 'Money Making Conversations'/Jazz Band Under the Lake's Album 'Jazz, Groove & Attitude' is Sweet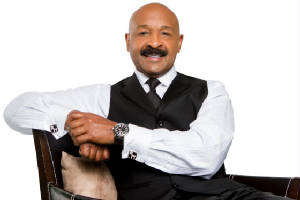 Rushion McDonald has executive produced for others taking them to unimaginable heights, but in February, 2018 he launched his own talk show "Money Making Conversations." It airs on iHeart Radio Podcast and Radio BIZ 1190am on Mondays from 10am - 12 noon ET. Making money is a topic Rushion should know about because he has produced iconic television shows such as "Sister, Sister" (1997-1999), "The Parkers" (2000-2002) and Steve Harvey's projects that include "The Hoodie Awards" (2010-2011), "The Steve Harvey Show (2013-2016) and "Family Freud" (2014). He earned an Emmy Award for his work on "The Steve Harvey Show."
"There are paths to success," Rushion said to me. "I don't like help books from those who are not successful Success is...living a balanced life. We are all Millenniums - people who understand the entrepreneur spirit...seeking to be independent. I have the same values, I have the entrepreneurial spirit."
Even though McDonald knows a lot about making money, on his show "Money Making Conversations" he lets other successful individuals talk on the subject. He has had such guests as Patti LaBelle, Hill Harper, Cedric the Entertainer and Kirk Franklin.
"What excites me is I don't know them," Rushion said about his guests. "I read their books and...they tell their story. I'm honest when I tell my story. It's about maintaining success with a balance life. I've been there."
Advise he said he gives out, "Surround yourself with people you can trust...not "yes" people. Don't just focus on work...ignoring your health."
In March "Money Making Conversations" guests includes scriptwriter Reginald Hudlin, Football Hall of Famer Deion Sanders, Bishop T.D. Jakes, Gospel singer Michelle Williams (Destiny's Child) and boxing champ/actress Laili Ali. Rushion's company 3815 Media (www.3815Media.com) is producing his talk show.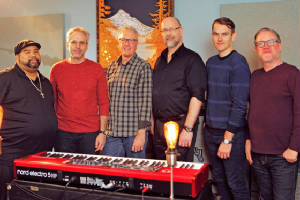 Yes there is a band called Under the Lake and you know I had to ask about where it came from when I interviewed Jayson Tipp, the band's keyboardist and founder. The band Under the Lake just released its fourth album titled "Jazz, Groove and Attitude".

"I was searching for a name that would be unique. So many bands had the same names," Jayson said. "I was in college at a seminar and someone said pick a name that is unique. The name (Under the Lake) doesn't communicate one or the other (genre)...Blues, Soul, Jazz."
The rest of the band consist of trumpeter John Moak (Brandon Marsalis), sax player David Evans (Temptations, Gladys Knight), drummer Brian Foxworth, bassist Kenny Franklin, guitarist Evan Mustard, saxophonist Nat Caranto and harmonist Joe Powers. Under the Lake is based in Oregon and is celebrating 25 years since their debut album "Dive In."
"The last album was in 2007. So it's been 10 years since I started the band 26 years ago in San Diego. I am the only consistent member," Jayson said. When I asked why the 10 year gap he said, "We were young, with young families. We started going in different directions - literally. So I focused on raising my family. We got together in 2005 and found out we could record and not be living in the same place. So we decided to get the momentum started. I moved to Portland, but my kids are older now and I had this body of material. Portland has a rich Jazz heritage and Jazz community of artists. The new resurrection of the band... (showed it) still has a following."
After listening to the album I can see why after 10 years it still has a following. My favorite selections on the 11 song project include #1 "Breaking Through" because I love how the horn flips effortlessly; #3 "November 30th" because of its sweet groove and the keys are superb; #4 "George Is His Name" because the lead guitar sings and the horn is so sweet; #5 "Father's Day" because it is a traditional Smooth Jazz sounding selection and again I love the horn which makes the song so masculine; #7 "LJT" because of the use of a harmonica - its so different for a Jazz project, and #11 "September Groove," another traditionally sounding Smooth Jazz piece with a sweet lead guitar performance.
"I want to pay homage to the early musicians. We are all in the late 50's," Jayson pointed out. "One song is co-written by a sax player 20 years ago. He lives in New Orleans and has a solo career. It's the radio single ("George Is His Name"), a tribute to George Duke."
"They are all talented players in Portland," he said about the bands current members. "The drummer on the album is the most popular...in Portland."'
SYNDICATED COLUMN: Eunice Moseley, has an estimated weekly readership of over ¼ million with The Pulse of Entertainment. She is also a Public Relations Strategist and Business Management Consultant at Freelance Associates, and is Promotions Director (at-large) for The Baltimore Times. www.ThePulseofEntertainment.com. EVENT: 19th annual "Uplifting Minds II" Free Entertainment Conference (Baltimore Sat, April 21, 2018 at Security Square Mall and Los Angeles in October). Entertainment Business panel and national talent showcase competition (vocal, songwriting and dance) with over $13,000 in prizes. www.UpliftingMinds2.com.