The Pulse of Entertainment: 'The Last Movie Star,'Starring Burt Reynolds and Ariel Winter, Finds Love - Edna Sims of ESP Public Relations Honored for Excellence by BBA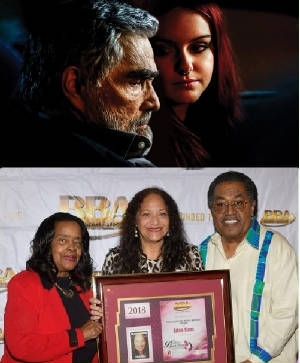 Burt Reynolds (The Longest Yard), to someone my age, is truly one of the last mega stars of the birth of Hollywood era. He stars in the A24 presentation of The Last Movie Star and his performance proves why he is considered a movie star. The some what dramatic comedy arrives in limited theatres and On-Demand March 30, 2018. Primetime Emmy winning Reynolds (Boogie Nights) plays Vic Edwards an elderly movie star who finds love in a group of fans that he thought didn't have much to offer him.

Vic is invited to a film festival to receive a "Lifetime Achievement Award" only to find it's not a big event but a small community event. His best friend Sunny, played by three-time Primetime Emmy winner Chevy Chase ("Saturday Night Live"), encouraged him to go and receive the love.
It seems it was not the kind of love Vic expected but it was the kind he needed to truly see himself, so he can check himself. How that happens is truly the highlight of the film, which he shares with Ariel Winter (Smurfs: The Lost City) who plays Lil' his transportation while at the event. The Last Movie Star also stars Clark Duke ("The Office") as Doug who is hosting the film festival, Ellar Coltrane (Barry), Nikki Blonsky (Hairspray), Emmy nominated Kathleen Nolan ("McHale's Navy") and Al-Jaleel Knox.
The film seems to be loosely based on Burt's life which I followed, especially his marriage to Loni Anderson who at the time was a super model. I remember praying that it would work out with them because it looked like they belonged together but somehow, because they worked in Hollywood, I knew that it wouldn't. Adam Rifkin is director and screenwriter and he shares the producer hat with Brian Cavallaro and Neil Mandt. If it was meant to be based on Reynolds life but not tell who people were - he did excellent. The film premiered at the Tribeca Film Festival in April of last year and released on DVD March 27th. It also premiered on Direct-TV February 22nd.
For almost 30 years Edna Sims, owner of ESP Public Relations (Janet Jackson, Snoop Dog), has connected me with high-profile interviews and events. Recently she was honored for her work in media with the "Excellence in Media Services" Award from the Black Business Association at their "Salute to Black Women" Awards Luncheon. The event's theme was "Nevertheless She Persisted." Edna, along with other women of the community of Los Angeles, was honored for persisting.
"I'm black, I'm a woman and a business owner for over 30 years or more," said Edna. "That's important because I'm from Detroit where everyone was black. I didn't know until college how to deal with white people."
Sims learned fast picking up corporate clients like Ford Motor Company, MTV Network, the Gracie Awards, Comcast and ASCAP.
"I always strive to be the best at what I can do," Edna explained. "My first job was cleaning cages at the zoo, but I was the best pooper scooper there was."
She is now the best Public Relations representative there is. Her professionalism is what stands out for me; it's so refreshing in the media world. Edna Sims' ESP Public Relations company is a full service agency that offers event planning, marketing strategies and communication, branding and media services. She has a reputation as a high-level red carpet media expert with a long list of high profile clientele that includes Kim Kasdashion, Louis Gossett, Jr., Spike Lee, David E. Talbert and Katt Williams.
Edna credits the power of God for her success as a business owner. She also worked as an English teacher straight out of college before starting her own company.
"He (God) can teach you. He will take your worst and make it the best. Life is a learning process, every step of the way. You may not understand it," Edna said. Her business strategy of success was to lessen to God's instructions. "Yes, I've been chased around desks that's why I started my own business. That's the way it was, even up to today. But by having my own business I don't get to experience that. God is the CEO of my company and the COO. I don't even advertise and God brings people to me."
Community activist Ozie B. Gonzaque received the "Lifetime Achievement" Award; co-director of Recycling Black Dollars Jacque Bee received the "Nevertheless She Persisted" Award; founder of Bella Network Alisha White Madison received the "Entrepreneur Excellence" Award; owner of Bowers & Sons Cleaners Vivian Bowers received the "Outstanding Community Based Business" Award; the President and CEO of Howard & Howard Consulting Clarisa F. Howard received the "President's Award," and owner of ESP Public Relations received the "Excellence in Media Services" Award.
"This surprised me. Especially because it is from the Black Business Association," Sims said of the honor. "I've learned so many things...to do the right thing when the wrong thing is happening."
I guess the Black Business Association believes the same. For almost 50 years the 501 (c) 3 organization, under the leadership of President/CEO Earl "Skip" Cooper, II and Chairwoman The Honorable Gwen Moore, has helped in the growth and development of African-American businesses by providing them with innovative information and services to advocate change and adherence to laws, as well as to assist companies and individuals in "moving up the ladder of success." www.ESPPR.net.
SYNDICATED COLUMN: Eunice Moseley, has an estimated weekly readership of over ¼ million with The Pulse of Entertainment. She is also a Public Relations Strategist and Business Management Consultant at Freelance Associates, and is Promotions Director (at-large) for The Baltimore Times. www.ThePulseofEntertainment.com. EVENT: 19th annual "Uplifting Minds II" Free Entertainment Conference (Baltimore Sat, April 21, 2018 at Security Square Mall and Los Angeles Sat. Oct 20th at the Celebrity Centre in Hollywood from 1 - 5pm). Entertainment Business panel and national talent showcase competition (vocal, songwriting and dance) with over $13,000 in prizes. www.UpliftingMinds2.com.