The Pulse of Entertainment: Ricardo Bacelar's Keys are Popping on 'Sebastiana' Album - Nigerian Marenikae Afro-Merges in New CD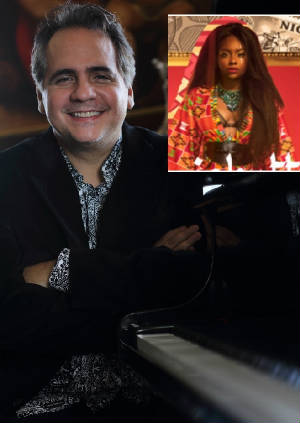 "I used elements of American culture...and all Latin cultures," said Jazz keyboardist Ricardo Bacelar about his latest album released titled "Sebastiana." "Latin Americans play Brazilian music differently. They mix the cultures Argentina, Colombia, Venezuela, Brazil, Peru, and Cuba. We have musicians from each culture. Each has their own way to weave the song."
"Sebastiana," meaning "she knows," features Ricardo on keyboard (Brazil); Steve Hinson on guitar (US); Anderson Quintero on drums (Venezuela); Yoel del Sol on percussion (Cuba); Channo Tierra on accordion (Colombia); Cesar Lemos on base (Brazil); Jose Sibaja on trumpet (Colombia); Jesus Rodriguez on percussion (Peru), and vocalists Maye Osorio (US), Andrea Mangiamarchi (Venezuela), Rose Max (Brazil) and Ramatis Moraes (Brazil). Lemos is also producer of the project, which Bacelar placed a sample of his daughters' percussions playing on. As you can see Ricardo is serious about paying homage to the musical roots of Brazil.
"They (his daughters) started classical piano...were playing percussions when we were in Miami last year. I put it on the record. They loved it," Ricardo recalls.
The mixture of Latin cultures make for a very different sound and Ricardo Bacelar had the keyboard popping all through the project. My favorite selections of the album include #3 "Nothing Will Be As It Was" because of the guitar playing by Hinson - its so smooth; #5 "Menina Baiana" for the traditional Latin sound I'm use to which says Brazil and the piano support was crazy good; #7 "Partido Alto" for its simplicity in the beginning and its transition to horns giving it that Jazz feel - I also love how the piano keys are popping; #9 "Sambadouro" because the sound reminds me of an African chant - especially if you don't understand the words of the vocalist like me- and this one has the keys popping too; #10 "Oh Mana Deixa Eu Ir" because the piano playing is outstanding providing that Smooth Jazz feel, and #11 the title track "Sebastiana" because it makes me want to dance and I love to dance!
"There are 45 cultures on the planet," Ricardo points out. "It's a big job for distribution but it's important to Brazil." (www.RicardoBacelar.com.br)
Nigeria birth the iconic Sade' whose vocals and style are unmatched. The country also birth vocalist Marenikae Lasode, who just released her debut album "Ajebutter." Her vocals and style is also unmatched. In fact, she is so unmatched she had to make up her own genre, which she calls Afro-Merge.
"My style is influenced by many people...so I had to give it a name. I call it Afro-Merge," Marenikae said. "I come from a musical family. My father owns a record label. The first group my father turned out is the biggest African artists."
Lasode said initially she stepped away from her calling because she did not want to sing traditional African music.
"The stigma around artists wasn't really what I wanted...so I went to college for Criminology. After a while I decided that this (singing/songwriting) is what I want to do."
Marenikae said it was the urging from a friend that prompted her to write a song which started her natural creative juices to flowing.
"My friend gave me a challenge...to write a song," she said. "I was 12 years-old. I wrote my first song - the first verse, the bridge and chorus. Everything and I was like wow I can do this."
Marenikae said African artists were not confirming to the contemporary world. They were staying with traditional African music and being of the younger generation she just wasn't feeling that style music. She went to college in Boston and that influenced her style of music.
"I went to college in Boston. North and South cultures are more into Soul," she pointed out. "I recorded a song but went back to Nigeria for 4 or 5 years. Things had changed for me as an adult."
Her view of her African culture had change. She no longer saw Nigeria through a child's eyes but through adults'.
"I started to fuse together social issues...after talking to my mother and grandmother. Everything they told me I took and poured that into my music."
The "Ajebutter" album has already released three singles - "Rose," "Smooth Operator" and "Remember."
SYNDICATED COLUMN: Eunice Moseley, has an estimated weekly readership of over ¼ million with The Pulse of Entertainment. She is also a Public Relations Strategist and Business Management Consultant at Freelance Associates, and is Promotions Director (at-large) for The Baltimore Times. www.ThePulseofEntertainment.com. EVENT: 19th annual "Uplifting Minds II" Free Entertainment Conference (Baltimore Sat, April 21, 2018 at Security Square Mall and Los Angeles Sat. Oct 20th at the Celebrity Centre in Hollywood from 1 - 5pm). Entertainment Business panel and national talent showcase competition (vocal, songwriting and dance) with over $13,000 in prizes. www.UpliftingMinds2.com.