The Pulse of Entertainment: Pianist David Garfield is 'Outside the Box' in a Masterful Way on New CD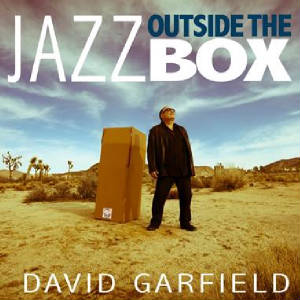 "The whole project 'Outside the Box' started in 2015. I recorded all my favorite kinds of music with my favorite kind of guys," said keyboardist David Garfield who just released the first of three albums of his "Outside the Box" project titled "Jazz Outside the Box." "Jazz music is the root (of music of all genres)."
David picked some great covers on the "Jazz Outside the Box" album, those of Duke Ellington, Horace Silver, Joe Sample, Rogers & Hammerstein - just to name a few. He enlisted the assistance from a long list of outstanding musicians such as Wallace Roney (trumpet), Poncho Sanchez (percussions), Eric Marienthal (sax), Steve Jordan and Vince Wilburn (drums), Chuck Loeb and Denny Dias (guitar), Charlie Bisharat's String Quartet and he even features the vocals of Grammy winning Michael McDonald ("Yah Mo B There"). The result is a masterpiece of a project.
"I started as a Jazz musician; Jazz was my passion in the 1970s. All Jazz musicians were at Motown. They did Jazz at night and in the day time worked in the studio to make those records," said Garfield. "I came to Los Angeles at 18 and wanted to play with Freddie Hubbard and I got a job with his band at 19. I thought I had made it. I even wrote a couple songs for him that were on the radio."
David did make it because that job allowed him the opportunity to write songs for some of the best musicians and singers in the world (Freddie Hubbard, Steve Wonder, George Benson).
"In 1986 I got a call from George Benson's manager," said David about one opportunity that came his way. "He was on top of the Pop world at the time."
That experience can be heard in his style of keyboard playing. "Jazz Outside the Box" is the first of the three album project. The 2nd album will be "Jammin' Outside the Box", which will offer Jazz in a more Contemporary and released this summer, and the third is "Vox Outside the Box", which will offer Jazz in a more R&B way.
My favorite cuts on the "Jazz Outside the Box" album by keyboardist David Garfield is #1 "Fragile" (a Sting cover) because of the vocals of Michael McDonald, David's crazy key playing, Diego Figueiredo acoustic guitar skills and Michael Lamdau's guitar support; #2 "Harvest Time" (a David Garfield original) because of those sweet keys with the outstanding combination of Eric Marienthal on sax; #4 "Roxanne" (a Sting cover) because David's keyboard playing at the beginning is masterful; #5 "Song for My Father" (a Horace Silver cover) because of that Latin Jazz feel it offers; #11 "Red Baron" (a Billy Cobham cover) because of that funky Jazz feel from back in the Renaissance period, and #12 "Country Preacher" (a Joe Zawinul cover) because the drum playing by Steve Ferrone gives it a depth that's rare in Jazz.
The Chicago native's time playing in the bands for Brenda Russell, Boz Scaggs, Natalie Cole and Michael Bolton is also so evident in his taste for music, making "Jazz Outside the Box" a masterful piece of a project. www.DavidGarfield.com

SYNDICATED COLUMN: Eunice Moseley, has an estimated weekly readership of over ¼ million with The Pulse of Entertainment. She is also a Public Relations Strategist and Business Management Consultant at Freelance Associates, and is Promotions Director (at-large) for The Baltimore Times. www.ThePulseofEntertainment.com. EVENT: 19th annual "Uplifting Minds II" Free Entertainment Conference (Baltimore Sat, April 21, 2018 at Security Square Mall and Los Angeles Sat. Oct 20th at the Celebrity Centre in Hollywood from 1 - 5pm). Entertainment Business panel and national talent showcase competition (vocal, songwriting and dance) with over $13,000 in prizes. www.UpliftingMinds2.com.