The Pulse of Entertainment: Charlie Wilson's Billboard First, Two #1s on Two Charts at the Same Time - Lindsey Websters' 'Love Inside' Album is Majestic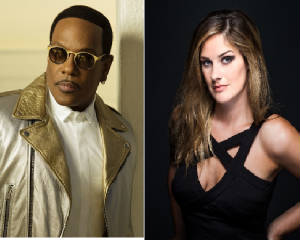 "My family knows God is good to me. To go from #1 to Top 5 and then back to #1," said Charlie Wilson about his career first on Billboard Charts - having two #1 hits at the same time. Wilson is an 11-time Grammy nominated performer who started many, many years ago as The Gap Bands' front man. "I understand I've been blessed and the people around me understand... and keep telling me to keep my focus."
The blessing Charlie, affectionately called Uncle Charlie, is talking about is reaching #1 on two different Billboard Charts at the same time. Both singles came from his 2017 album release "Wilson's In It To Win It" (P Music Group). The "I'm Blessed" single debuted at #1 on Billboard's Hot Gospel Chart in 2017 and remained on its Top 5 Chart for 45 weeks straight before regaining its #1 position setting a career record because Charlie's current single "Chill" was also #1 at the time on Billboards Adult R&B Chart.
"It's the first Gospel single that we've pushed," Charlie said when I asked if this was his first Gospel song. Wilson said he always had a Gospel song on his albums to thank God for his blessings but it is the first time his label released it as a single. "When it debuted it went right to #1...this has never happened. I'm working on Gospel (project) now. It has no name yet but I got two records."
Charlie is not new to blessings from God he had prostate cancer and has been cancer free for nine years now and he has been drug free and sober for 22 years. Only God can take away cancer and drug/alcohol addiction. I can tell Charlie is a believer.
"God is trying to say 'I got you up here...I gave you a platform...now use it for the good," said Uncle Charlie when I asked what he thinks God is saying to him with all of those major blessings.
Charlie Wilson is a living legend and his most notable solo hit for me is "You Are" which he received a Grammy Award nomination for and in 2012 he received the BET "Lifetime Achievement Award."
"I think a lot of people know that God has blessed them too. Many of us know God is there and is blessing us...so they giving Him some praise," Charlie said on the subject of the rise in Hip-Hop and R&B artists releasing Gospel projects, such as Snoop Doggs' "Bible of Love." "They're giving Him all the glory."
That is what Charlie has been doing since day one. Every time I've interviewed him, from back in The Gap Band days and through out his solo career, he has talked about how God has blessed him. That is why to this day he is still a very active iconic music figure that is still releasing #1 hits.
Smooth Jazz vocalist Lindsey Webster releases her fourth album release titled "Love Inside" (Shanachie Entertainment) featuring Norman Brown on guitar and Rick Braun on trumpet.
"When my husband and I write together it's from the heart," Lindsey said when asked about the title of the project.
Webster said when creates a song she comes up with the idea for the song, the chorus and the hook and her husband adds the music.
"...And I will write words that come," she said about the process. "Sometimes I have to work on it...I knew it (the album) was special. The title seems to fit...just so happens each song is about love."
When asked if any of her songs were divinely given she said, "'Dream' is one of them. It was around the time people was sharing Martin Luther King, Jr. quotes so 'dream' was on our minds. It was 11:30 - 12 at night. I started listening to 'Dream' (music track)...it felt like a dream and the words just came to me."
Lindsey debuted in 2013 with a self-titled album. Her second on Atlantic Records was titled "You Changed" (2015). Her third was "Back to Your Heart" on Shanachie Entertainment and in 2018 on the same label she released "Love Inside." Webster has garnered a #1 single on Billboard and has had five Billboard Top 5 Chart hits.
My favorite songs from the "Love Inside" album include #4 "Free to Be Me" featuring Norman Brown on guitar, because she shows us what her vocals can do and Browns guitar playing is simply superb; #7 "One Last Time," because it has a Latin feel I love, also for her vocal range reminiscent of Minnie Rippleton's high notes at the end and the piano support by Keith Slattery is majestic; #10 "It's Not You, Its Me" featuring Rick Braun on trumpet, because I like that Funky Groove feel that is driven by Rick Brauns trumpet playing with piano support by Keith that gives it that cherry on the cake, and #12 "By My Side," because of the R&B feel Lindsey's vocals delivers, which are reminiscent of Lalah Hathaway and the lead guitar solo by Mike DeMicco is just outstanding.
"I always dream big," Lindsey said. "I always try to keep a big picture."
Well her "Love Inside" album certainly offers the big picture on love, "the good, the bad and the wonderful." You can log onto www.Shanachie.com for more information on Lindsey Webster or her recent album release "Love Inside."
SYNDICATED COLUMN: Eunice Moseley, has an estimated weekly readership of over ¼ million with The Pulse of Entertainment. She is also a Public Relations Strategist and Business Management Consultant at Freelance Associates, and is Promotions Director (at-large) for The Baltimore Times. www.ThePulseofEntertainment.com. EVENT: 19th annual "Uplifting Minds II" Free Entertainment Conference (Baltimore Sat, April 21, 2018 at Security Square Mall and Los Angeles Sat. Oct 20th at the Celebrity Centre in Hollywood from 1 - 5pm). Entertainment Business panel and national talent showcase competition (vocal, songwriting and dance) with over $13,000 in prizes. www.UpliftingMinds2.com.