The Pulse of Entertainment: Kountry Wayne Brings Laughter, Tour Comes to Baltimore Comedy Factory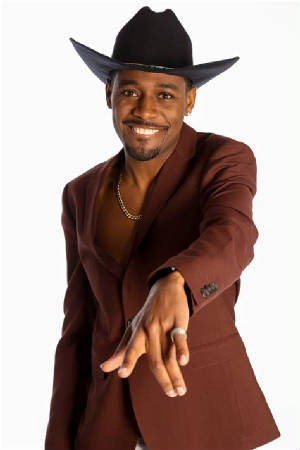 "I got nine kids to feed," comedian Kountry Wayne said seriously, even though it made me laugh, about the reason for taking his online video sketch popularity to venues across the country. "It's from the demand. Now I'm getting paid!"
Kountry Wayne was Wayne Colley an aspiring artist trying to make it in the music business who realized through demand for his comedy videos that comedy is the direction he should be going.
"Before I got on stage I had a following. People who knew me, knew my work," Kountry Wayne said in a thick Georgia accent. "I put them out there for people to see me."
They followed him in the millions on social media platforms - total over 3 million. He recently posted a sketch video about discovering how long your barber's been cutting hair and it's received 4,000 views in one week. I personally watch it twice because it was funny.
"Off stage I tell stories about my life...what I been through. I tell nothing but the truth," Wayne said about his style comedy. "Tell them (Baltimore) to come on out. Tell the church people come out. It's positive energy and clean comedy."
Wayne's "Gift of Gab" comedy tour comes to the Baltimore Comedy Factory May 17 - 19, 2018. His online numbers prove people must really be in need of laughter because Kountry Wayne did a 150 date "Child Support Comedy Tour" in 2017 and his 2018 "Gift of Gab" tour seems to be about the same.
"It started in Fort Myers, Florida in 2015," said the 30 year-old about the first time he took his video comedy sketches to the stage.
It snow-balled into that a 150 date tour and this tour, backed by Live Nation. Providing laughter to people must give you a good feeling - aside from the money you can make as a comedian. Laugher is the one thing that can make you forget your car has been repossessed or that there's a lean just placed on your property, laughter can make you forget that - for a while.
"It's a different kind of pressure," Wayne said when I asked about the pressure of making people laugh. He explains what type of pressure he has. "I've picked up more and more fans. At first it was just people from the South, black people. Now a lot of white people are fans so my material has to be about everyone. But it's a good pressure."
I can tell Kountry Wayne will have no problem making people laugh he is a natural - no matter what the subject. I laughed through the whole interview even at time I know he was serious. What an awesome gift.
Wayne's' gift means the sky is not even the limit for him. His "Gift of Gab" comedy tour is also coming to Pleasanton, CA May 11-12th, Virginia Beach, VA May 25-27 at the Funny Bone, and Houston, TX May 31 - June 3rd at the Comedy Club. Other cities include Arlington, TX; El Paso, TX; Antonio, TX; Kansas City, MO; Nashville, TN; Tampa, Florida; Omaha, NE; Liberty, UH; Jacksonville, Florida; Boston, MA; Columbus, OH; Detroit, MI; Chicago, IL; Hartford, CT; Orlando, FL; Dayton, OH; Minny, MN; Denver, CO; Atlanta, GA; Huntsville, AL; Columbia, SC; Memphis, TN, and Westbury, NY. To find out the venues and dates log onto his website at www.KountryWayne.com. www.BaltimoreComedy.com
SYNDICATED COLUMN: Eunice Moseley, has an estimated weekly readership of over ¼ million with The Pulse of Entertainment. She is also a Public Relations Strategist and Business Management Consultant at Freelance Associates, and is Promotions Director (at-large) for The Baltimore Times. www.ThePulseofEntertainment.com. EVENT: 19th annual "Uplifting Minds II" Free Entertainment Conference (Baltimore Sat, April 21, 2018 at Security Square Mall and Los Angeles Sat. Oct 20th at the Celebrity Centre in Hollywood from 1 - 5pm). Entertainment Business panel and national talent showcase competition (vocal, songwriting and dance) with over $13,000 in prizes. www.UpliftingMinds2.com.