The Pulse of Entertainment: Grammy Nominated Jeffrey Osborne Releases 'Worth It All' Album May 25, 2018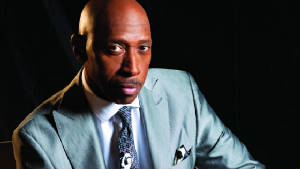 "I started this project on Mack Avenue (Records). I had just done a Jazz record. They asked about another Jazz album, but my writing was going back to my R&B days," said Grammy nominated Jeffrey Osborne.
The result is the May 25, 2018 release of Jeffrey Osborne's "Worth It All" (Artistry Music/Mack Avenue) album featuring Gerald Albright (sax) and Rick Braun (trumpet). The R&B days he is referring to is from when he was a drummer and support vocalist for the band LTD (formerly known as Love Men Ltd), with his brother Billy (keyboards, lead vocals) in 1970. The LTD (Love, Togetherness, and Devotion) bands' hits include "Back in Love Again" which has the lead vocals of Jeffrey. Jeffrey coming from behind the drums in 1977 to sing lead solidified his signature vocal style and sound. He left the band in the late 1980s with his brother to pursue solo careers.
"I always wanted to be a singer first," Osborne said when I asked about his love for the drum compared to his love for vocals. "I learned how to play the drums...it got me into LTD. (However) My first job was with The O'Jays playing drums (age 15). It introduced me to the world I wanted to be in."
That world also included songwriting. Jeffrey Osborne wrote Whitney Houston's hit "All at Once."
Music is in his blood. His father, Clarence Osborne, was a trumpet player and worked for Count Bassie, Lionel Hampton and Duke Ellington and of course his brother Billy is a vocalist, organ/keyboardist and drummer.
"That's how I started, I wrote a lot of songs," he said. "I always wanted to sing a Jazz record... and got with my friend George Duke."
The "Worth It All" album also features his son, a rapper, Jeffrey Osborne, Jr.
"He is 28 years-old and is very much into music," Jeffrey informed me. "My son is on 'Work It'. That's his passion, rapping. He also sings and is an incredible sound engineer. He tours with me. I told him to write and I was shocked because it felt like an old R&B song."
Jeffrey Osborne, Jr. co-wrote the "Work It" single on the "Worth It All" project.
"It was something I never dreamt," Osborne continued about discovering the depth of his son's musical talents. "He was a late bloomer. He didn't get into music until after college."
Hit singles from Jeffrey Osborne's solo career include the very popular "On the Wings of Love" (1982) and "You Should Be Mine" (1985). The living legend is 70 years-old but does not look or sound like it.
"It's been 13 years since my last release of original material. Three or four years ago I released an album of Jazz Standards. Before that it was an album of R&B Standards," he said.
Jeffrey Osborne has garnered five Gold and Platinum albums and a hit single with Dionne Warwick titled "Love Power." He has also garnered four Grammy nominations.
"It's all entertainment," Jeffrey said when I pointed out that event though he wanted to be a singer he went through the first door to the music industry that opened for him - that as a songwriter and drummer. "If you can get into the entertainment field no matter how, you can branch out. Just be ready when the door opens."
Jeffrey Osborne is always on tour performing his hit songs. He has performances coming up that start the day after his "Worth It All" album is released on May 26th in Huntsville, AL at the Huntsville Drag Way; the Microsoft Theatre in Los Angeles July 20th; Atlanta, GA at the Mable House Barnes Amphitheatre September 2nd; Las Vegas, NV at the Aliante Casino September 15th, and Orlando, Florida at Disney World on September 30th. For the complete list of tour dates, or to download the "Worth It All" new album or to buy Jeffrey Osborne merchandise you can log onto www.JeffreyOsborne.com.

SYNDICATED COLUMN: Eunice Moseley, has an estimated weekly readership of over ¼ million with The Pulse of Entertainment. She is also a Public Relations Strategist and Business Management Consultant at Freelance Associates, and is Promotions Director (at-large) for The Baltimore Times. www.ThePulseofEntertainment.com. EVENT: 19th annual "Uplifting Minds II" Free Entertainment Conference (Baltimore on Sat April 21st 1 - 4p, at Security Square Mall and Los Angeles on Sat October 20th 1 - 4pm at the Celebrity Centre in Hollywood). Entertainment Business panel and national talent showcase competition (vocal, songwriting, dance and acting) with over $15,000 in prizes. www.UpliftingMinds2.com.