The Pulse of Entertainment: Bishop Jason Nelson Releases 'The Answer' on RCA Inspiration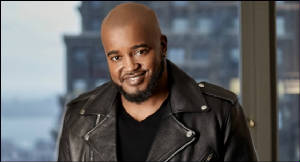 "When I first started writing I was just writing. What came out of it was organic," said Bishop Jason Nelson about his just released album "The Answer" on RCA Inspiration, home of Kirk Franklin, Michelle Williams and Marvin Sapp. "I was just writing good music that was relevant to my walk, to the producer's walk and discovered 'The Answer' is what we should be talking about."
"The Answer" is Jesus Christ. His walk is what we should be talking about. Bishop Jason Nelson's fifth album "The Answer" was recorded live at his church The Tabernacle at Greater Bethlehem Temple in Maryland. He announced the release of the new album on social media April 16, 2018 and the project became available May 18th. The album release was led by the first single titled "Forever" co-written by his wife Tonya.
"I can't thank anyone but God for putting that in my wife's head," Nelson said about the concept for the song.
His wife Tonya came into a room, where Jason and his music partner was working, singing a hook she made up. Nelson told me that he and his music partner both look at each other and instantly knew it was a song.
"Once it was written she wanted credit," Jason laughed. When I asked him if he gave his wife the songwriting credit she asked for he said, "Of course!" He said his wife wouldn't call herself a singer but that she "can sing."
Bishop Jason Nelson's last album "Jesus Revealed" debuted at #1 on the Billboard "Gospel Albums Chart" and its single "I am" remained at #1 for 20 weeks. His first album was released in 2005 titled "I Shall Live." He is also a songwriter and has written songs for label mate Marvin Sapp and worked with Donald Lawrence.
The last 11 years however Nelson has been Head Pastor at his father's church The Tabernacle at Greater Bethlehem in Randallstown, Maryland. It is said that at one point in his life his father asked him what he wanted to be and his reply was he wasn't going to be a Pastor. However God wanted that path for him and what God wants no one can stop. In 2007 when his father retired Jason Nelson took over the church.
"It's just about me being open to instruction," Bishop Jason Nelson said about the big turn-around that lead to him taking the call to lead his father's church. "I was open. It just didn't happen over night though. I really wasn't having it, but He turned it around. I've been 15 years active in the ministry. What we are called to do is not always easy."
Being the Pastor at The Tabernacle hasn't been easy for Nelson whose career was deep into music by the time his father retired.
"It takes afford, time, intuition...trusting in God," he said.
All that Bishop Jason Nelson has learned and experienced is in his music. "The Answer" offers 14 songs with featured vocalists Dove Award nominee Jonathan Nelson (his brother), Maranda Curtis and Naomi Raine. Songs include #1 "Jesus is the Answer" a cover, #2 "Captured My Heart," #3 "Never Go a Day," #4 "Lord of All," #5 the first single "Forever," #6 "Help Me" featuring Naomi Raine, #7 "Stripes," #8 "In The Room," #9 "You've Got Me," #10 "You've Got Me (Reprise)" featuring Maranda Curtis, #11 "All of Me," #12 "He Touched Me" a cover, #13 "Faith for That" featuring Jonathan Nelson, and #14 the title track "The Answer."
You can learn more about Bishop Jason Nelson, his church TB at GBT or his new project "The Answer" on RCA Inspiration by logging onto his website at www.JNelsonOnline.com.

SYNDICATED COLUMN: Eunice Moseley, has an estimated weekly readership of over ¼ million with The Pulse of Entertainment. She is also a Public Relations Strategist and Business Management Consultant at Freelance Associates, and is Promotions Director (at-large) for The Baltimore Times. www.ThePulseofEntertainment.com. EVENT: 19th annual "Uplifting Minds II" Free Entertainment Conference (Baltimore on Sat April 21st 1 - 4p, at Security Square Mall and Los Angeles on Sat October 20th 1 - 4pm at the Celebrity Centre in Hollywood). Entertainment Business panel and national talent showcase competition (vocal, songwriting, dance and acting) with over $15,000 in prizes. www.UpliftingMinds2.com.