The Pulse of Entertainment: Philip Hart and Disney Pictures to Produce Film on First Trans-Continental Flight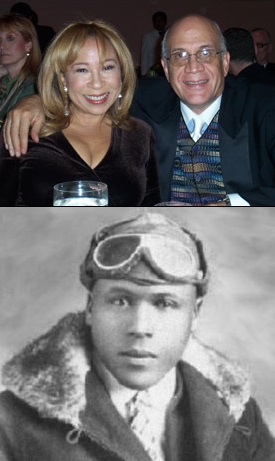 A boy looking for more information on his Great-Uncle James Herman Banning, who was a black pilot, ended in a life spent collecting and disseminating black history to the world. Philip Hart was that boy and since then his journey has resulted in published books, a Smithsonian exhibit and films. Hart, along with Disney Pictures, will produce "Jump at the Sun" a documentary about his Great-Uncle James H. Banning and his co-pilot Thomas Cox Allen, and their history making trans-continental flight in 1932.
"'Jump at the Sun' was developed at Disney," said Philip. "(Pulitzer Prize winner) Charles Fuller ("A Soldier's Story") wrote it." Hart in explaining about his development deal at Disney said, "The second development at Disney is about Bessie Coleman. Both are rooted in my research."
Philip Hart's research, which started when he was a young man, revealed not only his family's history in aviation but America's history in aviation. Since then he has published books, produced documentaries and even spear-headed an exhibit at the Smithsonian on Black aviators. He has produced for PBS a documentary titled "Flying in Search of a Dream," about the life of aviator Bessie Coleman. She was the first black female in the world to earn a pilots license. For his work Hart has garnered an Emmy Award. This Disney project is about the first pilots to fly trans-continental, which happens to be his Great-Uncle James Banning - the first black man to receive a pilot license.
"I've known sense I was growing up. I had a photo of him in own family album," Philip explained. "I tried to find out about him. I started (research) in high school."
Bringing black history facts to current-day American culture has not only resulted in an Emmy, but Peabody and Caucus Awards. As a couple the Harts have produced these film projects and have even hosted a radio show for 10 years called, "Hart Moments." Alone, Phil's credits include working as Director of the William Monroe Trotter Institution for the Study of Black Culture and as a professor at the University of Massachusetts Boston College for 20 years. Tanya's credits, aside from her "Hollywood Live with Tanya Hart" radio show that airs Monday through Friday on 300 stations of the American Urban Radio Network (AURN), is co-chair of The Caucus for Producers, Writers and Directors. The Caucus is a non-profit organization that helps fund projects of its members. Phil has published over 10 books plus articles such as the recent one published in the "Code M" magazine entitled "The Flying Hoboes to Blank Panther." The Flying Hoboes is what James Banning and Thomas Allen called themselves. Tanya also launched the west coast division of the BET Network with her "Live from Los Angeles with Tanya Hart" BET show.
"I've collaborated with the Smithsonian." Philip said about the many vehicles he has used to let the world know about African-American aero history. "They opened up a black exhibit... we donated to. It's about (aviation) pioneers. It's very popular."
"Jump at the Sun" will follow the lives of James Banning and Thomas Allen as they battle racism, the elements and each other in their second-hand plane during the Great Depression while flying from Los Angeles to New York in 1932. Banning died shortly after that historic flight at the age of 33 in 1933 as a passenger on a biplane that stalled during an aero show in San Diego. It is noted that Banning was not allowed to fly at the last minute because of his race so he went along as a passenger. Allen however, died of old age at 82 in a hospital in Oklahoma City.
"The main challenge is raising the money. The advance for books, I use it for the films," Philip said when asked about challenges he has faced. On any negative feed-back in putting a light on how important black history is to American history he said, "No push-backs. I've been involved in this 40 -50 years. I've done books, children books, exhibits and documentaries."
Hart explained how when raising funds for the PBS documentary that they wrote, produced and directed people were skeptical that these pilots actually existed and doubted whether people would be interested. Going by the popularity of the Smithsonian Black Aviation Exhibit in Washington, DC people are most certainly interested - I know I am.
"Most people know about the Tuskegee airmen but few know about those that came before them," he said.
Through his exhibits, books and films such as "Jump at the Sun" with Disney Pictures the Harts will educate us on who those people are. He names 10 of them in a 2013 Oxford University Press essay titled "Early African-American Aviators." Bessie Coleman is one. He wrote at least three books on her. In 1995 she received her own U.S. Stamp. Bessie Coleman obtained her pilot license in 1921 several years before Amelia Earhart. It was in international pilot license. Everyone in America heard about Amelia Earhart and that her plane crashed, but thanks to Philip Hart we now know that not only was Bessie Coleman the first black female licensed pilot in the world but like Earhart she too died in a plane crash (1926) - she was testing her new plane.
"Bessie died in a crash," Phil told me when I asked if she started the first black aero club (school) in the world located in Los Angeles that bared her name. "William Powell opened it up, the Bessie Coleman Aero School. I recently went where it was, the aero club. The (aero) school was at Jefferson High School."
Philip Harts' Great-Uncle James H. Banning was the chief pilot for the Bessie Coleman Aero Club (school) founded in 1929. The "Jump at the Sun" Disney Pictures documentary is also co-produced by their daughter Ayanna Hart who is COO and senior producer at their film production company Fancy Films and Marc Wax, who is a veteran artist manager and talent agent who has represented the Harts for many years.
SYNDICATED COLUMN: Eunice Moseley, has an estimated weekly readership of over ¼ million with The Pulse of Entertainment. She is also a Public Relations Strategist and Business Management Consultant at Freelance Associates, and is Promotions Director (at-large) for The Baltimore Times. www.ThePulseofEntertainment.com. EVENT: 19th annual "Uplifting Minds II" Free Entertainment Conference (Baltimore on Sat April 21st 1 - 4p, at Security Square Mall and Los Angeles on Sat October 20th 1 - 4pm at the Celebrity Centre in Hollywood). Entertainment Business panel and national talent showcase competition (vocal, songwriting, dance and acting) with over $15,000 in prizes. www.UpliftingMinds2.com.