The Pulse of Entertainment: Legends Score Big in Lionsgate's Uncle Drew and 'The Melody Trice Show' Reaches 2 Million in One Year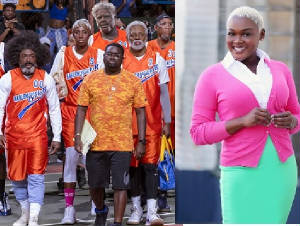 Living legends score big in the Lionsgate presentation of Uncle Drew, a sports comedy centered on street ball. Sports legends grace the screen in Uncle Drew providing tons of laughs with an underlining theme that age doesn't diminish skills. Uncle Drew stars NBA's Kyrie Irving (Boston Celtics) as Uncle Drew who is the best of the best and NBA's Chris Webber (Michigan Wolverines), Shaquille O'Neal ("Inside the NBA"), Reggie Miller (Indiana Paces) and Nate Robinson (New York Knicks) as his street ball team from back in the day, now "elderly" in age.
The team of street ballers was assembled for a chance to win a $100,000 prize for street team coach Dax, played by Lil Rel Howery ("The Carmichael Show"). Dax's previous team and star player Casper was brought out by his long time rival Mookie, played by Nick Kroll ("The League"). Everyone points him in the direction of Uncle Drew when he tries to recruit a new team. Finding no one willing he goes in search of Uncle Drew - since he already paid the $5,000 entry fee.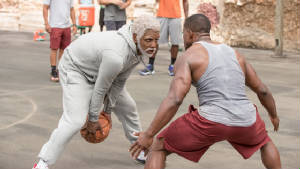 Uncle Drew is willing as long as he picks the team. He wants to show young street ball players that he still got the skills. Dax is against each team member they picked up because all he sees is an elderly person, but he soon learns that age doesn't diminish skills. It takes love for the game. Uncle Drew and Dax take a road trip to get the team which includes Lights (Miller) who is legally blind; Big Fella (O'Neal) now a kids martial arts instructor; Boots (Robinson) who is wheel-chair-bound in a retirement home, and Preacher (Webber) who is married to the very head-strong first Lady of the Church Betty Lou. Preacher's wife is played by another sports living legend WNBA's Lisa Leslie (Los Angeles Sparks). She was against her husband leaving the ministry to play street ball but ended up becoming a replacement player when Big Fella falls ill during the tournament.
The road trip and street ball game is filled with laughter through and through. Writer Jay Longino, director Charles Stone, III, with Marty Bowen and Wyck Godfrey as producers, did a great job. However, it was the acting and good comedic timing of the casts that makes Uncle Drew score big. The Summit Entertainment release is produced by Temple Hill Entertainment in association with PepsiCo's Creators League Studios. It is Rated PG-13 and arrives in theatres June 29, 2018. Other casts include Mike Epps, Erica Ash, JB Smoove, Tiffany Haddish and Aaron Gordon. www.UncleDrew.Movie.com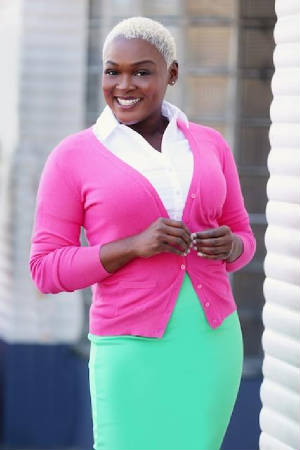 Melody Trice is all about inspiring on her talk show "The Melody Trice Show." The goal alone ensures success. May be this is why "The Melody Trice Show" reached 1.9 million in her first year. Her guests have included actor/author Hill Harper ("CSI: NY"), actors Nate Parker (The Great Debaters) and Alfonso Ribeiro ("America's Funniest Home Videos"), Gospel singer Vanessa Bell Armstrong and comedian/actress Kim Whitley ("The Parkers").
"It's all about life. I use other people's lives...to inspire others," said Melody about her show which airs on channels found on the Comcast, AT&T, Spectrum and Frontier networks at various times. "A lot of people, especially young girls, open their eyes...they say if that singer can do it so can I."
Hearing a story about someone who use to be where you are who successfully reached where you want to be is truly inspiring. Just on Comcast alone "The Melody Trice Show" reaches 1/2 million. It is just a year since its launch yet it has attracted top industry professionals and reached almost two million households that are eager to see Melody and her guests talk about the entertainment business, health, technology, music, beauty, careers and consumer trends.
"I'm a licensed cosmetologist...prior to it I was acting and modeling," Trice said about her background. "I did hair and makeup and had a beauty supply store...sold clothes."
Melody doesn't practice cosmetology anymore but her pose, style and busy savvy suggested to me that this is a woman that knows what she is doing - in a image driven industry. Just talking to her during my interview confirmed to me that I was right.
"I knew what hair style goes with that face and what clothes go with that shape," she said about her success as a cosmetologist.

I see big things from "The Melody Trice Show" because of the host, its guests and its subject matter. Once learning about the show, who would not turn it to be inspired to start your day or finish your day? If you want to be inspired log onto www.MelodyTrice.com for a list of networks/channels/times.

SYNDICATED COLUMN: Eunice Moseley, has an estimated weekly readership of over ¼ million with The Pulse of Entertainment. She is also a Public Relations Strategist and Business Management Consultant at Freelance Associates, and is Promotions Director (at-large) for The Baltimore Times. www.ThePulseofEntertainment.com. EVENT: 19th annual "Uplifting Minds II" Free Entertainment Conference (Baltimore on Sat April 21st 1 - 4p, at Security Square Mall and Los Angeles on Sat October 20th 1 - 4pm at the Celebrity Centre in Hollywood). Entertainment Business panel and national talent showcase competition (vocal, songwriting, dance and acting) with over $15,000 in prizes. www.UpliftingMinds2.com.