The Pulse of Entertainment: The Journey of Christopher Robin and Winnie-the-Pooh Continues in a Marvelous Tale Starring Ewan McGregor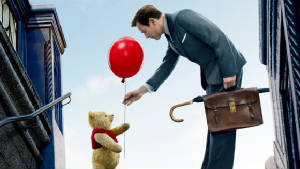 "The key for me was to have the animals' material to feel used and hugged," said Director Marc Forster (Quantum of Solace) of the Winnie-the-Pooh characters in the Walt Disney Studios presentation of Christopher Robin to arrive in theatres August 3, 2018. "As a child this character (Winnie-the-Pooh) was like a warm blanket."
Forster did just that because the Winnie-the-Pooh characters in Christopher Robin, which included Pooh Bear, Eeyore (the donkey), Piglet, Rabbit, Kanga (kangaroo), Roo (a joey, child of Kanga) and Tigger (the tiger), visually looked used and loved by the young Christopher Robin. In this continuation of the tale of Christopher Robin and Winnie-the-Pooh Walt Disney offers a marvelous journey for all. Robin is now all grown up with a wife, played by Hayley Atwell (Ant-Man) and a daughter, played by Bronte Carmichael. However it seems Christopher has lost his sense of fun and adventure because he is consumed by work. Golden Globe winner Ewan McGregor (Star Wars: The Force Awakens) excellently metamorphose into the Christopher Robin - as an adult.

"There is a lot of philosophy in Pooh," said Ewan about the legacy of the Winnie-the-Pooh character. One of Pooh's philosophies is there is something to be gained by doing nothing. "I finally took a break this year (after filming Christopher Robin) and I liked it. It took me 47 years to get here."

This marvelous journey of Christopher Robin finds him a workaholic who, without Pooh, can't seem to find his sense of fun. As a result his daughter Madeline (Carmichael) has no clue what fun is. His wife Evelyn (Atwell/Avengers: Age of Ultron) is very sweet in her attempt to get him to see past his work by planning a trip back to his childhood home, but work beckons Christopher and so he can't make the trip. However, he is meant to be there because Christopher finds himself back home via a secret passage way that Pooh enters finding himself with the grown up Robin. This begins the marvelous journey for us all back to our imagination where fun lives.
I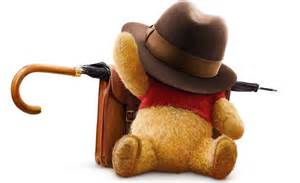 had Ewan and Hayley reminiscing on childhood experiences with the Winnie-the-Pooh tales and Ewan said, "I had them read to me and I grew up with them as a child."

Hayley added, "...and I had them on cassette tape and I would listen to them."
The iconic Jim Cummings (The Lion King) voiced Winnie-the-Pooh and Tigger; the very funny Emmy winning Brad Garrett (Stuart Little, Garfield) voiced Eeyore; Academy Award winner Peter Capaldi (Paddington) voiced Rabbit; Golden Globe nominated Toby Jones (Captain America) voiced Owl; Nick Mohammed voiced Piglet; Academy Award nominated Sophie Okonedo (Hotel Rwanda) voiced Kanga, and Sara Sheen voiced Roo. Brigham Taylor and Kristin Burr were producers on the Walt Disney Pictures, 2DUX2 production.
Rated PG-13 Christopher Robin also stars Mark Gatiss, Oliver Ford Davies, Katy Carmichael, Matt Berry, Simon Farnaby and Tristan Sturrock. The script was written by Alex Ross Perry and Allison Schroeder and is based on the characters from Disney's "Winnie-the-Pooh" by Disney Animated Studios, A. A. Mine and E. H. Shepard (1966). www.movies.disney.com/Christopher-Robin

SYNDICATED COLUMN: Eunice Moseley, has an estimated weekly readership of over ¼ million with The Pulse of Entertainment. She is also a Public Relations Strategist and Business Management Consultant at Freelance Associates, and is Promotions Director (at-large) for The Baltimore Times. www.ThePulseofEntertainment.com. EVENT: 19th annual "Uplifting Minds II" Free Entertainment Conference (Baltimore on Sat April 21st 1 - 4p, at Security Square Mall and Los Angeles on Sat October 20th 1 - 4pm at the Celebrity Centre in Hollywood). Entertainment Business panel and national talent showcase competition (vocal, songwriting, dance and acting) with over $15,000 in prizes. www.UpliftingMinds2.com