The Pulse of Entertainment: Dee Brown's New CD 'Remembering You' is Crazy Cool and Anthony Evans' Memoir 'Unexpected Places' is Spiritually Deep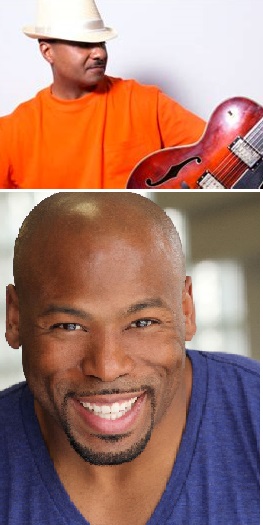 "All things work together for the good," said Urban Jazz guitarist Dee Brown about the experiences he endured that led to the music he created for his new album "Remembering You" (Innervision Records). "When you lose someone you ask why, that's what went through my mind. It came to me to write a song about her."
Brown is referring to his late wife Shauna Edwards, who was also his songwriting partner who also played in the band. After she passed away he met someone who helped him through his lost and who understood that lost. He fell in love with her and is getting married this month - in August. The "Remembering You" album is a sweet tribute to his late wife - and current fiancé'. The Detroit native's album "Remembering You" offers 11 selections that boldly show his expert skills on the guitar strings, but also shows some vocal skills also.

"There is an exit," Dee said seriously. "I didn't want to be alone so I asked Him to send me someone else."

Brown's prayers were answered.
"I...meet a young lady ...five or six months after. I talked to her about what I was going through and we feel in love," he explained.
The tribute to the love lost and the love found in the form of a new album titled "Remembering You" is crazy cool. My favorite songs on the album include #3 "Pop the Question" because his strings are funky cool, laced with the flavor of the Latin world; #6 "I Will" because its crazy cool what Dee does on the strings; #7 "Follow You" because his strings are popping and the vocals are sweet; #8 "So Much" because it almost has a Big Band sound because of what sounds like horns, and #10 "Beauty Within" because the vocals on this at times is reminiscent of Al Jarreau.
"Remembering You" is Dee Brown's four solo album. It features musical assistance from pianist/keyboardist/programmer Valdez Brantley (Usher), keyboardist Bob Baldwin, flutist Althea Rene and keyboardist Nate Harasim. www.InnervisionRecords.com
With credits that include performing as the Beast in "Beauty and the Beast" at the Hollywood Bowl and on NBC's "The Voice" Gospel artist Anthony Evans is set to publish his memoirs, "Unexpected Places" (Harper Collins/Thomas Nelson/W Publishing Group) August 21, 2018. Evans takes us on a mental ride of his experiences from the church to Hollywood where he shines as a Gospel artist. The son of a pastor ministers in the book in a way, as he tells the readers his thoughts, view on life and decision-making processes.

"When I got the opportunity I took it," Anthony said about publishing his memoirs. "It made me grateful."
Evans proves time and time again that he believes that God will turn things around for his good and so with that attitude there is nothing stopping him. That attitude took him to NBC's "The Voice" and as the star in the Hollywood Bowl musical "Beauty and the Beast." In "Unexpected Places" you get to experience those triumphant moments in his life.

"I can look back now and see what God was doing...in my career," he said. "You can't define success by albums sold. I will have them but not have peace. You can write a check but you can't write a check for peace."
Anthony Evans is honest in "Unexpected Places" as he describes the agonies he experiences as a child and as a striving artist in a field where virtue is rare.

"(As an artist) I was too soulful for R&B and too soulful for Gospel," Evans explain about pursuing his music career. "So I had to carve out my own lane - with my own production company."
Going the road less traveled is where the journey takes you in "Unexpected Places." Every decision involved God and the reader sees how his relationship with God grows to a point where he knows without a doubt that "all things work out for the good."

"I have been working non-stop being true to my calling," Anthony said. "Pre-mature success transforms into misery. You loose sight of what is waiting. There is an active wait."

As you can see this guy is deep in thought and philosophy - making "Unexpected Places" a must read.

"Our objective is for humanity to believe in a God who works all things out for the good," he concluded.
You can catch Anthony Evans performances August 23, 2018 in Chattanooga, Tenn; August 24th in Ft. Wayne, IN; August 31st in Miami; September 2nd in Winte Park, FL and September 4th in Lake Buena Vista, Fl. www.Anthony-Evans.com www.ThomasNelson.com
SYNDICATED COLUMN: Eunice Moseley, has an estimated weekly readership of over ¼ million with The Pulse of Entertainment. She is also a Public Relations Strategist and Business Management Consultant at Freelance Associates, and is Promotions Director (at-large) for The Baltimore Times. www.ThePulseofEntertainment.com. EVENT: 19th annual "Uplifting Minds II" Free Entertainment Conference (Baltimore on Sat April 21st 1 - 4p, at Security Square Mall and Los Angeles on Sat October 20th 1 - 4pm at the Celebrity Centre in Hollywood). Entertainment Business panel and national talent showcase competition (vocal, songwriting, dance and acting) with over $15,000 in prizes. www.UpliftingMinds2.com.