The Pulse of Entertainment: Grammy Winning Estelle to Release Reggae Album, 'Lover's Rock' in September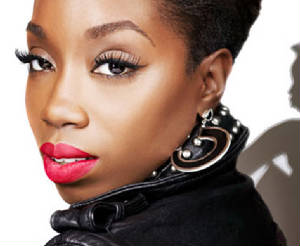 "It formed itself," said multi-platinum selling Estelle about her fifth studio album, "Lover's Rock" (Established 1980, Inc./VP Records) to be released in September. "It just happened to be all Reggae songs - three years into it."
Estelle has a rich history in American music after her international hit "American Boy" featuring Kanye West, which won a Grammy Award for "Best Rap Song Collaboration." "American Boy" reached double-platinum status also. Her follow-up album "All of Me" received a Grammy Award nomination for "Best R&B Performance."
"I've always loved Reggae music. I've always done all genres...different types of music," she said. "This is the first time I've done one genre"
In 2015 Estelle performed on season one of "Empire" singing a duet with the shows star Jussie Smollett which is said to have carried the show's soundtrack to #1 on Billboard Top 200. Other television appearances include "Girls Trip" and a voice over gig as Garnet in "Steven Universe" (Cartoon Network).

The "Lover's Rock" album released its first single "Better" with accompanying music video and she appears on VP Records' "Reggae Gold" with the single "Love Like Ours" featuring Tarrus Riley. Estelle seems to be all about love.
"For me it's what the vibe. I could not do records without being in love," she pointed out. "I look at my mom and dad. The memory of their love...they were separated for 10 years and came back together. The idea, that your love is your love and will come back to you."
Estelle's love for all genres of music and her West Indian roots show up in her style and can be heard on "Lovers' Rock". The London, England native has worked with such music greats such as Sean Paul and Jerry Wonder.
"My dad was in a band. He was very popular," Estelle said about her history with Reggae music. "...I'm giving respect to the genre that raised me."
Estelle's single "Better" reminded her of her parents love for each other and that theme is carried throughout the project.
"The very first time when I heard it I got a vision of my mom and dad," she said. "Its...original Reggae and R&B in the 80s."
www.EstelleDarlings.com
SYNDICATED COLUMN: Eunice Moseley, has an estimated weekly readership of over ¼ million with The Pulse of Entertainment. She is also a Public Relations Strategist and Business Management Consultant at Freelance Associates, and is Promotions Director (at-large) for The Baltimore Times. www.ThePulseofEntertainment.com. EVENT: 19th annual "Uplifting Minds II" Free Entertainment Conference Los Angeles on Sat October 20th 1 - 4pm at the Celebrity Centre in Hollywood) with EURweb publisher Lee Bailey, talk show host Melody Trice, television executive Tiaunte Kelly and singer Emmanuel Withers.. Entertainment Business panel and national talent showcase competition (vocal, songwriting, dance and acting) with over $15,000 in prizes. www.UpliftingMinds2.com.