The Pulse of Entertainment: TV One Explores Soul Mates in 'Dinner for Two' Original Sunday, September 2, 2018 and Sam Rucker Makes His Sax Sing on New CD 'Redemption'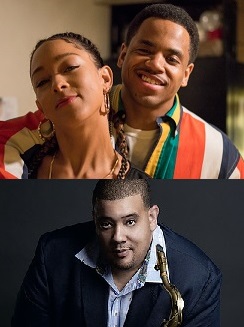 On Sunday September 2, 2018 TV One premieres an original movie "Dinner for Two" starring and executive produced by Grammy nominated Tristan Wilds (Red Tails) and Chaley Rose ("Nashville") at 7 p.m. ET with encore to air at 10 p.m. The film is written and directed by Orlando Bishop and follows Chris (Wilds) as he deals with a break-up from someone he believes is his soul mate Angela (Rose).
The storyline, which Orlando said was taken from a personal experience of love lost, finds Chris using alcohol to diminish the pain of his lost. Fate however would give him a chance at one last dinner for two with her to only discover why he loved her in the first place.

"I lost my mom in March and wanted to get that feeling into a film," Orlando said about the film that took 12 years to make.
"Dinner for Two" may have taken 12 years to make but it took only 12 days to shoot.
When I asked Wild and Rose what they would do if they where in the same situation as Chris and Angela Wild said, "The biggest thing...to allow yourself to grieve...get your feelings out...the good moments and bad moments they are lessons. Take a step back and see how I got to this place...be more reflective."

Wise words for a man who has successful conquered the music industry as well as the acting arena. Tristan, in the music industry, is known as Mack Wilds. As a singer he garnered a Grammy nomination for the album "New York: A Love Story". He recently signed with Roc Nation so expect big things from him musically. He debuted as an actor in a Spike Lee film project, "Miracle Boys", followed by guest appearances on "Cold Case" and "Law & Order". In a recurring role in HBO's "The Wire" Tristan found the recognition he needed that led to a starring role beside Queen Latifah, Alicia Keys and Sakota Fanning in The Secret Life of Bees in 2007. He returned to television after that before obtaining a starring role in the George Lucas film Red Tails about the Tuskegee Airmen, a group of African-American US Army Air Force pilots that also starred Cuba Gooding, Jr. and Terence Howard.
Chaley said she would go crazy if she lost a soul mate, "I think I would drink away my sorrow. Let myself cry...write it in my journal."
Rose is known for her role in the ABC drama "Nashville." She is also a singer. Her music can be found on the soundtracks of "The Music of Nashville: Seasons 2, 3 and 4" and "Christmas with Nashville." Chaley also had a role in the CBS series "Code Black."

The TV One original movie "Dinner for Two" airs Sunday September 2nd at 7 p.m. ET and is a complicated love story about love and sacrifice. www.TVOne.tv/show/dinner-for-two
Saxophonist Sam Rucker makes his sax sing on his third solo album "Redemption" (Favor Productions). His outstanding skills have allowed him to work with Peter White, Norman Connor and Phil Perry. He has opened up for Will Downing, Norman Brown, Eric Benet, Ben Tankard and Candi Staton to name a few.
For this album the Virginia native wanted to give the message of "true love."
"It's about the courses of my life," Rucker said about the "Redemption" album. "Been lots of downs and I felt like I reached a low point...This album is about redemption...feels like my life did a come back. It's so good you could not have planned it yourself. Sit back and let Him (God) work."
The album offers 11 selections with Lucy Kilpatrick on piano; Carlton Savage, John Calisto and Justin Taylor on guitar; Donnell Smith on bass; Steven Kroon on percussions; JP Lilliston on drums, and vocals by Wanda Jay, Sheila Madanat, Joselyn Best and Regina Blackwell. The first single, "True Love," was released July 16, 2018.
"My life turned around so much I knew this album was going to musically move people," he said. "I want my music to be encouraging and make you feel good. The message...keep the faith...feel good in the Spirit."
For me it was inspiring and uplifting. My favorite songs on the "Redemption" album include #2 "Down on the Inside" because Rucker's sax playing is sweet and combines well with the vocals of Wanda Jay and Sheila Madanat - with the piano playing of Lucy the cherry on the cake; #3 "True Love" because Sam is playing that sax in a sassy way that matches the vocals of Joselyn Best and because guitarist John Calisto brings a Latin flavor to it to top it all off; #4 "Overcome" because it personifies what Smooth Jazz is, and #8 "Follow Me" because Sam Rucker is perfection on the sax and I love the support of Kilpatrick on the piano. www.SamRucker.com
SYNDICATED COLUMN: Eunice Moseley, has an estimated weekly readership of over ¼ million with The Pulse of Entertainment. She is also a Public Relations Strategist and Business Management Consultant at Freelance Associates, and is Promotions Director (at-large) for The Baltimore Times. www.ThePulseofEntertainment.com. EVENT: 19th annual "Uplifting Minds II" Free Entertainment Conference Los Angeles on Sat October 20th 1 - 4pm at the Celebrity Centre in Hollywood) with EURweb publisher Lee Bailey, talk show host Melody Trice, television executive Tiaunte Kelly and singer Emmanuel Withers.. Entertainment Business panel and national talent showcase competition (vocal, songwriting, dance and acting) with over $15,000 in prizes. www.UpliftingMinds2.com.