The Pulse of Entertainment: Mainstream Visits 'The Neighborhood' October 1, 2018 and 'God Friended Me' Tackles Belief in God on CBS, Premieres September 30, 2018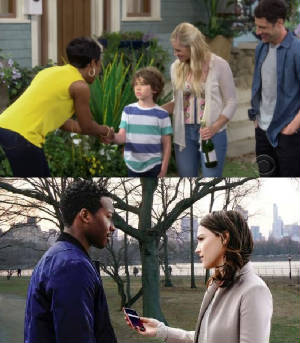 "One of the reasons why I wanted to do this show was to work with Cedric the Entertainer. I've known him for 20 years," said Emmy nominated Tichina Arnold ("Everybody Hates Chris") about starring opposite Cedric the Entertainment, the executive producer, of the sitcom "The Neighborhood" premiering on CBS Monday October 1, 2018 at 8:00 p.m. ET.
Jim Reynolds is co-executive producer on the series and it is based on his experiences. He said he wanted viewers to see, the integration of neighborhoods, from a black perspective. "The Neighborhood" is about a black neighborhood integrated by a white family and all the funny things that that scenario brings.
Cedric the Entertainer ("The Soul Man") plays the apprehensive Calvin Butler and Tichina plays his sweet arms-open wife. Emmy nominated Max Greenfield ("The Mindy Project") plays the new neighbor Dave Johnson and his wife Gemma Johnson is played by Beth Behrs ("2 Broke Girls").
"I was born in Jamaica Queens, New York in a black neighborhood," Arnold recalled. "My life was a one block radius. As I got older ...I was introduced to white people. I moved into Jada's (Pinkett-Smith) spot when she moved into a house. It had a black landlord but the neighborhood was mixed. My own house is in a white neighborhood. I like the mixture, it's more interesting. It forces you to live...outside the box."
"The Neighborhood" consists of the Butlers with their two sons Malcolm (Sheaun McKinny) and Marty (Marcel Spears) and the Johnsons and their son Grover (Hank Greenspan), whose interaction will surprise you as CBS tries to mirror real life with humor. www.CBS.com/shows/the-neighborhood
CBS also tackles the real issue of belief in God in the series "God Friended Me" starring Brandon Michael Hall ("The Mayor"), which premieres Sunday September 30, 2018 at 8:30 p.m. ET. Brandon is Miles Finer an outspoken atheist who is used by God to change the lives of others.
"It's a spiritual journey," said Brandon, whose father is a pastor, about the theme of the series. "I've never seen a black atheist, that story has never been told. It helped me in my own relationship with God."
Joe Morton ("Scandal") is Miles' father, Javicia Leslie plays his mother and Violett Beane plays an online journalist whose life is change by God through her association with Miles, and his "relationship" with God.

When asked in what ways have God been real in his life Brandon said, "I was talking to my father (about his acting career) and I said, 'Dad...I don't think its going to happen.' The next day I got 'the call'."
That call was as if God replied for his father by saying, "Yes it will son." The pilot "God Friended Me" stars Hall and was created and executive produced by Steven Lilien and Bryan Wynbrandt. All the years of hard work paid off when it was accepted by CBS (Warner Brothers Television). It now airs each Sunday at 8:30 p.m. ET.
"Miles is like me. He grew up in the church," Brandon said.
But Miles looses his faith not understand why, if God is real, would he allow bad people to thrive and horrible events to happen in the world.
"So Miles is friended by God," explains Hall ("Search Party") about the chain of events on the series. "He's on a search for humanity." www.CBS.com/shows/god-friended-me

SYNDICATED COLUMN: Eunice Moseley, has an estimated weekly readership of over ¼ million with The Pulse of Entertainment. She is also a Public Relations Strategist and Business Management Consultant at Freelance Associates, and is Promotions Director (at-large) for The Baltimore Times. www.ThePulseofEntertainment.com. EVENT: "Uplifting Minds II" Free Entertainment Conference annually in Baltimore (April) and Los Angeles (October). Offering Entertainment Business panel and a talent showcase and competition (vocal, songwriting, dance and acting) with over $15,000 valued in prizes. www.UpliftingMinds2.com.