The Pulse of Entertainment: Marvel's Venom is Comic Relief and LaVonda Rouse's 'The Blend' Talk Show Enlightens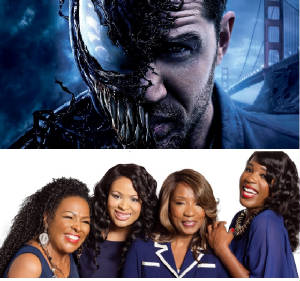 Co-produced by Columbia Pictures and distributed by Sony Pictures, Marvel Entertainment's Venom arrives in theatre October 5, 2018. Academy Award nominated Tom Hardy (Inception) is Venom, a journalist named Eddie Brock who accidentally finds a "parasite" has taken control of his body and mind.
A radical billionaire called Riot, played by Riz Ahmed (Jason Bourne), through his foundation wants to create a hybrid human that could live in other worlds by combining humans with aliens. However the aliens he captured wants something else - humans for food. One alien escapes capture by Riot merging with human after human until it ends up in Eddie, a very passionate journalist looking for a breaking story. Venom and Eddie, through circumstances of survival become one and as a result they become the comic relief of the Rated PG - 13 thriller.
The battle between the two (good and evil) and then the battle between them and Venom's fellow alien (survival of the fittest) is the climate of the sci-fi film that will have you on the edge of your seats. Venom is directed by Ruben Fleisher (Zombieland) and co-produced by Avi Arad, Matt Tolmach and Amy Pascal. The Marvel project also stars Academy Award nominated Michelle Williams ("Dawson Creek"), Scott Haze and Reid Scott. www.venom.movie/site/
"A talk show was never something I want to pursue," said television producer LaVonda P. Rouse ("Mr. Belvedere") about "The Blend" talk show launched October 3, 2018 at www.TheBlendTalk.com. "What I found was the need to provide information from people that look like me."

"The Blend" will cover issues of the body, mind and spirit and their hosts include Jewel Diamond Taylor, Dr. Tabatha Carr, Dr. Gloria Chance and Dr. Peace Amadi.
"We are spirit, mind and body. If one is not aligned it throws the whole self off," LaVonda stated about why the shows issues will surround the spirit, mind and body. "I was looking for certain women. Outside of personality these women are respectful and humble...and they understand why we are doing the show."
Producer of the show is Ahleea Zama and co-executive producer with Rouse include Bever-Leigh Banfied. Dr. Amadi is a psychology professor, Dr. Carr is a women's health expert, Dr. Chance is a psychologist and Taylor is an emotional wellness educator. The one hour web-based talk show is a collaborative endeavor of everyone involved. This includes its sponsors who LaVonda said she accepts very carefully. www.TheBlendShow.com
SYNDICATED COLUMN: Eunice Moseley, has an estimated weekly readership of over ¼ million with The Pulse of Entertainment. She is also a Public Relations Strategist and Business Management Consultant at Freelance Associates, and is Promotions Director (at-large) for The Baltimore Times. www.ThePulseofEntertainment.com. EVENT: "Uplifting Minds II" Free Entertainment Conference annually in Baltimore (April) and Los Angeles (October). Offering Entertainment Business panel and a talent showcase and competition (vocal, songwriting, dance and acting) with over $15,000 valued in prizes. www.UpliftingMinds2.com.