The Pulse of Entertainment: Israel Houghton's On The 'Road to Demaskus' with New Project and Jaz Guitarist Denny Jiosa's 'Move Your Body' Album is Fire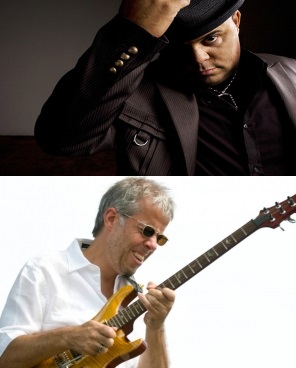 "We need to take the mask off our face...before God," said six-time Grammy Award winning Israel Houghton about the meaning behind the way "Damascus" is spelled in the title of his new album "Road to DeMaskUs" (RCA Inspiration).

It also refers to the Biblical tale of Apostle Paul's Spiritual change from Jewish man Saul to Christian Saint Paul - the main writer of the New Testament in the Bible. Israel Houghton's "Road to DeMaskUs" project features seven-time Stellar Award winner Travis Green, Billboard topping The Walls Group, Gospel/Reggae Chevelle Franklyn and Adrienne Houghton ("The Cheetah Girls").
"It's for everyone, believers and non-believers, all of us have protective mechanism," Israel pointed out.
Houghton, also a worship leader, said people wear masks and pretend everything is alright not allowing God to help them turn things around. "Road to DeMaskUs" was released September 28, 2018 to his eager fan base that helped Israel garner six Grammy wins, 11 Grammy nominations, 11 GMA Dove Awards, 11 GMA Dove Award nominations, 17 Stellar Award nominations and two Stellar wins. The very popular two-time Grammy nominated Contemporary Gospel artist Travis Greene gives assistance on the 8th selection on the project, a single titled "Promise Keeper." That and Israel's powerful Praise Worship style is worthy of a listen to "Road to DeMaskUs."
"The way people come to church every week, know the songs and be hurting on the inside," Israel said about the masks we all wear for different reasons. "We miss the moment to really encounter God...bring healing."
www.IsraelHoughton.net
Jazz guitarist
Denny Jiosa
releases his eighth album, a Latin/Jazz Fusion project titled "Mueve Tu Cuerpo (Move Your Body)" (Sonic Canvas Records/BFD). "Mueve Tu Cuerpo" features Grammy Award nominated Phil Keaggy on guitar and drummer Chester Thompson (Frank Zappa),
"I have always had a love and passion for Latin music," Jiosa said about recording a Latin/Jazz project. "I love Santana...the rhythm and passion. I was attracted to it my whole life."
"Mueve Tu Cuerpo (Move Your Body)" features Latin singer/percussionist John Santos on the 8th selection of the album, a song titled "Freedom Tower" and GMA Dove Award winner Phil Keaggy on the 4th selection "Dance in Heaven."
"Phil Keaggy is big in Christian music and a fine guitar player - and friend. I produced his last album," Denny said. "He picked up my guitar and said he'd like to play on my album... 'Dance in Heaven' is big in Christian world."
The first selection on the album, "Fumarlo Bebe," was produced by Jiosa for a cigar commercial.
"I did one and a half minutes...and I said this song has great potential," he pointed out with a slight laugh as to how "Fumarlo Bebe" was made.
His 10th selection on the "Mueve Tu Cuerpo (Move Your Body)" album, "From the Fire," appears on the soundtrack of the Christian film "Believe: The Misfit Pawn." With plenty to push the project forward I see it making big waves in the Smooth Jazz as well as Latin Jazz worlds because this album is fire.
My favorite songs on the project include #1 "Fumarlo Bebe (Smoking Baby)" because Denny's guitar playing is crazy cool and I love the Latin flavor, the trumpet playing by Hollis Farris and the vocals of Janet Kenyon; #3 "Missing You" is sexy smooth and Jiosa makes his guitar sing; #4 "Dance in Heaven" featuring Phil Keaggy on guitar because it brings visions of a heavenly dream, its gives a sweet Latin feel and I love the smooth background vocals of Denny and Janet; 7 "The Gift" is simply lovely, and #8 "Freedom Tower" featuring percussionist John Santos because of its sexy Urban Latin feel and the rap infusion solidifies that Urban flavor.
Denny Jiosa, an Indiana native, started playing guitar at the tender age of seven, as well as playing the bass, trumpet, French horn and was singing. He started as a session musician in Nashville, and then became a producer and engineer. His credits as a musician and producer include Yolanda Adams, Kirk Whalum, Take 8, Ben Tankard, Philip Bailey and Crystal Gayle.
www.Jiosa.com
SYNDICATED COLUMN: Eunice Moseley, has an estimated weekly readership of over ¼ million with The Pulse of Entertainment. She is also a Public Relations Strategist and Business Management Consultant at Freelance Associates, and is Promotions Director (at-large) for The Baltimore Times. www.ThePulseofEntertainment.com. EVENT: "Uplifting Minds II" Free Entertainment Conference annually in Baltimore (April) and Los Angeles (October). Offering Entertainment Business panel and a talent showcase and competition (vocal, songwriting, dance and acting) with over $15,000 valued in prizes. www.UpliftingMinds2.com.