The Pulse of Entertainment: 'Rock Steady Love' With Maxi Priest on New Single and Maranto's 'Faith Through The Fire' To Be Released November 16, 2018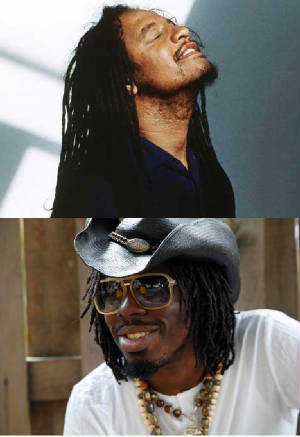 "I want to thank everyone for their support," said Grammy nominated Reggae sensation Maxi Priest about his last album "Easy to Love" (VP Records). "It had an awesome run. I'm still on tour for it."
Maxi recently released a new single "Rock Steady Love" on VP Records to follow the successful run of his last album.

"To keep it moving...a lot of folks heard this track...saying you need to release this," he said when asked as to the timing of the singles' release while still on tour riding the success of his last album. "Spread some love."

Maxi Priest is a Londoner with Jamaican descent known for his fresh sound that fusing Reggae and R&B. He entered the music scene with a self-titled debut album release "Maxi Priest." His following project "Close to You" reached Billboard #1 - making him one of two British Reggae artists to have a U.S. Billboard #1 hit. His "Easy to Love" release off VP Records reached #2 on Billboard.

"Without them there is no me," Maxi Priest said about his supporters and fans that are the reason for his Billboard chart topping hits.
His most notable hits include "That Girl" featuring Shaggy and "Set the Night to Music" featuring Roberta Flack. The sweet "Rock Steady Love" single, as he said, just keeps it moving offering more of the popular Maxi Priest style Reggae music. www.MaxiPriest.com

Jamaican Inspiration artist Maranto, also known as songwriter Mark Branford ("Cheerleader"), to release "Faith Through the Fire" project November 16, 2018.

About the project Maranto said, "It's a five track project. I was planning to do a full album...the way things worked out right now its five tracks. The message we're trying to put out is we each have differences but we all are interconnected."

Maranto recently moved to Atlanta and is currently working on a full album.

"For the time being we're staying here and are recording," he said. "We hope to do a full album after this. We will see what God has planned."

Maranto who co-wrote/produced OMI's "Cheerleader" hit single has recently partnered with the Diabetes Association of Atlanta to do diabetes screening at his concerts that begin in November on the 18th. Born August 28th as Mark Branford, the Renaissance man, has been performing since he was six years-old in church - his father is a preacher. He wrote his first song in 2002 while in college.

"I had never done it before. I was experimenting," Maranto said about his first experience songwriting. "When I was in college I just hoped that I'd become an international star. I'm different now. I just hope this music gets out so the Word can be heard."

The words Maranto talked about are of an uplifting and Spiritual nature.

"In Jamaica and the Caribbean they feel hopeless after high school...what's next? You can't get a job," he points out. "I want to be able to uplift young people...and be a positive influence."

Well young people learn by example and Mark Branford aka Maranto has made an excellent example of someone who uses his God given talents and makes a living from them - his job. He does not wait around to be hired - he hired himself and the product he is selling is his talent. "Faith Through the Fire" has just released its third single, aside from the title track, titled "I Need Your Fire." It is in anticipation of the November 16th "Faith Through the Fire" project release.
SYNDICATED COLUMN: Eunice Moseley, has an estimated weekly readership of over ¼ million with The Pulse of Entertainment. She is also a Public Relations Strategist and Business Management Consultant at Freelance Associates, and is Promotions Director (at-large) for The Baltimore Times. www.ThePulseofEntertainment.com. EVENT: "Uplifting Minds II" Free Entertainment Conference annually in Baltimore (April) and Los Angeles (October). Offering Entertainment Business panel and a talent showcase and competition (vocal, songwriting, dance and acting) with over $15,000 valued in prizes. www.UpliftingMinds2.com.