The Pulse of Entertainment: Luenell, Queen of Comedy, Hosts 'LOL Comedy Awards' November 1, 2018 in New York City and God's Chosen's New Self-Titled Album Inspires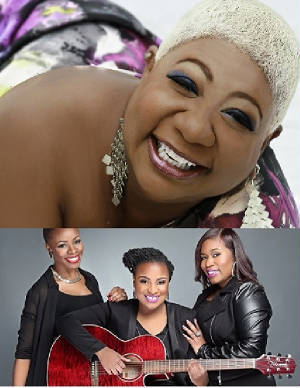 "I already had one out, it went Gold," comedian/actress Luenell said about the release of a second live-comedy album titled "I Only Drink at Work." "It was time to get another project out there, so it was the thing to do."
Luenell has become the current Queen of Comedy, the one to go to for a female comedian that will bring a powerful fan base. As she said lots of people want to come out to hear her but can't so the live album is the next-best thing to being there. A very humble artist Luenell shied away from the title of Queen of Comedy that I gave her saying, "The original Queen of comedy for me is MoNique...and a whole bunch of wonderful comedians that people adore."
Well I adore Luenell! Her wit is quick and her attention to detail makes her comedy content superb. That style of comedy has garnered her acting roles in many films such as the Hotel Transylvania and Taken movie franchises. She appears in the film A Star is Born starring Lady Gaga and is in the Netflix presentation of Dolemite Is My Name starring Eddie Murphy as Dolemite.
On Thursday November 1, 2018 Luenell will host the "LOL Comedy Awards" at the Gotham Hall in New York City. The awards event, which honored her last year, will have appearances by comedian giants Nick Cannon, Chris Rock, Tracy Morgan, Dave Chappelle, Paul Mooney and Earthquake.

"I've been on tour for a couple of years. I put it out there that I'd love to host and they said 'Oh that'll be great,'" said Luenell about her hosting the November 1st "LOL Comedy Awards." www.HeyLuenell.com
Contemporary Gospel trio God's Chosen also known as GC3 released a self-titled album on Dream Gospel/Capitol Christian Music Group that reached #11 on "Billboard Current Gospel Albums Chart." Singing the Gospel in a contemporary way since before high school Sarah Benibo, Zabrina Anderson and NiKeisha Whittier are God's Chosen.

The self titled albums' current single is "Even in the Valley" produced by John Strandell whose vocals can be heard on the "I Want You" selection of the 10 song project.
It has been five years since their last album release to which Sarah said, "From 2013 to this album...in 5 years...I've learned...it's not about putting a song out, but about what we are trying to say."
The "God's Chosen" album inspires, not only with its words but the music is superb. Producers on the project include John Strandell, Levi "Too" King (James Fortune) and Ayron Lewis (Kirk Franklin).
"Songs like 'Whatever It Takes' means worship God no matter what and...'Even in the Valley' means bless God at all times. It's what we embody as a group," Sarah said about the album's content.
When asked about what message they hope listeners get from the album Zabrina said, "Be encouraged through the songs on the album. These are from our personal experiences. Be moved, be encouraged."
NiKeisha added, "Trust God no matter what. In five years we dealt with a lot of things like should we still be singing. You have to trust God. If he gave you a purpose...proceed with trust."
The girls grew up in the church together and went to school together, but went to different colleges. As they matured their lives took different paths as well, but the common path they still had was spreading the Gospel through song. I am so glad they decided to keep that bond and continue to spread the message of hope, faith and love of God through song.
My favorite songs on the "God's Chosen" project include #1 "We're Ready" because it is an inspiring and powerful piece; #4 "Redeemed" because I love the lead guitar contribution and the message of praise and love of God makes it powerful; #5 "I Want You" featuring the vocals of John Strandell whose voice is Pop fresh and blended with GC3's Gospel sound makes it deeply inspiring, and #6, the single, "Even In The Valley" because it has a Pop sound that is different from the rest of the album. www.GC3Music.com
SYNDICATED COLUMN: Eunice Moseley, has an estimated weekly readership of over ¼ million with The Pulse of Entertainment. She is also a Public Relations Strategist and Business Management Consultant at Freelance Associates, and is Promotions Director (at-large) for The Baltimore Times. www.ThePulseofEntertainment.com. EVENT: "Uplifting Minds II" Free Entertainment Conference annually in Baltimore (Saturday April 21, 2019) and Los Angeles (October/TBD). Offering Entertainment Business panel and a talent showcase and competition (vocal, songwriting, dance and acting) with over $15,000 valued in prizes. www.UpliftingMinds2.com.