The Pulse of Entertainment: The Nutcracker and the Four Realms' Hits Theaters with Special Performance by American Ballet's Misty Copeland and Moscow Ballet's 'Great Russian Nutcracker' Tours U.S. starring Rafael Urazov. in 'Dove of Peace'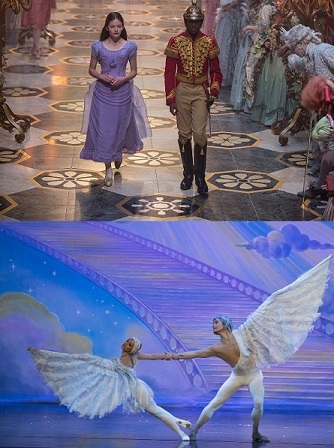 The Holiday season begins as "The Nutcracker" saga hits theatres November 2, 2018 as "The Nutcracker and the Four Realms." Presented by Walt Disney Studios Motion Picture it offers a special performance by Misty Copeland (American Ballet Theatre). The saga, a retelling of E.T.A. Hoffmann's short story 'The Nutcracker and the Mouse King" and Marius Petipa's "The Nutcracker Ballet", stars MacKenzie Foy (The Twilight Saga: Breaking Dawn) as Clara the Princess of the Four Realms and Jayden Fowora-Knight as The Nutcracker.

The Nutcracker saga follows Clara on a Christmas present hunt, thanks to her God-Father Drosselmeyer played by Oscar nominated Morgan Freeman, and she finds a key in a land called The Four Realms. She believes the key can open a mysterious golden nut shaped gift-box given to her by her deceased mother who she discovers created the Four Realms and ruled it as its Queen. Clara believes there is a message from her mother in the nut shaped gift-box and the key could open it. Of course the key is stolen by a mouse - a subject of Queen Mother Ginger, played by Helen Mirren, who was isolated by the other three realms when the Four Realms Queen did not return.
As a result the great adventure of "The Nutcracker and the Four Realms" begins with Academy Award winning Keira Knightly as the realm of candy Queen Sugar Plum Fairy, Eugenio Derbez as the Flower Realm King and Richard E, Grant as the Snow Realm King. Directed by Lasse Hallstrom and Joe Johnston, "The Nutcracker and the Four Realms" is produced by Mark Gordon and Larry Franco. It is a Walt Disney Pictures and The Mark Gordon Company production. This fantasy adventure is Rated PG.
www.Movies.Disney.com/the-nutcracker-and-the-four-realms
"The Nutcracker" saga is also on tour with the Moscow Ballet Theatre as the
"Great Russian Nutcracker"
also called the "Moscow Ballet Dove of Peace Tour featuring the Great Russian Nutcracker and Swan Lake." The tour will visit 45 cities in the United States with 100 dancers, 1,000 crew members and nine trucks for the months of November and December. This year the "Great Russian Nutcracker" performances will premiere new principle dancer Rafael Urazov (Moscow Ballet Theatre) for its "Dove of Peace" and "Arabian" dance segments.
"He (Rafael) is a dear friend of mine," said Akiva Talmi, composer, conductor and producer of the Moscow Ballet Theatre. "He was a principle artist in the National Ballet, of former Soviet Union. He joined the Moscow Ballet years back. One day he got injured and couldn't do principle roles, so he changed direction. He started training in acrobats and training in boxing. He sent us these videos - he created a new dance he calls Acrobatic Ballet."
Rafael hurt his knee while dancing and in rehabilitation he used acrobats and boxing to strengthen his muscles. He incorporated the moves as a ballet danseur. Those moves can be seen in his new role as principle dancer in the "Dove of Peace" and "Arabian" dance segments of the "Great Russian Nutcracker Dove of Peace Tour."
"It was a difficult time," said Rafael in excellent English. "Jumping is most important. I needed time to recover my body and mentally. I spent two years (rehabilitating)...now I feel better. My body wants to dance! It's a difficult profession, it's not for everyone. I like to dance - to be happy."
Rafael Urazov was recently featured on the cover of "Men's Health" magazine for his outstanding come-back from his knee injury. This will be the first time that he dances in the "Dove of Peace" segment which was created exclusively for the Moscow Ballet.
"I came to America in 1993, 18 years after the Soviet Union was freed. We started a company. My partner had a peculiar dance with a bird, an acrobatic ballet with a Ballerina (forming a bird). This piece was called The Bird and ... in 1993 we incorporated The Bird as The Dove. It became the signature of Moscow Ballet."
The "Great Russian Nutcracker" tour also visits Canada, totally 100 cities in North America. It also offers a community program called "Dance with Us" where they engage kids 6 - 18 years-old to learn Russian ballet by bringing them onstage. The tour will connect with over 6,000 American ballet dance students. The Moscow Ballet Theatre calls the kids Ambassadors of Peace for Moscow because they bridge cultural divides and help to spread the message of "Peace."
"I was 6 years-old, a kid with too much energy," Rafael laughed while recalling his humble beginnings as a male ballet dancer. "My grandfather and mother put me in ballet. But I liked football."
Urazov said ballet for boys was not readily accepted at his school but eventually he said it became his life.
www.Nutcracker.com
SYNDICATED COLUMN: Eunice Moseley, has an estimated weekly readership of over ¼ million with The Pulse of Entertainment. She is also a Public Relations Strategist and Business Management Consultant at Freelance Associates, and is Promotions Director (at-large) for The Baltimore Times. www.ThePulseofEntertainment.com. EVENT: "Uplifting Minds II" Free Entertainment Conference annually in Baltimore (Saturday April 21, 2019) and Los Angeles (October/TBD). Offering Entertainment Business panel and a talent showcase and competition (vocal, songwriting, dance and acting) with over $15,000 valued in prizes. www.UpliftingMinds2.com.