The Pulse of Entertainment: Paramount Pictures' Instant Family is Hilarious and Warner Bros' Fantastic Beasts 2 is a Mystical Cliff Hanger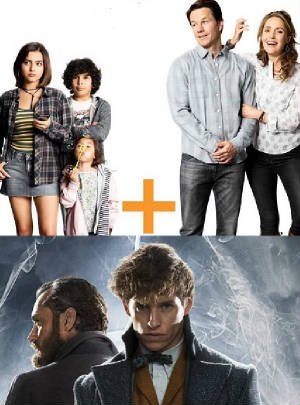 "Whenever we make a movie we use real issues," said Sean Anders (Horrible Bosses), director and co-writer of the new Paramount Picture presentation of Instant Family starring Academy Award nominated Mark Wahlberg (Transformers) and based loosely on Sean's own life experience adopting siblings arriving in theatres November 16, 2018. When asked why he put that experience on screen Sanders said, "It had been a few years since we adopted the kids...thought it kind of funny."
Instant Family, arriving in theatres November 16, 2018, was indeed funny in fact it was beyond funny it was hilarious. It follows Pete (Wahlberg) and his wife Ellie, played by Emmy nominated Rose Byrne ("Neighbors"), a childless couple realizing their need to nurture a baby. They decide to adopted and care for the innocent and orphaned.
They go through all the classes, meetings and finally reach the end of the program where they can attend an event where available children are present. They meet a strong willed teenager and decide she really needs them, and surprisingly they discover she has two young siblings. How they form a bond with the three siblings - a strong willed teenager, an abused preteen and a needed baby sister - is warming to the heart and funny to the bone.
Anders, Wahlberg John Morris and Steve Levinson are producers on the Rated PG - 13 family project. It also stars Isabela Moner (Transformers: The Last Knight); Emmy nominated Tig Notaro ("Fresh Off the Boat"); Emmy winner Margo Martindale ("The Good Wife"); Academy Award winner Octavia Spencer (The Help), Julianna Gamiz, and Gustavo Quiroz. www.InstantFamilyMovie.com
The wizard tale birthed from the Harry Potter saga called Fantastic Beasts returns with a second take on the story with the Warner Bros. Pictures presentation of Fantastic Beasts: The Crimes of Grindelwald arriving in theatres November 16, 2018. Fantastic Beasts 2 is the 10th installation of the wizard world franchise. Eddie Redmayne returns as Newt Scamander the Minister of Magic with Johnny Depp (Pirates of the Caribbean) starring as Dark Wizard Grindelwald and Jude Law as Dumbledore the professor of wizardry who hires Redmayne to take care of the dark wizard problem, a task only he is qualified for.
The Rated PG-13 drama/fantasy is a mystical cliff-hanger that will keep you on the edge of your seats and it has an ending that will leave you wanting more. It follows Eddie's attempt at finding Grindelwald with his friends in tow that include Jacob Kowalski (Dan Folgler), Tina (Katherine Waterston) Newts love interest and Leta Lestrange (Zoe Kravitz) as Newts' brother's love interest and Theseus Scamander (Callum Turner) Newts brother - a wizard law office also on the hunt for Grindelwald.
Grindelwald is building a team of pure wizards and the last is Credence (Ezra Miller) an orphaned baby he believes to be the poor blood Wizard he needs to finally rule the world of non-wizards. Credence is on the search for his heritage and Jacob is also on the search for Queenie (Alison Sudol) his love interest who is on the run. He broke the law; she fell in love with a non-wizard - Jacob Kowalski.
Fantastic Beast 2 is directed by David Yates and is a British/American production filmed in London, Switzerland and Paris. It is produced by David Heyman, J. K. Rowling, Steve Kloves and Lionel Wigram. www.FantasticBeasts2Full.org
SYNDICATED COLUMN: Eunice Moseley, has an estimated weekly readership of over ¼ million with The Pulse of Entertainment. She is also a Public Relations Strategist and Business Management Consultant at Freelance Associates, and is Promotions Director (at-large) for The Baltimore Times. www.ThePulseofEntertainment.com. EVENT: "Uplifting Minds II" Free Entertainment Conference annually in Baltimore (Saturday April 21, 2019) and Los Angeles (October/TBD). Offering Entertainment Business panel and a talent showcase and competition (vocal, songwriting, dance and acting) with over $15,000 valued in prizes. www.UpliftingMinds2.com.