The Pulse of Entertainment: Lionsgate's Robin Hood Starring Jamie Foxx and Taron Egerton Roars with Action and Guitarist Livingston Taylor Releases 16th CD, 'Safe Home,' Performs November 24, 2018 at Rams Head on Stage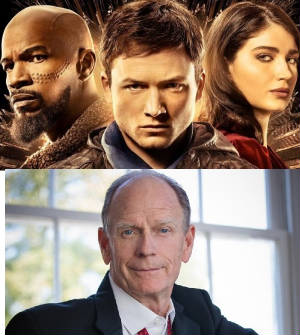 Lionsgate's presentation of Robin Hood roars with action with Academy Award winning Jamie Foxx (Ray Charles) as Little John in the retelling of Robin Hood. Arriving in theatres November 21, 2018 Robin Hood, played by Welsh actor Taron Egerton (Kingsmen: The Secret Service), is Robin of Loxley a crusader turned thief. He returns home to find his land and wealth taken by the heartless Sheriff of Nottingham, played by Ben Mendelsohn (Animal Kingdom), and the people of Nottingham poor and starving. Irish actress Eve Hewson ("This Must Be the Place") is Maid Marian love interest of "Merry Men" outlaw Will Tillman (Jamie Dornan) half brother of Robin of Loxley.

John (Foxx) is a Moorish Commander head of the Merry Men outlaws who are rebelling against the English occupation of their land. Robin saves John from an execution by the Sheriff of Nottingham and he was so impressed with Robin's character and bravery that he encourages him to join the Merry Men. He trains Robin in the art of bow and arrow defense so that he can infiltrate the Sheriff's inner circle to steal the people's taxes back before it's sent to England. Renamed Robin Hood by Little John the two uses the money they steal and gives it back to the people. What a climax and stream of action packed adventures to follow as the hunt for Robin Hood is on as his heart falls back in love with Marian, a former love who thought him dead from the war.
Directed by Otto Bathurst and Rated-PG-13, Robin Hood also stars Tim Minchin, F. Murray Abrattan as the Cardinal; Cornelius Booth as Lord Pembroke; Bjorn Bengtsson, Paul Anderson, and Josh Herdman. Robin Hood is an Appian Way, Lionsgate, Thunder Road Productions, Pixolord and Safe House Pictures production. Producers are Leonardo DiCaprio and Jennifer Davisson. www.RobinHoodFull.com
"I'm celebrating my 50th year," said Livingston Taylor, lead guitarist who recently released his 16th album titled "Safe Home". Taylor is constantly performing and he arrives at Rams Head on Stage in Annapolis, Maryland Saturday November 24, 2018. "People familiar with me can expect I'd do songs they know and like. I just have a deep catalog, a deep well to pick from, so I make a lot of decisions as we go along."
Rams Head on Stage was created in 1997 by the Rams Head Group, which also owns four Rams Head Restaurants in Maryland. The venue is a very popular and cozy place to chill and listen to great music.
"I started playing at the age of 13 and by 16 I was very good. People started giving me money," Livingston recalls.
So the guitarist has been performing for money every since. I guess you can say he is an expert in what he does on and off stage because he is also a professor at Berklee College of Music for 28 years.
"The strongest advice I can give is to learn to play your instrument well," Livingston said. "Play in front of an audience as often as you humanly can. You want to watch where it (your music) lands. So you can not pay attention to the instrument, you want to see the people, watch where the music lands. Your job is to be heard."
What great advice, something I tell clients I consult, who are performers, all the time. I'd say and if you can't find a stage create an event so you have your own stage, but keep performing in front of people. It makes you comfortable. When you are comfortable you can switch your attention from playing your instrument or performing dance steps to the faces in the audience.
Some of Livingston Taylor's Top 40 Hits that he may perform Saturday November 24th at Rams Head on Stage in Annapolis, Maryland include "I Will Be in Love With You," "I'll Come Running," "Boatman" and "I Can Dream of You." www.LivTaylor.com
SYNDICATED COLUMN: Eunice Moseley, has an estimated weekly readership of over ¼ million with The Pulse of Entertainment. She is also a Public Relations Strategist and Business Management Consultant at Freelance Associates, and is Promotions Director (at-large) for The Baltimore Times. www.ThePulseofEntertainment.com. EVENT: "Uplifting Minds II" Free Entertainment Conference annually in Baltimore (Saturday April 21, 2019) and Los Angeles (October/TBD). Offering Entertainment Business panel and a talent showcase and competition (vocal, songwriting, dance and acting) with over $15,000 valued in prizes. www.UpliftingMinds2.com.