The Pulse of Entertainment: The Manns Unite for 'Us Against the World' CD, Book, Tour and TV One Movie Airing December 2, 2018 / Lenny Williams Formerly of Tower of Power Releases New Single 'Fine'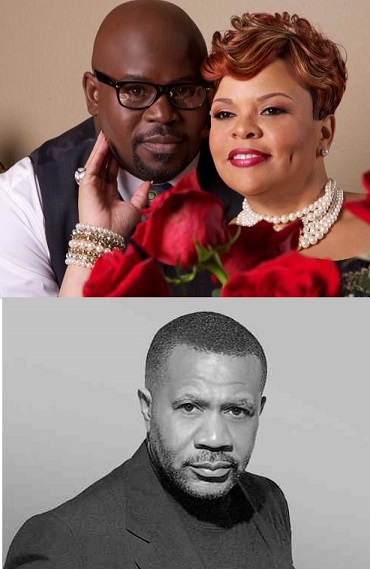 "Us Against the World" is the new album, tour and book from David and Tamela Mann, known best for their roles on the TBS comedy series "Meet the Browns." They top that cake off with a Holiday movie, "Merry Wish-Mas," airing Sunday December 2, 2018 on TV One.
As I listened to the couple talking to other journalists, while waiting for my turn, I see my own experiences with love in them and I immediately wanted to know the beginning of their love story. Their union gave both of them superstardom, I am sure it is more than they probably ever imagined alone. Tamela was at the time already on her way to superstardom touring with Kirk Franklin and the Family when they met for the first time.
"My group was local famous," David laughed when telling me how they met. My late husband and I use to say it felt like it was "us against the world" so I wanted to know their story of "Us Against the World." Why that title for their first album together, their book on their love union and their tour featuring their children David, Jr as DJ and Tia with vocal assistance. The book was published November 3, 2018, the album was released on the 9th, the tour ended the 11th and their TV One holiday movie airs on December 2nd.
"My best friend from church went to school with David," Tamela said about how she met her husband of 30 years. "She took me to the school to meet him, he was singing."
"We had never met before," David added. "After we met we kept running into each other. Then I kissed her and she got pregnant. But what happened in between the kiss and the pregnancy is in the book."
The album is a soundtrack of the book. David and Tamela Mann also star in the Bounce TV reality show "Mann and Wife." www.TillyMannMusic..com
If you remember the group Tower of Power then you remember Lenny Williams voice because he served as the groups lead singer on a number of their hits such as "What Is Hip". Williams recently released a single titled "Fine" because of a chance met with a friend. The single has a very inspiring music video that will make you get up and dance around too singing how you feel fine. The single is produced by Levi Seacer, former guitarist of Prince's New Power Generation band.
"I was over at Levi's, he played for Prince. I use to go see his uncle's band and his aunt Dorothy was a singer on 'Oh Happy Days' with The Hawkins. We went to the same church," Lenny said about the day him and Levi created the "Fine" single. The single, co-written by Lenny and Levi, is really nice and uplifting so I asked if he was going to follow up with an album and he said, "My initial action was to do a single, but then the success of the single and Levi..."
Well I think that means an album is on the way. The music video to the "Fine" single is very festive and right on time for the holiday season.
"My nephew is a choreographer and I called him," Lenny said about the music video. "He just did Beyonce' Coachella choreography, her Greek Stepping, I said show 'me' some steps! He gave me a good price too. He did an excellent job."
Raised in Oakland, California Kenny Williams' career as a vocalist started when he use to sing for Sly Stone, Andre' Crouch and Billy Preston. He performed in a talent contest and was signed to a recording deal with Fantasy Records. In 1972 he joined the Power of Power band. He left the band three years later in 1975 and signed a solo deal with Motown Records. In 1977 he moved to ABC Records (MCA Records) and scored 10 chart-topping hits. In 1978 his single "Cause I love You" was sampled by Mobb Deep's Havoc and Kanye West, and in 2007 the same single was sampled by Scarface and Young Jeezy on his "Let's Talk It Over." Williams has also starred in stage-plays and his credits include "Love On Lay-Away" with Deborah Cox and "What Men Don't Know" with Kenny Lattimore. www.LennyWilliams.com
SYNDICATED COLUMN: Eunice Moseley, has an estimated weekly readership of over ¼ million with The Pulse of Entertainment. She is also a Public Relations Strategist and Business Management Consultant at Freelance Associates, and is Promotions Director (at-large) for The Baltimore Times. www.ThePulseofEntertainment.com. EVENT: "Uplifting Minds II" Free Entertainment Conference annually in Baltimore (Saturday April 20, 2019) and Los Angeles (October/TBD). Offering Entertainment Business panel and a talent showcase and competition (vocal, songwriting, dance and acting) with over $15,000 valued in prizes. www.UpliftingMinds2.com.