The Pulse of Entertainment: Will Downing Delivers 'The Promise' and Marcus Johnson Host 'Christmas Jam' at Blues Alley December 20 - 23, 2018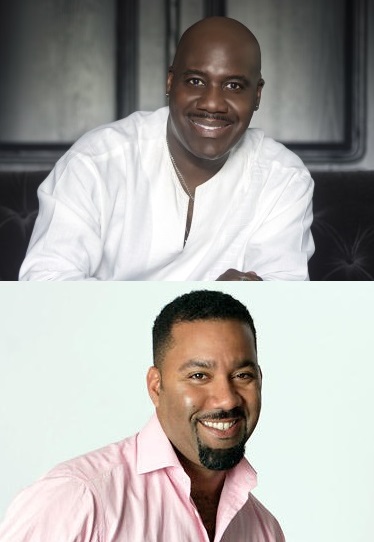 "It has a dual reason," Grammy nominated Will Downing said about his recent album release of Gospel selections titled "The Promise." "One, my mom she always asked me to do one...and when I came out my illness I promised God."
"The Promise" is a 10 selection album of Inspirational tunes released November 9, 2018 on Shanachie Entertainment. The project includes selections such as "Take It to the Cross," "You Blessed My Life" and "God Is So Amazing."

"This is a big payback. This is my 21st album," he said about "The Promise." "With this one he (God) had his hand on the whole thing. Even now when I listen I still get chills."
The illness Will Downing talked about is his diagnosis with auto-immune disease Polymyositis in 2007, which threatened his life and paralyzed him. He asked God to heal him and promised to honor him in everything if he did. Today Downing is walking, singing and testifying about the power of prayer and faith. Will came through with the promise to God and his mother with this Contemporary Gospel project, "The Promise."
"God is so amazing. It is the most attached I have been with any album," Will said.
"The Promise" features vocal assistance from Regina Belle, who has also released Gospel projects, on the "Changed" selection. The Brooklyn native started in the business as a session singer before signing a record deal with Island Records hitting the top of the Billboard Charts with his self-titled. He received a Grammy Award nomination for his "All the Man You Need" album in 2000. www.WillDowning.com
Legendary Jazz Pianist Marcus Johnson gave up becoming a lawyer after receiving his JD from Howard University for the music business. He then formed a partnership with BET Network founder Bob Johnson. That partnership was to form his Three Keys Music record label, publishing and recording studio (Marimelj Entertainment Group). Bob heard his debut album while Marcus was in college and he was so impressed with his skills that he became a silent partner in Johnson's music endeavors.
From December 20-23, 2018 Marcus Johnson brings his piano skills to Blues Alley in Washington, DC for his "Christmas Jam" - two shows per day.

"I have a new team," Marcus said when I commented that he has been on a roll with his performances lately. "We are reinventing marketing...using social media for the content...re-introducing Marcus Johnson."
Expect to hear your favorite Christmas carols and R&B/Jazz hits that have become traditional holiday tunes. Johnson also has a Pandora channel.
"Pandora allows us to make money," Marcus said.
Leading his management teams through the years, which also includes his Flo Brand Wines and publishing a book on love, Marcus has become a business expert. All of his companies are under one umbrella, For The Love of Brands, where he is Director. So outstanding is his business expertise' Johnson teachers it at his Alma Mata Howard University.
"I talk to people about business development. People are interested in having fun and making money. If they see a light at the end of the tunnel they get inspired," Marcus said.

If all this is not enough Marcus finds time to spread his knowledge at community events for free, such as the 20 year old "Uplifting Minds II" entertainment conference in Baltimore where he has spoken on business throughout those 20 years.
"I teach at Howard on entrepreneurship to non-business majors," he laughed a little. "They keep me grounded. I push them so I have to push myself."
Marcus Johnson, a NAACP Image Award nominee, will also be performing December 15 - 16, 2018 in Atlanta for his "Flo Wine Sips and Sounds Holiday Tour" and of course at Blues Alley in DC December 20 - 23rd for his "Christmas Jam." www.MarcusJohnson360.com
SYNDICATED COLUMN: Eunice Moseley, has an estimated weekly readership of over ¼ million with The Pulse of Entertainment. She is also a Public Relations Strategist and Business Management Consultant at Freelance Associates, and is Promotions Director (at-large) for The Baltimore Times. www.ThePulseofEntertainment.com. EVENT: "Uplifting Minds II" Free Entertainment Conference annually in Baltimore (Saturday April 20, 2019) and Los Angeles (October/TBD). Offering Entertainment Business panel and a talent showcase and competition (vocal, songwriting, dance and acting) with over $15,000 valued in prizes. www.UpliftingMinds2.com.