The Pulse of Entertainment: Momoa Rocks as Aquaman in the Warner Bros. Pictures Presentation and Carvin Winans is Solo on 'In The Softest Way' Single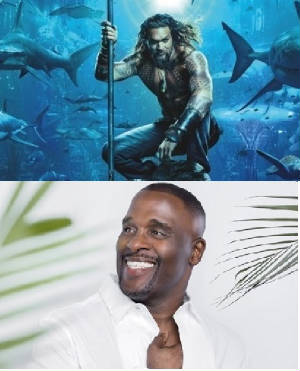 Hollywood has another hero in Jason Momoa (Batman vs Spiderman: Dawn of Justice, Justice League) because he rocks as Aquaman in the Warner Bros. Pictures presentation that arrives in theatres December 21, 2018. This is his third time playing the fictional character created by DC Comics, but it's his first leading role as Aquaman. Momoa is Arthur Curry, the mixed breed who is a man that is also prince of Atlantis - a thriving world under the sea.
Aquaman also stars Academy Award winner Nicole Kidman (The Hours) who is Atlanna, Queen of Atlantis and mother of Arthur (Aquaman) and ORM, played by Emmy nominated Patrick Wilson (Angels in America). She runs away from Atlantis because tradition says she is suppose to wed someone she doesn't love. Barely escaping with her life Queen Atlanna is found by light house keeper Thomas Curry, played by Temuera Morrison (Hard Target 2), and is nursed back to health. They fall in love and have Arthur just as the soldiers of the underworld come to bring her back. Thus begins the climax of the story that will lead the audience to an "all things work out for the good" ending.
Mosoa does well playing a man destined to be the hero the world needs, but fighting it all the while. As if he was Aquaman Jason Mosoa changes his facial expressions and body language to that of someone who has accepted his fate. Jason rocks us all the way to the "when is the next installment" ending.
The plot is the old "beginning of time" good vs evil story but it is told in an excellent and creative way by Geoff Johns, Will Beall and director James Wan because it explains why good wins all the time. The DC Comics character was created by Mort Weisinger and Paul Norris in 1941 for Aquaman comic books. Aquaman, a Warner Bros. Pictures, DC Comics, DC Entertainment, Panoramic production is the sixth installment of Aquaman films. Jason Momoa has been Aquaman for three of those six film projects and he carries the Aquaman title well.
Rated PG-13 Aquaman also stars Graham McTavish (The Hobbit) as Atlan the last great King of Atlantis who hides the pitch fork/scepter that can control the sea and can only be held by the rightful heir to the throne; Yahya Abdul-Mateen ("The Get Down") as David Kane a ruthless pirate of the seas who with the help of ORM becomes Black Manta; Michael Beach ("Third Watch") as Jessie Kane, father of David Kane and leader of the pirates; Amber Heard (Justice League) as Mera princess of Xebel, one of the seven tribes of Atlantis, who comes for Arthur to take the throne as the oldest and rightful heir in order to unite the seven tribes in peace; Dolph Lundgren (Universal Soldier: Day of Reckoning) as King Nereus leader of the Xebel tribe and father of Mera who promises her to ORM; Tony Award winner Patrick Wilson (Batman vs Superman: Dawn of Justice) as ORM half brother of Aquaman who wants the throne and control of the seven tribes as Ocean Master so he can wage-war against those on who live on land, and there are several voice-overs by Julie Andrews and Djimon Hounsou. www.DCComics.com/movies/aquaman
"It's something I always wanted to do," said Carvin Winans, member of multi - Grammy Award winning Gospel group The Winans. He is about to release a solo album in 2019 and it is preceded by the release of the projects' first single "In the Softest Way" where Carvin shows his vocal range.
"When my brother Ronald passed away I did a project with Marvin (Carvin's twin) and Bebe and thought it was time to use my gift. I see myself as a very young person... in great health...great mind and can still add to music and do what He called me to do," Carvin said when asked why he is doing a solo project.
So far Carvin is starting his solo singing career off right with "In the Softest Way". Preorders for the 2019 album release began on October 26, 2018 and those who order will receive an extra song that won't be on the album when released.
As a member of The Winans Carvin was signed to Light Records and released two albums both receiving Grammy nominations. The Winans moved over to Quincy Jones' label Qwest Records and released six albums - four received Grammy Award wins. As a song writer Carvin received a Grammy Award for the title track to The Winans' "Tomorrow" project. Though he added with a laugh, "It's tough getting a song on The Winans CD."
Carvin said on this project he gets to pick the songs, the producers and writers - something new for him.
"I'm not having to get the ok," he said with a smile.
Carvin has written many hits that I wasn't even aware of such as Regina Belle's "Make It Like It Was," Whitney Houston's "Love Is" and Vanessa Bell Armstrong's "Here's to You" - just to name a few. He has even worked as a session singer for Michael Jackson on "Man in the Mirror" produced by Quincy Jones, Kenny Loggins' "Imaginary Life" and Michael McDonald's "Love Has No Color." In 2007 The Winans was inducted into the Gospel Music Hall of Fame in Nashville, Tennessee and in 2008 he received the President's Merit Award by the Recording Academy in recognition of his passion as an artist.

Carvin, who experienced his first solo tour, said it's scary out there performing without his brothers.
"You spend your whole life singing and touring with The Winans, I feel naked," Carvin explained when I asked. "It's like wow it's just me. It's scary but its fun!" www.CarvinWinans.com
SYNDICATED COLUMN: Eunice Moseley, has an estimated weekly readership of over ¼ million with The Pulse of Entertainment. She is also a Public Relations Strategist and Business Management Consultant at Freelance Associates, and is Promotions Director (at-large) for The Baltimore Times. www.ThePulseofEntertainment.com. EVENT: "Uplifting Minds II" Free Entertainment Conference annually in Baltimore (Saturday April 20, 2019) and Los Angeles (October/TBD). Offering Entertainment Business panel and a talent showcase and competition (vocal, songwriting, dance and acting) with over $15,000 valued in prizes. www.UpliftingMinds2.com.