The Pulse of Entertainment: Eunice Moseley Highlights Her Most Read Columns in 2018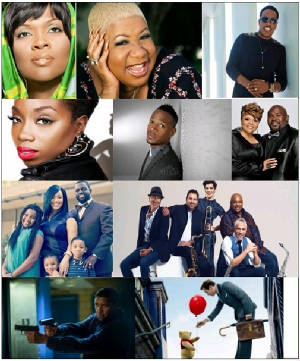 The year 2018 for The Pulse of Entertainment was donated by interviews again, added to that was event coverage and movie reviews. The year started with an interview with 12-time Grammy Award winner CeCe Winans-Love during the red carpet arrivals at the1st Ladies High Tea Awards which honored her for being the First Lady of Nashville Life Church. An interview with Alfonso Ribeiro ("Fresh Prince of Bel-Air") during the red carpet arrivals for the 35th annual Caucus Awards Dinner, where he was honored with the "Entertainer of the Year: Award for hosting "America's Funniest Home Videos."
Coverage of the SAG Awards was next with red carpet interviews with Marcus Scribner ("Black-ish") and Sydelle Noel (Black Panther). Movie reviews at the beginning of 2010 included Warner Bros. Pictures' Paddington, Paramount' Pictures' Annihilation and the Orchard presentation of The Young Karl Marx.
The year continued with interviews that included Marlon Wayans' for his Netflix presentation of his comedy show "Woke-ish", television producer Rushion McDonald ("The Steve Harvey Show") about the launch of his talk show "Money Making Conversations," and Oscar Winning Louis Gossett, Jr. (Officer and a Gentleman) about executive producing a Muhammad Ali documentary film. Event coverage included the 27th NAACP Theatre Awards and the LAUSD "We Are One" Benefit Concert red carpet arrivals, which included an interview with Richard Lawson (Dirty Harry). A movie review came next on the A24 presentation of The Last Movie Star starring Burt Reynolds (The Longest Yard).
Eleven-time Grammy Award nominated Charlie Wilson interview followed about making history by having three songs reach #1 on Billboard Charts at the same time. Grammy Award nominated Jeffrey Osborne for his album release "Worth It All" (Artistry Music/Mack Avenue Records) and Bishop Jason Nelson about his album release "The Answer" (RCA Inspiration). Event coverage was the red carpet arrivals at the Black Business Associations' "Salute to Black Music" and the Jonathan Foundation's Spring Fundraiser. Movie reviews included the presentation of Uncle Drew.
Interviews with multi-Grammy Award winning Warryn and Erica Campbell followed about starring in and co-executive producing their TV One reality show "We're the Campbells and Grammy Award nominated Jazz saxophonist Dave Koz about his album release "Summer of Horns II: From A to Z" (Concord Records). More interview followed with Chris Walker about his tribute album to the late Al Jarreau, whom he served as music director; television producer Bentley Kyle Evans ("Martin Lawrence") and actor Dorien Wilson ("Sister Sister," "The Parkers") about the Bounce TV sit-com "In The Cut"; screen writer and director Tim Folsome and Hosea Chanchez ("The Game") about the TV One original movie "Down for Whatever," and Stellar Award winning keyboardist PJ Morgan (Maroon 5) about his solo album "The Transparency Project." Movie reviews around this time included Sony Pictures presentation of The Equalizer starring two-time Academy Award winner Denzel Washington and the Walt Disney Studios presentation of Christopher Robin starring Golden Globe winner Ewan McGregor (Star Wars: The Force Awakens), which included an interview with its Director Marc Forster (Quantum of Solace).
Mid-way through 2018 an interview with Estelle came through about her new album "Lover's Rock," Tristan Wilds and Chaley Rose about the TV One original movie "Dinner for Two," which Wilds executive produced and Trina Braxton ("Braxton Family Values") about her new gig as co-host of TV One/TEGNA Networks' "Sister Circle" talk show. Event coverage followed of the red carpet arrivals at the "Little Miss African American Pageant," which included interview with Claudia Jordan (The Real Housewives of Atlanta"), Ella Joyce ("My Wife and Kids") and Roz Ryan ("The Rickey Smiley Show"). Coverage of CBS Press Day followed with interviews with Stephen Hill (Luke Cage) about co-starring in "Magnum P. I., Brandon Michael Hall ("The Major") about starring in "God Friended Me" and Tichina Arnold ("Everyone Hates Chris") about starring in "The Neighborhood" with Cedric the Entertainer. A movie review followed for the Columbia Picture presentation of Marvel's Venom

As 2018 comes to a close interviews with six-time Grammy Award winning Israel Houghton about his new album "Road to DeMaskUs" (RCA Inspiration), Grammy Award nominated Reggae icon Maxi Priest about his new single "Rock Steady Love" (VP Records) and comedian/actress Luenell (Taken 2, Hotel Transylvania) about the release of her liver comedy album "I Only Drink at Work" and her co-starring role in A Star is Born starring Lade Gaga and Dolemite Is My Name starring Eddie Murphy. Movie reviews followed of the Netflix presentation of Outlaw King starring Chris Pine (Star Trek), Paramount's' Instant Family, which included an interview with Director Sean Anders (Horrible Bosses) starring Academy Award nominated Mark Wahlberg (Transformers), the Warner Bros. Pictures presentation of The Crimes of Grindelwald starring Eddie Redmayne, Jude Law and Johnny Depp (Pirates of the Caribbean) and Lionsgate's presentation of Robin Hood starring Taron Egerton (Kingsmen) and Academy Award winning Jamie Foxx (Ray Charles).
Interviews at the end of the year where with David and Tamela Mann about the release of their "Us Against the World" album, tour and book release; 12-time CeCe Winans, who started the year off, about the release of her Christmas album co-produced by her son Alvin Love, III titled "Something is Happening: A Christmas Album;" Grammy Award nominated Will Downing about the release of his first full Gospel album "The Promise," and Grammy Award winning singer/songwriter Carvin Winans (The Winans) about his new solo single "In The Softest Way". Last movie review was on The Warner Bros. Picture presentation of Aquaman starring Jason Momoa (Batman vs Spiderman: Dawn of Justice, Justice League).
As 2019 comes The Pulse of Entertainment expands his presence on the very popular digital magazine www.EURweb.com twice a week on Tuesdays and Fridays. Its over ¼ million weekly readers can also read The Pulse of Entertainment at its website www.ThePulseofEntertainment.com every Saturday and periodically at www.TheWashingtonInformer.com.
SYNDICATED COLUMN: Eunice Moseley, has an estimated weekly readership of over ¼ million with The Pulse of Entertainment. She is also a Public Relations Strategist and Business Management Consultant at Freelance Associates, and is Promotions Director (at-large) for The Baltimore Times. www.ThePulseofEntertainment.com. EVENT: "Uplifting Minds II" Free Entertainment Conference annually in Baltimore (Saturday April 20, 2019) and Los Angeles (October/TBD). Offering Entertainment Business panel and a talent showcase and competition (vocal, songwriting, dance and acting) with over $15,000 valued in prizes. www.UpliftingMinds2.com.