The Pulse of Entertainment: Harlem's Celebrity Chef JJ Premiers Reality Show on New TV One Network and Bob Baldwin Honors Beatles on New CD 'Abby Road & The Beatles'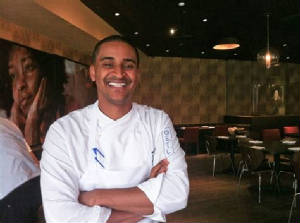 "You will learn how to cook watching the show," said Celebrity Chef JJ Johnson to me, a non-cooker, about his new reality show 'Just Eats with Chef JJ" airing Saturdays at 12 noon on TV One's new lifestyle network CLEO TV (Comcast Xfinity). "My Chicken Parmesan was unexpected. I cooked it as a kid. Each show (dish) is different. I even had to adjust to someone's allergies."
Chef JJ, a graduate of Culinary Institute of America, clients have included Jennifer Hudson, Quest Love, Maria Carey, Steph and Ayesha Curry. He is a partner at The Henry by JJ located in the LIFE Hotel (19 West 31st Street) in New York, NY.
"I get up at 7:30am...take a call. Roll out the house 10:30am. Take 1 or 2 meetings then I'm in the kitchen at Henry's. I end the night in the kitchen recapping with the team. Then home to spend time with my wife," he said about his daily routine.
Viewers of "Just Eats with Chef JJ" will travel with Chef JJ and see all the surprises, situations and issues that come up for the celebrity chef. The reality show premiered January 19, 2019, same day the CLEO TV network launched, on Comcast Xfinity. The new network will also offer viewers shows like "Living By Design with Jake and Jazz," a reality show of two siblings who transforms living spaces; "Everything I Did Wrong in My 20's" series; "Unwritten Rules" series; talk show "Sister Cycle"; sitcom "Girlfriends," and TV One original movies. Celebrity guest on the show includes Laz Alonzo, Kimberly Locke, David Banner, Naturi Naughton, and Koryn Hawthorne. www.MYCLEO.tv www.TVOne.tv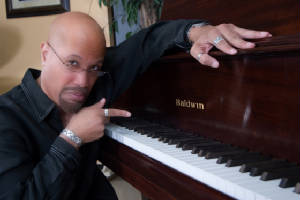 Jazz keyboardist Bob Baldwin honors The Beatles with his 25th album titled "Abby Road and The Beatles" (City Sketches/Red River) featuring vocal assistance from CeCe Peniston and Lori Williams, Euge Groove on sax and Ragan Whiteside on flute. The album offers 10 Beatles originals (one, recorded twice, with a remix version) and a Bob Baldwin original, totaling 12 selections.
"I grew up with all kinds of music. My dad had Jazz...sister R&B...Soul. I liked what The Beatles did with their compositions and the songs were happy. They played guitars, bass and drums with no keyboard," Bob said.
So on "Abby Road and The Beatles" Bob selected 10 originals and put his keyboard and Jazz twist to the world-wide hits. He includes his own original "Abbey Road" featuring vocalist Lori Williams as the cherry on the Beatle cake.
"I am known for taking original harmonies and putting my own flavor," Baldwin pointed out. In the past his projects honored Michael Jackson and Stevie Wonder. "I keep the melody intact. It's always a challenge not really changing it...taking it to another point."
"Abby Road and The Beatles" is executive produced by Bob Baldwin, celebrating 30 years in the business, and Bob Frank. It also features assistance from Tony Lewis on drums, Dave Anderson on bass and Dennis Johnson and Café' Da Silva on percussions.
"The Beatles were embrace in American and around the world," Bob said about why he honored the popular band from London. "I tried to pick like 10 songs that felt good on piano."
I love The Beatles like everyone else and know most of their songs so keeping the melodies are important to me too. My favorites on "Abby Road and The Beatles" include #3 John Lennon and Paul McCartney's "And I Love Her (Real Talk)" because Bob's sweet keyboard playing maintains the original melody to perfection; #5 John Lennon's "Imagine" featuring Euge Groove on sax because of its simplicity; John Lennon and Paul McCartney's "Michelle (My Girl)" featuring Ragan Whiteside on flute because I love the way Bob's keys are popping; #7 George Harrison's "Something (In The Way She Moves) because Bob's sweet key playing keeps the melody and I love the Jazz flavor he brings to it; #8 Paul and Linda McCartney's "My Love" featuring Lori Williams because again Bob brings simplicity to The Beatles hit honoring them to the utmost, and #10 John Lennon's "Yesterday" because of how Baldwin Jazzes it up. www.BobBaldwin.com www.NewUrbanJazz.com
SYNDICATED COLUMN: Eunice Moseley, has an estimated weekly readership of over ¼ million with The Pulse of Entertainment. She is also a Public Relations Strategist and Business Management Consultant at Freelance Associates, and is Promotions Director (at-large) for The Baltimore Times. www.ThePulseofEntertainment.com. EVENT: "Uplifting Minds II," a Free Entertainment Conference held annually in Baltimore (Saturday April 20, 2019), in partnership with Security Square Mall and The Baltimore Times and Los Angeles (October/TBD). Offering an Entertainment Business panel and a talent showcase and competition (vocal, songwriting, dance and acting) with over $15,000 valued in prizes for each category. www.UpliftingMinds2.com.