The Pulse of Entertainment: Rahsaan Patterson Release 'Sent From Heaven' Single from Shanachie CD and 'The Baltimore Times' Publisher, Joy Bramble, Immortalized in Wax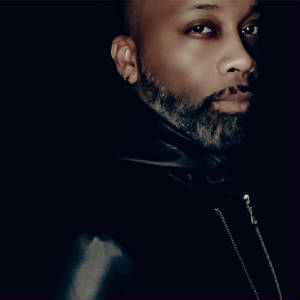 "('Sent From Heaven') A beautiful love song that was inspired," said Rahsaan Patterson about his new single release from his upcoming May 17, 2019 Shanachie Entertainment project titled "Heroes and Gods." "It's a return to joy...coming whole again after...heartbreak."

The BET J Award winner for "Underground Artist of the Year" hasn't released a project since 2011 with "Bleuphoria." "Heroes and Gods" will be released on the Shanachie imprint, home for such other icon artists as Jazz pianist Keiko Matsui, Will Downing, Kim Waters and Norman Brown.
"That song was ...all songs are from the Creator....absolutely a gift that's from the Universe. I've grown and learned to stay self-aware," said Patterson about the concept for the single "Sent From Heaven." "The future is absolutely promised once you internally do the work. Because of the pain of life and relationships you come away aware of consequences of choices. We create the future."
Rahsaad learned that the focus should always be on creating that future by focusing on the positive aspects of life and relationships, what is "sent from Heaven." Life is too short to focus on anything but that. The Los Angeles based living icon is celebrating 35 years in the entertainment business. I remind him each time we talk that I interviewed him, Fergie, Shanice and Mario Lopez when there was on the television show "Kids Incorporated" and that I have been interviewing them all throughout their careers since then. After "Kids Incorporated" Rahsaad signed a deal with MCA Records and as they say the rest is history.
"It takes the experience of life. The hard times, trauma, the working through the hurt to understand that you can make it through...a heartbreak," Rahsaad seriously pointed out at the end of our interview.
Patterson, who has master R&B, Jazz, Funk and Gospel vocal genres, has collaborated with such iconic artists as Faith, Ledisi, Rachelle Ferrell and Lalah Hathaway.
www.Rahsaad.com
www.Shanachie.com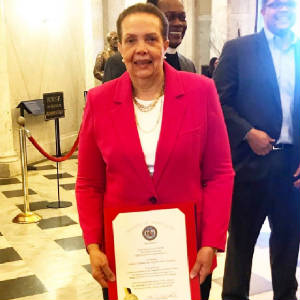 The publisher of
The Baltimore Times,
Joy Bramble
, was recently immortalized in Wax for her over 30 years as a black media outlet. Bramble was honored with a Proclamation from the Maryland House and Senate before the unveiling of a wax figure in her name placed at the Great Blacks in Wax Museum in Baltimore.
"I was surprised and honored," said Joy Bramble, about the Proclamation and wax figure unveiling. "The reason is what we've been able to accomplish with
The Baltimore Times
."
As their first employee back in 1986 I was a witness and full participant in those accomplishments. Bramble started
The Baltimore Times
with the blessing and help from her husband Rev. Peter Bramble, an Episcopal priest. I was straight out of college as a Telecommunications major working at WEBB Radio as a paid intern when I was hired by Joy Bramble.
The Baltimore Times
, when it changed from monthly to weekly became the largest circulated black owned newspaper in Maryland. It grew to have three sister publications -
The Annapolis Times, The Prince George's County Times
and
The Baltimore County Times
. It was the first company to offer community events in Baltimore that provided free services with its Housing Expo (on-site pre-approvals), Health Expo (free healthcare screenings), Men's Expo (free healthcare screenings) and Women's Expo (free seminars).
"My whole life has been like magic," said Joy, who is a native of Montserrat. "I've never been afraid to try things. If that doesn't work you move on. Set an example and keep trying."
The publisher did not start off in the states as a newspaper publisher. She started off as an educator in the Baltimore City School System. She even owned an infamously lucrative Baltimore city "corner store" before deciding she wanted to saturate Baltimore city with "positive stories about positive people," the motto for her newspaper.
"Someone broke into the store and I was afraid and decided to close it," she said about the corner-store venture. As far as her role as a teacher she said, "I feel if I am not making a difference I have to do something else. I found out how hard it was teaching in Baltimore schools. I knew that I wasn't fulfilling my potential and that was not for me."
Bringing "positive stories about positive people" and providing free community services to Baltimore city residents to help save lives and people's homes, was where she was able to fulfill her potential.
"Taking chances and learning," said Joy Bramble was the things that helped her grow her newspaper. "..and the people I've come in contact with. I made a difference in their lives, set an example. Look at you! You are a prime example."
Bramble is talking about all the achievements I have made with her blessing and because of her urging. I came to
The Baltimore Times
because I love writing, she saw that I could make a great sales person and so we made a deal - she would let me write for the newspaper if I sold ads for her. She was right I became the highest paid sales person at the newspaper. My love for writing resulted in a position as Entertainment Editor at the newspaper. I am now a syndicated entertainment columnist with over ¼ million readers a week nationwide. At one point as her Business Manager she urged me in the strongest way to be her Promotions Director and because of it I helped spearhead
The Baltimore Times
community event projects. The events garnered the newspaper recognitions from the City of Baltimore for serving the community with events held annually. Each of the four events raked up thousands of dollars in extra venue for the newspaper. All those skills Joy Bramble allowed me to learn on the job, by not limiting me and by urging me. I was able to open up my own business, a public relations/business service company. She did not mind me "moon-lighting" after work as long as I did my job at the newspaper. I founded "Uplifting Minds," a free entertainment conference event for the newspaper in 1999 to reach young readers - the fifth event. In 2000 Bramble granted my request for ownership of the event and as "Uplifting Minds II" I took the free entertainment conference annually to the communities in Baltimore, Los Angeles, Atlanta and Houston. I am only one of many employees Joy Bramble has helped in this way.
"Life is a challenge, I like challenges," Joy said. "Someone tells me I can't do something - I find a way. The statue will be unveiled at the State House. I'm getting a Proclamation from the Senate and the House and the (wax) statue will be unveiled afterwards at The Great Blacks in Wax."
www.BaltimoreTimes-Online.com
SYNDICATED COLUMN: Eunice Moseley, has an estimated weekly readership of over ¼ million with The Pulse of Entertainment. She is also a Public Relations Strategist and Business Management Consultant at Freelance Associates, and is Promotions Director (at-large) for The Baltimore Times. www.ThePulseofEntertainment.com. EVENT: "Uplifting Minds II," a Free Entertainment Conference held annually in Baltimore (Saturday April 20, 2019), in partnership with Security Square Mall and The Baltimore Times and Los Angeles (November/TBD). Offering an Entertainment Business panel and a talent showcase and competition (vocal, songwriting, dance and acting) with over $15,000 valued in prizes for each category. www.UpliftingMinds2.com.