The Pulse of Entertainment: Wendy Robinson's AGC presents 'Our West Side Story' in Los Angeles May 18 & 19, 2019 in The Little Theatre and BT ALC Big Band Rings True on 'The Search for Peace' CD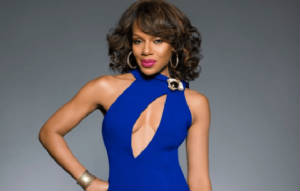 "It's a milestone for us after 22 years," said actress Wendy Raquel Robinson ("The Game") about the musical production to be presented May 18 & 19, 2019 in the Little Theatre in Los Angeles. A production of her Amazing Grace Conservatory (AGC) called "Our Westside Story." It is a slight twist of the Broadway hit "West Side Story." It features AGC students from their 1999 and 2010 "West Side Story" productions, Alfred Jackson and Gerald Evans, as directors. "Alumni are directing and producing. Full circle from students to staff..."

Jackson is an entertainment phenomenon who has written and produced music for the television show "Ally McBeal," toured with such worldwide productions as "Solid Gold Motown," "Rent" and "Glee" and choreographed for the musical "Sarafina," which garnered him a 2010 NAACP Image Award. Evans' career is just as phenomenal performing in such musical productions as "Sister Act 2", "The Grinch," and Westside Story".
The "West Side Story" Harlem saga is a love story taking place in the 1950's about a boy and girl on opposite sides of a turf war between two gangs who fall deeply in love. The AGC "Our West Side Story" on Saturday May 18th at 7:30 p.m. and Sunday May 19th at 6 p.m. is basically the same as the original musical with a remix of the hit song "This is America." For the younger audience there is a production with another twist "Our Side of the Story" Sunday May 19th at 3 p.m. That twist is on the content which focuses on bullying and has a current day dance battle scene.
"Content is for younger audience, 8 - 12. has more musical content," Wendy pointed out. "It deals with bullying, the power of words and self-esteem...which is more impactful today. We didn't have social media. We had the classroom and the play ground. They have cyber bullying."
Robinson said that even the ending in this version has changed, where in the original the boy dies at the end, in this version he lives.
"We wanted to show that issues can be resolved," she concluded.
AGC was also founded by the late Tracy Lamar Coley ("Martin," "The Jamie Foxx Show"). Robinson serves as Executive Director. Launched in 1995 the Conservatory enrolled 75 young actors its first year and cast them in productions at the Los Angeles Theatre Center.
"Our Westside Story," presented by Amazing Grace Conservatory and the Los Angeles Southwest College Department of Arts and Humanities, will be held at the Little Theatre located on the Los Angeles Southwest College campus.
www.AmazingGraceConservatory.org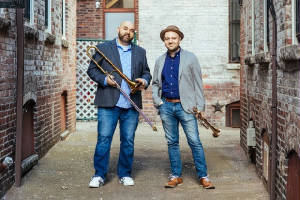 "Every time we play it's a big hit, it's a festival," said Alex Lee-Clark, co-founder of the 19 piece band called
BT ALC Big Band
based in Boston, which just released its fourth album, "The Search For Peace." "Like any big time city it's a small town...you get called for weddings, you end up calling all your friends."
Trumpeter Alex, and band co-founder trombonist Brian Thomas, friends for this project include Peter Levesque, Jared Sims, Mike Tucker, Ben Whiting and Tucker Antell on saxophone; Benjamin Griffin, Pete Funelli and Angel Subero on trombone; Yaure Muniz, Mark Berney and Doug Olsen on trumpet; Steve Fell, Jeffrey Lockhart on guitar; Sam Gilman on the organ; Darby Wolf on clavinet and piano; Ted Sullivan on drums, and Ernesto Diaz on percussion. Collectively they merge the big band era sound with the current Smooth Jazz genre, with a Boston twist.
"We decided there weren't any big bands that are big in Boston," Alex said about why he formed the 19 piece band with Brian. "We went to school together. We met at a placement test exam to get our Masters. We knew a lot of the same people."
The "In Search for Peace" (Ropeadope Records) album is produced by Alan Evans.
"This is the first one we've done with Alan Evans," Lee-Clark said. "He's a brilliant recording engineer. He did great research."
The research was on big bands because the pair wanted to combine their traditional big band funk sound with Jazz and I believe they successfully did that.
My favorite cuts on the project include #2 "Dance," written by Alex, because the guitar brings that funky big band grove I like that seemed to make the horns jump and I also love the way the percussion gives it that African-drum feel. I also like the title track #4 "The Search for Peace," written by Alex, because it sounds like it could be the soundtrack to a love story that changes into an almost Latin Jazz feel, then ends with comfort that only Smooth Jazz can bring. I also like #5 "Tune For Lou," written by Brian, because the organ, played by Sam Gilman, goes completely off followed by that traditional big band sound from the 60s that I'm use to.
"We started off with traditional big band...like Frank Sinatra and Quincy Jones. That's pretty standard," Alex pointed out about how their music morphed into what it is today. "I grew up playing with those types of groups."
BT ALC Big Band has successfully merged that traditional big band funky sound with today's Smooth Jazz flavor on their newest album release "In Search For Peace."
www.BTALCBigBand.com
SYNDICATED COLUMN: Eunice Moseley, has an estimated weekly readership of over ¼ million with The Pulse of Entertainment. She is also a Public Relations Strategist and Business Management Consultant at Freelance Associates, and is Promotions Director (at-large) for The Baltimore Times. www.ThePulseofEntertainment.com. EVENT: "Uplifting Minds II," a Free Entertainment Conference held annually in Baltimore (Saturday April 20, 2019), in partnership with Security Square Mall and The Baltimore Times and Los Angeles (November/TBD). Offering an Entertainment Business panel and a talent showcase and competition (vocal, songwriting, dance and acting) with over $15,000 valued in prizes for each category. www.UpliftingMinds2.com.