The Pulse of Entertainment: Marvel's Spider Man: Far From Home is Simply Delightful and The 28th NAACP Theatre Awards Continues to Honor Artistic Creativity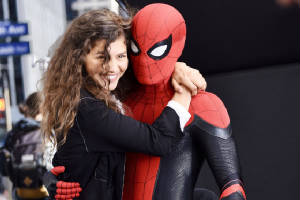 Spider Man, an Avenger protégée, is left too soon by the death of mentor Tony Stark (Iron Man). Played by Tom Holland, Spider Man finds his place in the world again when Nick Furry hires Talos, played by Academy Award nominated Samuel L. Jackson (Iron Man, The Avengers), to impersonator him to seek Spider Man's for assistance. The Sony Picture presentation of Spider Man: Far From Home, arriving in theatres July 2, 2019, is simply delightful. There is comedy; romance and so much action you may need to watch it at home again and again so you can slow it all down to see the awesomeness of the shots.



Spider Man: Far From Home has Peter Parker ducking Nick Fury, former director of S.H.I.E.L.D who is calling for him to active duty, so that he can attend a class trip to Europe. He plans to tell classmate MJ, played by Zendaya (Disney's "Shake It Up"), how he feels about her. However, trouble follows Peter because it's his destiny to be a hero. While in Italy he witnesses a water monster defeated by Quentin Beck, played by Academy Award nominated Jake Gyllenhaall (End of Watch). Nicknamed Mysterio by Peter, Beck is not who he seems to be and in fact nothing is what it seems to be.

Nick follows Peter to Italy and gives him a gift from Tony Stark, a pair of Artificial Intelligence (AI) sunglasses called E.D.I.T.H. Still not accepting he has super-hero responsibilities Peter gives the glasses over to Mysterio, whom he believes would be a better hero. That turns out to be a big mistake and the result is the climax and the unstoppable action in the film.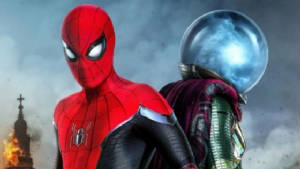 Rated PG-13 Spider Man: Far From Home is directed by Jon Watts (Spider Man: Homecoming) and produced by Academy Award nominated Kevin Feige (Black Panther) and Amy Pascal (Sony Pictures Group). The Marvel film is shown in 3D and IMAX and is a Marvel Studios, Columbia Pictures and Pascal Pictures production. Based on Stan Lee and Steve Ditko's character Spider-Man, Spider Man: Far From Home also stars J. B. Smoove ("The Millers"); Jacob Batalon (Avengers: Endgame) as Ned Leeds - Peter Parkers' best friend; Martin Starr (Spider Man: Homecoming); Academy Award winning Marisa Tomei ("My Cousin Vinny") as Aunt May Parker, and Jon Favreau (Iron Man) as Happy Hogan, head of Stark security and the love interest to Peter Parkers' Aunt May, played by Tomei. www.SpiderManFarFromHome.movie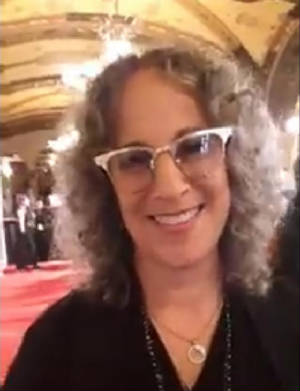 Loni Love ("The Real") hosted the 28th NAACP Theatre Awards, held recently at the Millennium Biltmore Hotel, where artistic creativity was honored with a red carpeted event. Aside from awarding actors, actresses, directors, costumes designers, choreographers, producers, lighting technicians, stage designers, sound engineers and playwrights of the theatrical arena the NAACP Theatre Awards gave special honors to Academy Award winner Viola Davis (The Help), Lillias White (Hercules), Condola Rashad ("Sex in the City") and Los Angeles City Council President Herb Wesson, Jr.

Presenters of the 28th NAACP Theatre Awards included Primetime Emmy Award winner Loretta Devine ("Boston Public"), Orlando Bloom (The Hobbit), James Pickens, Jr. ("Greys Anatomy"), Raven-Symone (College Road Trip), Golden Globe Award nominated Richard Roundtree (Shaft) and Julius Tennon (Batman vs Superman: Dawn of Justice). Nominees included Choreographers Sergio Trujillo for "Summer: The Donna Summer Musical" and Joyce Guy for "Les Blancs;" Music Directors Jaret Landon for "Born for This" and Giovanni Adams for "Love is a Dirty Word;" Lead Female Actresses Phylicia Rashad for "Head of Passes" and Kacie Rogers for "An Accident;" Lead Actors Arthur Richardson for "Driving Miss Daisy" and Joshua Wolf Coleman for "Transitions" and Directors Luis Valdez for "Zoot Suit" and Gina Belafonte for "Lyrics from Lockdown."

"It's a Hip-Hop Spoken Word musical about mass incarceration and mistaken identity," said Gina Belafonte about her nomination for directing "Lyrics from Lockdown."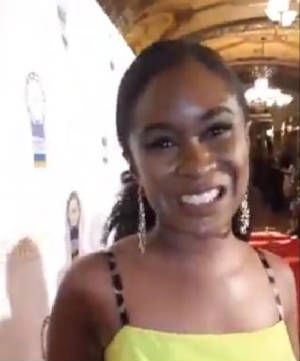 When I asked Kacie Rogers about the role she was nominated for in "An Accident" she said, "I was playing a woman who was paralyzed so I was in the bed most of it. I was only able to move in her mental state. So really studying what's that's like and the feelings of anxiety trapped in your own body, that was a really challenging because I wanted to do it justice."

The challenges of choreography in the theatre were the topic of my talk with Joyce Guy (Lorraine Hansberry's "Les Blancs"), she said, "How do I incorporate dancers from Ghana, Mali and Songhai - all the places I had to dance into the choreography. It's like it's something fresh and something new that their village would be doing. So that was a challenge but also we had a cast of like 20 actors and it was like putting movement into all those actors. So I enjoyed working on this movie so much." (NAACP Theatre Awards Photo: Top: Gina Belfonte and Kacie Rogers) www.NAACPTheatreAwards.com


SYNDICATED COLUMN: Eunice Moseley, has an estimated weekly readership of over ¼ million with The Pulse of Entertainment. She is also a Public Relations Strategist and Business Management Consultant at Freelance Associates, and is Promotions Director (at-large) for The Baltimore Times. www.ThePulseofEntertainment.com. EVENT: "Uplifting Minds II," a Free Entertainment Conference held annually in Baltimore (Saturday April 20, 2019), in partnership with Security Square Mall and The Baltimore Times and Los Angeles (November 9, 2019/Los Angeles Convention Center). Offering an Entertainment Business panel and a talent showcase and competition (vocal, songwriting, dance and acting) with over $15,000 valued in prizes for each category. www.UpliftingMinds2.com.