The Pulse of Entertainment: Iconic Pieces of a Dream's New CD 'On Another Note' is Jazz at its Best and The Black Business Association's 'Salute to Black Music Awards' Celebrates Iconic Industry Soulsters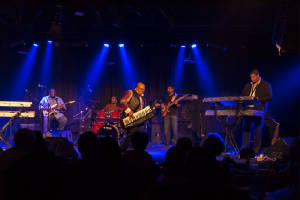 Celebrating 43 years together in October the iconic band Pieces of a Dream's new album on Shanachie Entertainment,

"On Another Note,"

is Jazz at its best thanks to founders James Lloyd on piano and Curtis Harmon on drums and percussions. Lloyd and Harmon are joined by regular band members Tony Watson, Jr. on sax, Chris Harris on guitar and George Granville on keyboard. "On Another Note" is executive produced by Danny Weiss and long-time group manager Gar Roberts. The first single off of their 24th album, released in May, is the title track.

"We just started writing songs," said James Lloyd about the new album. "We thought it was time. We just wanted to make fans feel our vibe, make some fun songs to play live...touch people by putting them in a certain mood. A roller coaster ride of ups and downs."

Pieces of a Dream founding members are from the city of brotherly love, Philadelphia, and met in school while playing in the same school band and decided to form their own group.

"We met in the Middle School Jazz Band...17 piece band," James informed me about the humble beginnings of the Pieces of a Dream band. "We formed a group out of that for a talent show...we got 3rd place! We liked it and started doing block parties, weddings...night clubs when we weren't even old enough to be in the club. Then we were discovered by Glover Washington, Jr. He produced our first three albums. We got to play with him two times, once was on a television show called 'City Lights.' Other members that have been in the band have come and gone. We're the founding members -been together for 43 years."

In all those years the Pieces of a Dream band has traveled the world over and has sold millions of albums with their Jazz style that fuses most genres of music together such as R&B, Funk, Pop and Blues. My favorite cuts on the "On Another Note" album include #2 "Floating," written and produced by Lloyd, because I love the Latin/Jazz feel of Chris Harris' guitar playing, Tony Watson, Jr.'s sax playing that brings that traditional Jazz flavor and the simplicity of James' keyboard playing; #5 "A Pieces Fiesta," co-written and produced by Curtis Harmon, because I love the Latin /Jazz feel of the percussions and drum playing by Curtis, the guitar playing by Chris Harris and the popping of the keys by George Granville and Harmon offering that traditional Jazz sound as the icing on the cake; #6 "Images of Peace," written and produced by James Lloyd, because it is simply delightful as Tony Watson, Jr.'s sax playing takes us on a cloud of love, and #7 "Rolling Along," written and produced by Lloyd, because it makes you want to hit the road as the keyboard playing makes the road as smooth as possible and I love the guitar playing by Harris that offers that crazy Jazz feel."

Advice James Lloyd gives to up-and-coming musicians and artists is remain humble and be responsible because no one wants to work with people with a cocky attitude and people that you can not trust. www.PiecesofaDream.net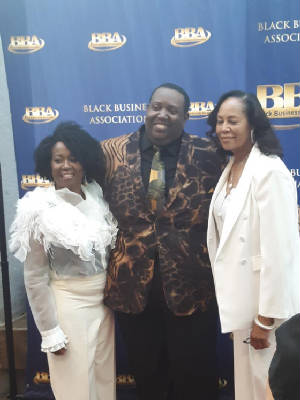 Since 1970 the Black Business Association has aided in the growth and development of African-American businesses and it recently honored those who are curators of black music with its annual

"Salute to Black Music Awards Dinner."

This year they celebrated Gospel music by honoring Vicki Mack Lataillade, founder of GospoCentric Records with the "Lifetime Achievement Award," Lisa Collins, publisher of L. A. Focus and founder of "First Ladies High Tea" with the "Outstanding Gospel Publication Award" and Byron J. Smith, president of the National Association Negro Musicians with the "Outstanding Artistic Vision Award." Previous honorees included Berry Gordon, founder of Motown Records, Smokey Robinson and Janet Jackson.

"Tramaine Hawkins, she was actually on my label at one time," said BBA honoree Vicki Mack Lataillade, founder of GospoCentric Records, about one of her favorite artists. Vicki's label played a part in launching the careers of some of the most iconic Gospel African-American artists. "I broke her first record. I was one of the people that broke her first record when I was at Light Records. I knew of Tramaine because I was from the Bay area. Also she was a beautiful dark skin woman."

Gospel music is about acknowledging a relationship with and belief in God. Contemporary Gospel began with the Gospel cross-over into the secular music thanks to the iconic influence of artists such as Ray Charles, Aretha Franklin, Al Green and Andrae' Crouch.

"I listen to a mixture of Gospel, Jazz and R&B," said BBA honoree Lisa Collins, publisher of L. A. Focus, about her taste in music. When asked about the importance of black business owners she said, "I think everybody has a gift. I think everybody should be able to use those gifts to the best of their ability and take advantage of the opportunities that are there for them. I don't like being beholding to anybody so I like having a little bit more control in my life. So... I can't be fired because I work for myself."

The BBA's "Salute to Black Music Awards Dinner" attracted classic artists as well as the emerging artists to help celebrate their achievements, which helped shape black music.

"I'm Jeanette Hawes one of the original members of the group Emotions. I just released an album that's on Spotify and all the other...music platforms. It's called 'No Regrets'," said the Grammy Award winning original member of the R&B/Soul group The Emotions (with sisters Pamela and Sheila Hutchinson) there to support black music. "My sisters are doing well. Wanda is still doing live work. I give God the glory...it helps give you the endurance you need."

www.BBALA.org

SYNDICATED COLUMN: Eunice Moseley, has an estimated weekly readership of over ¼ million with The Pulse of Entertainment. She is also a Public Relations Strategist and Business Management Consultant at Freelance Associates, and is Promotions Director (at-large) for The Baltimore Times. www.ThePulseofEntertainment.com. EVENT: "Uplifting Minds II," a Free Entertainment Conference held annually in Baltimore (Saturday April 20, 2019), in partnership with Security Square Mall and The Baltimore Times and Los Angeles (November 9, 2019/Los Angeles Convention Center). Offering an Entertainment Business panel and a talent showcase and competition (vocal, songwriting, dance and acting) with over $15,000 valued in prizes for each category. www.UpliftingMinds2.com.