The Pulse of Entertainment: Kurt Carr Wants You to 'Bless Somebody Else' on New Live Album and Tobias Truvillion and McKinley Freeman Tackle the Truth in the TV One Original Loved to Death Airing July 21, 2019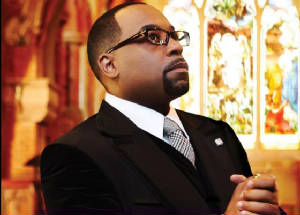 "The album was birth out of a lot of pain...I believe it will inspire people to be a blessing to somebody else," said two-time Grammy nominated
Kurt Carr
about his new live album
"Bless Somebody Else"
(RCA Inspirations/Sony Music).
The pain Carr was referring to multiple deaths in his life, such as his mother and mentor Andrae Crouch. He reached out to some friends to help him with the project that he hopes will give his fans the same message God gave him when he was going through his pain, and that is to "bless somebody else." It seems as though all his friends said yes. Those friends include the infamous Kurt Carr Singers, John P. Kee, Fred Hammond, Miles Caton, Faith Evans, Yolanda Adams, Wess Morgan, Smokie Norful, Erica Campbell, Jekalyn Carr, Bishop Paul S. Morton, Keke Wyatt, Bishop T. D. Jakes, B. Slade and Le'Andria Johnson.
"I wrote a song three years ago I knew was for her," Kurt said about the track "Grace Brought Me Back" featuring Le'Andria Johnson on the "Bless Somebody Else" live project. Le'Andria Johnson is a winner of the BET Gospel "Sunday Best" competition. "I played it and she fell on the floor crying. We can't live in the past of what we did wrong."
Dove Award nominated Kurt Carr started out as Andrae Crouch's pianist, and then he was hired as music director for Rev. James Cleveland. He was also the director of the West Angeles Church of God in Christ Choir. He formed the six member Kurt Carr Singers in 1987 and they debuted in 1988. The Kurt Carr Singers' members through the years have included Erica Campbell, who appears on the title track, Tina Campbell and Smokie Norful. "Bless Somebody Else" is the eighth album of the Stellar Award winning Urban Contemporary Gospel artist.
"I could write a book on them," Carr laughed about his friends. "They all said yes, the season was right. With the government now, and I am not political, but how do you take a child from a parent...society is not loving any more."
It's been six years since the release of his last album.
"It always starts with a song...life experiences, all those things come together and the theme has been 'bless somebody else'," Kurt Carr concluded about the live project "Bless Somebody Else".
www.RCAInspiration.com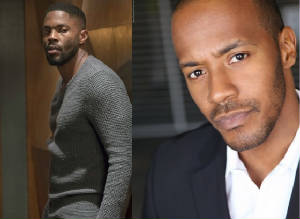 TV One was launched in 2004 by Radio One with 2.2 million household via major investor Comcast today it reaches 57 million household. I read somewhere Oprah brought Radio One, now named Urban One, and I wondered if there was a change in programming - TV One originals went from "Born Again Virgin" and "Donnie After Dark" to "Fatal Attraction" and "ATL Homicide." On July 21, 2019 TV One will premiere
Loved to Death,
a TV One original film based on a true story that stars 3X NAACP Image Award nominated Malinda Williams, 2X Grammy nominated MCLyte,
McKinley Freeman
and
Tobias Truvillion.
Tobias said he almost pasted on the role because of the subject matter, but when he was told it was a true story he wanted to give the role his best to get the story of domestic violence out there. He admitted experiencing the struggle of separation from someone you once loved is hard.
"It takes courage to become unyoked," said Tobias, a NAACP Image Award nominated actor whose credits include "Empire," "Law & Order," and "One Life to Live." "It comes down to self-love...to love yourself enough to find the courage to grow through it."
Love to Death follows Williams' character as she leaves an abusive relationship with Freeman's character for a new love interest played by Truvillion. Both become the target of her crazed ex-lover played by Freeman.
Tobias said he was approached to play the role, but McKinsey had to show his skills.
"It was the normal casting process. I was inspired by the true story," said Freeman, whose acting credits include End of Watch, Delta Force, "The Closer," "Major Crimes" and "Days of Our Lives." "Malinda was there for me. Just to know you got a strong personality carrying the narrative. I wanted to make sure the story was told. I want there to be a conversation."
Just in New York alone it reports in 2018 half of its homicides were from domestic violence cases and they reported over 230,000 domestic violence incidents in 2018. So the TV One original film will certain start conversation and hopefully it will also spark a resolution.
"When I found out that Malinda Williams was playing the lead role, that was one of the things that attracted me to the role," said Freeman. "...And it's a true story. I thought it was important to bring authenticity to it."
Tobias was born in New York and raised in Brooklyn. He is also a producer and model and started on his journey in entertainment in 1999 as a music video model for Fantasia Barrino. He had extra (un-credited) roles in major films in 2002, 2003, 2005 and 2006 before landing his first credited role in the film Blackout starring Zoe Saldana, Prodigy and Michael B. Jordan. Since then he has appeared in a major film project every year. During that time he was also appearing as extras in television series every year from 2003 until his first credit role in seven episodes of the 2018 BET Network series "In Contempt" - even though he appeared in the daytime series "One Life to Live" as Vincent Jones for 85 episodes and in the Fox Network series "Empire" for 11 episodes.
McKinley, born David Freeman, is also a producer (Illicit) and he started his career as an actor in 2004 in an extra (un-credited) role in the television series "Pop Rocks" and "All My Children." He worked in the same type roles two to three times a year until his first credited role in the Lionsgate motion picture Delta Force. From there his credited roles increased to include "NCIS," "General Hospital," "Days of Our Lives," "Client List," "Major Crimes," "Bones" and "Scandal." www.TVOne.tv

SYNDICATED COLUMN:
Eunice Moseley, has an estimated weekly readership of over ¼ million with
The Pulse of Entertainment.
She is also a Public Relations Strategist and Business Management Consultant at Freelance Associates, and is Promotions Director (at-large) for
The Baltimore Times
.
www.ThePulseofEntertainment.com
.
EVENT
: Eunice is founder of the annual "Uplifting Minds II" Entertainment Conference (ULMII), into its 20th year. Next event dates Los Angeles
Saturday, November 9, 2019
at the Los Angeles Convention Center (511) and Baltimore
Saturday April 18, 2020
in partnership with Security Square Mall and
The Baltimore Times
offering an Entertainment Business Panel and a Talent Showcase and Competition (vocal, songwriting, dance and acting) with over $15,000 valued in prizes to selected artists. Log onto
www.UpliftingMinds2.com
for more information or to participate as a panelist or talent call 562-424-3836.
www.GoFundMe.com/Uplifting-Minds-II-Entertainment-Conference