The Pulse of Entertainment: Chris Walker Honors Al Jarreau with the 'We're In This Love Together-Celebrating Al Jarreau' Album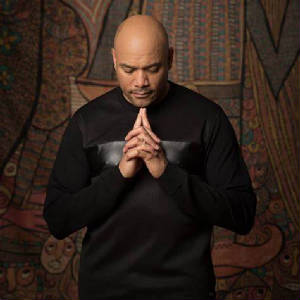 Chris Walker
, former music director for the late Al Jarreau, honors his musical legacy with the release of the
"We're In This Love Together - Celebrating Al Jarreau"
(Chris Walker Music) album. The project offers 14 selections previously recorded by Jarreau who's known for his own style of vocal scatting or that are written to honor him; a personal voice message from seven-time Grammy winning Al Jarreau to Chris; two original songs by Walker in honor of Al, and it features assistance from over 30 musicians, producers, songwriters and vocalists such as David Foster, Paul Jackson, Jr. (guitar), Regina Belle, Kirk Whalum (sax) and Will Downing - to name a few.
"I use to be her music director years ago," Walker said about Regina Belle when asked about his relationship with some of the many living legends on the "We're in this Love Together - Celebrating Al Jarreau" project. "That's how I got my start. She called me up to sing and I landed a record deal. I was 18. She is an ordained Pastor. Where she is now vocally, she is more seasoned and she takes more chances with her voice. She did a Gospel project some years back."
Produced by Chris Walker and keyboardist Larry Williams, "We're in this Love Together..." also features Marcus Miller (bass), Dave Koz (sax), Gerald Albright (sax), Bobby Lyle (organ), Rick Braun (flugelhorn), Randy Brecker (trumpet), Greg Phillinganes (keyboard), Nathan East (bass), Arturo Sandoval (sax, trumpet), Bob James (piano) and Jay Graydon (guitar) and Jerry Hey (horns) on the David Foster selections such as "Mornin'," "Breakin' Away" and "Roof Garden."
"It exceeded my expectations," Chris said about the project. "...In terms of all the people who came on board to record 16 songs. I'm glad we could. I was apprehensive about a few of the songs...to meet his standards because there is only one Al Jarreau."
As a solo artist, Chris has proved what quality he delivers. He has garnered five Billboard Top Five and Top 100 Charts singles, such as "Giving All My Love" and "Take Time." A bass player as well for artists such as Regina Belle and Al Jarreau, Chris wrote two songs on this project for Jarreau, "Phenomenon" and "Jarreau".
"It's been probably a little over a year," he said about how long it took to complete the project of love. "We recorded 16 songs. It was a studio album with live musicians. David Foster, he played on the original, so he basically played the solo. I didn't have an opportunity to work with him. He recorded it...dubbed it and sent it in."
My favorite selections on the album include #1 "Mornin'," a David Foster/Jarreau song, because in the beginning and throughout it offers signature Al Jarreau - only taken to another level; #4 "Roof Garden," another David Foster/Jarreau song featuring Grammy nominated Paul Jackson, Jr. on lead guitar, because Chris does the Al Jarreau scatting perfectly; #5 "We Got By" featuring Grammy nominated Will Downing, Bobby Lyle on organ and Marcus Miller on bass, because that sax playing by David Caceres was soaring along with Chris' vocals and they took me with them; #7 the title track "We're in this Love Together," featuring Grammy winner Regina Belle and Grammy nominated Gerald Albright on sax, because Chris' vocals are superb and those horns (Gerald, Larry, Bill Reichenbach) are just crazy perfect plus I also love how Regina gets her Jazz vocals going making a perfect combination with Chris' vocals; #8 "Alonzo" because Walkers' vocals show why he is a seven-time Grammy winner and I love the high notes,; #11 "Take Five" again because of the signature Al Jarreau flavor he delivers and Chris' rapid vocals are masterful; #13 "After All" not just because it's one of my favorite Al Jarreau hits, but Chris' sweet vocals did it justice and his high notes again are masterful; #14 "Flame" featuring Arturo on flute and trumpet, because I love the orchestra sound and how Arturo's horn playing and Chris' scatting seem to do a dance, and #16 "Phenomenon", where signature Walker vocals meet signature Jarreau vocals and the lyrics to the song tell about the heart of Al Jarreau.
Other featured musicians on the "We're in this Love Together - Celebrating Al Jarreau" project include John Stoddart on keys and strings; Randy Bowland on guitar; Arno Lucas and Cassio Duante on percussion; Kathleen Nester on flute; Charles Pillao on bass clarinet; John Calderon on guitar; Bill Reichenbach on trombone; Leonardo Amuedo on guitar; Jonathan DuBose on guitar; David Caceres on sax; Mark Simmons on drums; Tom Walsh on trumpet; Robbie Harvey on trombone, and Rohn Lawrence on guitar.
www.ChrisWalkersMusic.com

SYNDICATED COLUMN:
Eunice Moseley, has an estimated weekly readership of over ¼ million with
The Pulse of Entertainment.
She is also a Public Relations Strategist and Business Management Consultant at Freelance Associates, and is Promotions Director (at-large) for
The Baltimore Times
.
www.ThePulseofEntertainment.com
.
EVENT
: Eunice is founder of the annual "Uplifting Minds II" Entertainment Conference (ULMII), into its 20th year. Next event dates Los Angeles
Saturday, November 9, 2019
at the Los Angeles Convention Center (511) and Baltimore
Saturday April 18, 2020
in partnership with Security Square Mall and
The Baltimore Times
offering an Entertainment Business Panel and a Talent Showcase and Competition (vocal, songwriting, dance and acting) with over $15,000 valued in prizes to selected artists. Log onto
www.UpliftingMinds2.com
for more information or to participate as a panelist or talent call 562-424-3836.
www.GoFundMe.com/Uplifting-Minds-II-Entertainment-Conference