"I had the privilege to get invited to the party," said actor Edgar Ramirez (The Bourne Ultimatum) who stars in the Columbia/Universal Pictures presentation of Zero Dark Thirty, the hunt and killing of Osama bin Laden by Navy Seal Team Six, a Special-Ops team. "I met Kathryn Bigelow in the fall, 2010. We discussed doing another movie together. Then the death of Osama bin Laden took place...she decided to do something and she wanted me to play Larry, he is the one who took the famous Osama picture."
The historical action/drama will give you a front row seat to the hunt for America's most wanted and an in depth look into what our military service men and women go through to keep America safe from foreign threats. Ramirez (Clash of the Titans), a Latino, stars alongside Jessica Chastain, who plays Maya the lead investigator that passionately stayed on the bin Laden trail when everyone else was giving up. Eventually, her persistence did pay off, she got her man. Zero Dark Thirty also stars Jason Clarke, Joel Edgerton, Chris Pratt, Kyle Chandler and Mark Strong. Jessica has already garnered a Golden Globe nomination for "Best Actress" and the film nominated for three Golden Globe awards.
The acting was so impressive the film, at times, seemed more like a documentary. Directed and produced by Kathryn Bigelow (The Hurt Locker), Zero Dark Thirty will have you on the edge of your seats eager to learn what will happen next. Have you wondering how in-the-world did they find him. Kathryn's business partner Mark Boal, and Megan Ellison, share producing duties on the film.
"I really admire my character (Larry from Ground Branch). The willingness of the character to become invisible, erase yourself and become someone else," Edgar points out about his character going under-cover.
Rated R, Zero Dark Thirty is an Annapurna Pictures, First Light production and will be released to theaters on January 11, 2013.
Warner Bros.' Gangster Squad is explosive when officers of the peace meet corruption, arrives in theaters January 11, 2013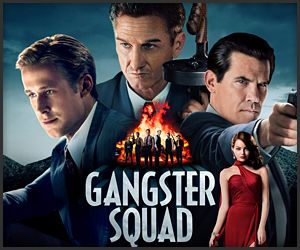 There comes a time in life when you are put to the test, give in to fear or defend peace even if you have to die trying. Well Warner Bros' presentation of Gangster Squad is a look at what just six people can do to defeat fear. The Rated R drama is explosive when officers of the peace meet corruption - with Josh Brolin and Ryan Gosling (LAPD) leading the squad and Sean Penn (Mickey Cohen) as the gangster. Gangster Squad arrives in theaters January 11, 2013.
The action-packed project also stars Oscar nominee Nick Nolte (Warrior), Michael Pena (End of Watch), Anthony Mackie (The Hurt Locker), Giovanni Ribisi (Avatar), Robert Patrick (Terminator 2: Judgment Day) and Emma Stone (The Help). Gangster Squad is based on tales from the "Gangster Squad" book by Paul Lieberman.
Gangster Mickey Cohen is determined to take over Los Angeles and anyone in his way is died - it's that simple. Los Angeles Police Chief "Whiskey Bill" Parker says not-on-my-watch and he comes up with a way to stop him in his tracks by enlisting a head-strong honest cop Sgt. John O'Mara, played by Josh Brolin (Men in Black 3). O'Mara assembles a small team who must secretly shut Mickey Cohen. With the help of his pregnant wife Connie, played by Mireille Enos, he picks Sgt. Jerry Wooters, played by Ryan Gosling (Half Nelson); switchblade expert Detective Coleman Harris (Mackie); electronic/military equipment expert Detective Conwell Keeler (Ribisi); over-zealous Detective Navidad Ramirez (Pena), side-kick of Detective Max Kennard, also chosen.
Without a plan they hit Cohens' businesses one by one until they corner him in an empty hotel surrounded by all his henchmen. That doesn't stop the Gangster Squad, who did so much damage they have only one more day before the Chief has to take their badges and resign. With the help of Mickeys "moll" Grace Faraday (Stone) - who fell in love with Officer Wooters - she agrees to testify about witnessing Mickey Cohen murder a friend who was trying to protect her from him. Re-energized by the offer the Gangster Squad changes their weapons to machine guns and the real action begins.
A Village Roadshow Picture production Gangster Squad is produced by Dan Lin (Sherlock Holmes), Kevin McCormick (The Lucky One) and Michael Tadross (Arthur). Executive producers are Ruben Fleischer, Paul Lieberman and Bruce Berman. Gangster Squad arrives at theaters January 11, 2013. Log onto
www.GangsterSquad.WarnerBros.com
for more information or to see the movie trailer.
(
Columnist:
Eunice Moseley is a PR/media & promotions consultant, and as well as a syndicated entertainment columnist for over 20 years -
www.ThePulseofEntertainment.com
.)